Overzicht
Drop shipping allows to deliver the goods directly from the supplier to the customer. It means that the products does not transit through your stock.
Instellingen
First, configure the Routes and Dropshipping. Go to Inventory ‣ Configuration ‣ Settings. Check Advanced routing of products using rules in the Routes section and Allow suppliers to deliver directly to your customers in the Drop Shipping section.
You have to allow the choice of the route on the sale order. Go to the Sales application, Configuration ‣ Settings and tick Choose specific routes on sales order lines (advanced).

How to use drop-shipping?
Create the sale order and select the route as Dropshipping on the concerned order lines.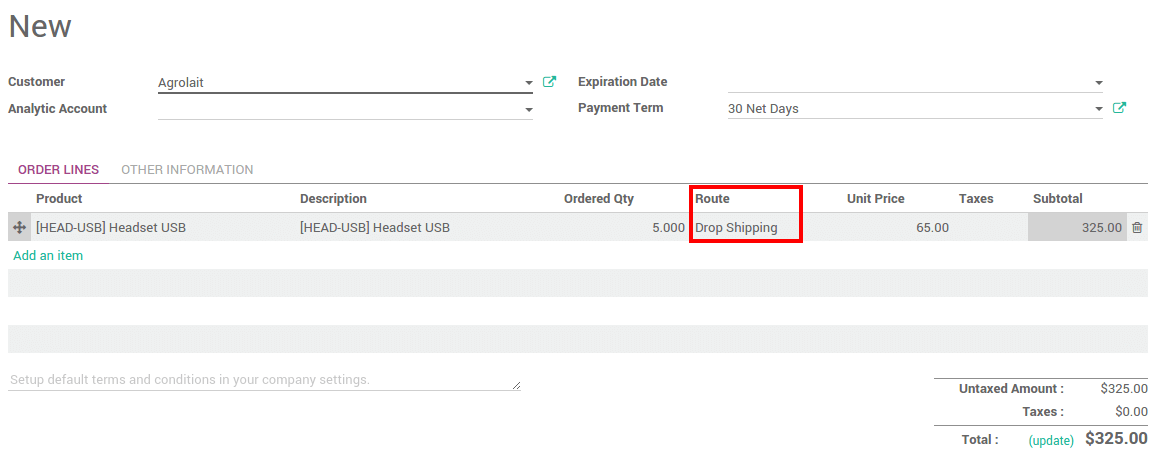 Once the order has been confirmed, no move will be created from your stock. The goods will be delivered directly from your vendor to your customer.
Notitie
In order to be able to invoice the delivery, you must set the invoice policy of your product on Ordered quantities.