Het is niet ongebruikelijk dat uw leverancier een andere maateenheid gebruikt dan u dat doet in uw verkoop. Dit kan verwarring in de hand werken tussen aankopers en verkopers, en het kan heel wat tijd in beslag nemen om de verschillende maateenheden om te rekenen. Gelukkig kunt u met Odoo gemakkelijk omgaan met verschillende maateenheden bij inkoop en verkoop.
Laten we de volgende voorbeelden nemen:
You buy water from a supplier. The supplier is american and sells his water in Gallons. Your customers however are European. You would thus like to see your purchases quantities expressed in Gallons and the sold quantities in Liters.
You buy curtains from a supplier. The supplier sells you the curtains in the unit roll and you sell the curtains in square meters.
Installeer de inkoop en verkoop modules
De eerste stap is om er zeker van te zijn dat de apps Verkoop en Inkoop correct geïnstalleerd zijn.
Activeer de maateenheid optie
Enter the purchase module, select Configuration ‣ Settings and tick the Some products may be sold/purchased in different unit of measures (advanced) box.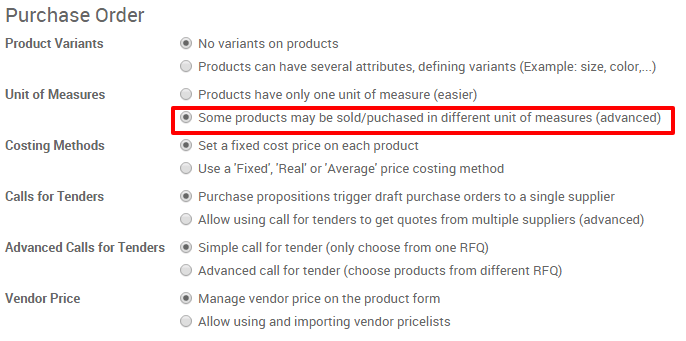 Specificeer verkopen en inkopen hun maateenheden
Standaard maateenheden
Let's take the classic units of measures existing in Odoo as first example. Please remember that differents units of measures between sales and purchase necessarily need to share the same category. Categories include: Unit, weight, working time, volume, etc.
Tip
Het is mogelijk om uw eigen categorie en maateenheid aan te maken indien deze niet standaard bestaat in Odoo (zie het volgende hoofdstuk).
Laten we aannemen dat we water kopen van de leverancier in Gallon en het verkopen aan onze klanten in Liters.
We gaan in de inkoop module, selecteer Inkoop ‣ Producten.
Maak uw eigen product aan of selecteer een bestaand product. In de algemene informatie van de producten heeft u de mogelijkheid om de Maateenheid in te geven (wordt gebruikt in verkopen, magazijn, ...) en de Aankoop maateenheid (voor inkopen).
In dit geval selecteert u Liters als Maateenheid en Gallons als Aankoop maateenheid.
Maak uw eigen maateenheid aan en een maateenheid categorie
Let's take now our second example (you buy curtains from a supplier, the supplier sells you the curtains in the unit roll and you sell the curtains in square meters).
The two measures are part of two different categories. Remember, you cannot relate an existing measure from one category with an existing measure of another category. We thus first have to create a shared Measure Category where both units have a conversion relationship.
To do so, go into your sales module select Configuration ‣ Products ‣ Unit of Measure. Create a new unit of Measure Category by selecting the dropdown list and clicking on create and edit (see picture below).
Maak een nieuwe maateenheid aan. In dit geval zal onze categorie Inter-categorie-Berekening noemen.

The next step is to create the Rolls and Square meter units of measure and to link them to the new category. To do so, go into your purchase module select Configuration ‣ Products ‣ Units of Measure.
Maak twee nieuwe eenheden aan:
The Roll unit who is part of the Inter-Category-Computation category and is the Reference Unit type (see picture below). The Reference Unit type is the measure set as a reference within the category. Meaning that other measures will be converted depending on this measure (ex: 1 roll = 10 square meters, 2 rolls = 20 square meters, etc.).

For the Square Meter, we will specify that 1 Roll = 10 square meters of curtain. It will thus be necessary to specify that as type, the square meter is bigger than the reference unit. The Bigger Ratio is 10 as one Roll = 10 square meters.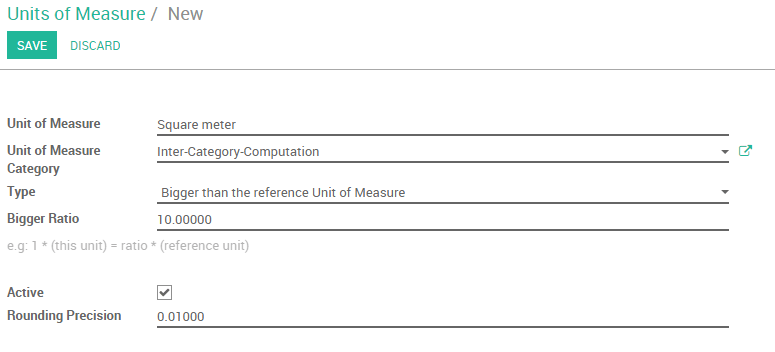 Het is niet mogelijk om vierkante meters in te geven als maateenheid en een Rol als aankoopeenheid in het productformulier.