Company Name:

The Foodbank Singapore, LTD


Location:

Singapore


Industry:

F & B, Charity




Company Size:

 2-10 Employees
Odoo Users:

20




Hosting:

Odoo.sh




Implementation Partner:

 Brainvire Infotech, Inc.


Implementation Timeline:

 2 Months
As a result of Brainvire's efforts, all changes to the Odoo design now take the platform's scalability into account. Odoo's intended use necessitates the availability of proper hardware and a reliable network connection. Version changes also necessitate the use of the latest version of the Odoo architecture. The solution utilizes the default theme for the end-user interface that Odoo supports. All of a food bank's functions, such as stock control, recipient approval, and notification of dormant recipients, are managed from a single location, thanks to Odoo's integration.

Singapore's Food Bank (FBSG) is the brainchild of brother-sister combo, Nichol and Nicholas Ng, the founders of a prominent Singapore-based food distribution firm, FoodXervices Inc. Pte. Ltd. After monitoring the food market for over a decade - the escalating food costs and food waste – they recognized the necessity for a food bank in Singapore.

They were seeking a way to automate some of their inventory processes. Typically, the customer submits requests through a mobile app, where volunteers may enter donations and items. However, the brand is now looking for a better way to keep track of the many food donations they've received.

Food Bank required a method to monitor beneficiaries' demand, and assign them based on available commodities. The organization is looking for an automated barcode solution to handle product SKUs. Prior to this, they oversaw every process by hand. Brainvire made it easy to keep track of everything, from inventory to accounting, with our Odoo system and mobile app.

They have chosen an Odoo enterprise resource planning system by mapping out their operations. As a result, many different service providers were contacted by customers looking for assistance with operation management.

Food Bank chose Odoo as their solution provider, thanks to Brainvire's consultation approach and effective presentation.
Hunger For Integrating Sustainable System

There are 360 people, all from different walks of life, being served by this organization. Therefore, a dependable system that streamlines their management is of the utmost importance. That's why they became Brainvire's newest client. "Brainers" have centralized stock management, beneficiary authorization, and inactive account notification processes.

Their development team has been working hard to establish an integrated Enterprise Resource Planning (ERP) system for the Food Bank to assist in standardizing (and enhancing) its multiple activities. The process of interacting with donors, volunteers, and other supporters is standardized here.

The main purpose of a warehouse management system is to monitor and control the flow of items entering the warehouse (purchase invoices), and the flow of items leaving the warehouse (delivery orders). Willing warehouse employees might use a smartphone app to coordinate their efforts. If the management team has greater access to information, they will be able to make smarter decisions for the company's growth.
Sales Management
Odoo's Sales Management component is a standout feature. Odoo's Sales Management provides a centralized hub for managing your sales staff. To begin, it's very customizable, so they can adjust it to meet your own requirements.

Beneficiary order management is handled using the Odoo sales module. Odoo's adaptability in allowing Food Bank to create its own versions of the Allocation screens is also a huge benefit. The administrator may use this function to import a CSV file, containing a list of received contribution requests, and then examine those requests after they have been processed.

On the allocation page, they may set priorities for both the central beneficiary and the order of specific beneficiaries, add total factors and flat deductions to each order, and have the system deduct the appropriate amounts automatically.

Additionally, the administrator will have access to an allocation overview, from which they can examine all conflict allocations, and distribute them to all recipients using Pro-rata computations. Goods are distributed to recipients in an automated manner by the system. The administrator will then authorize the order and print the picking list (if needed).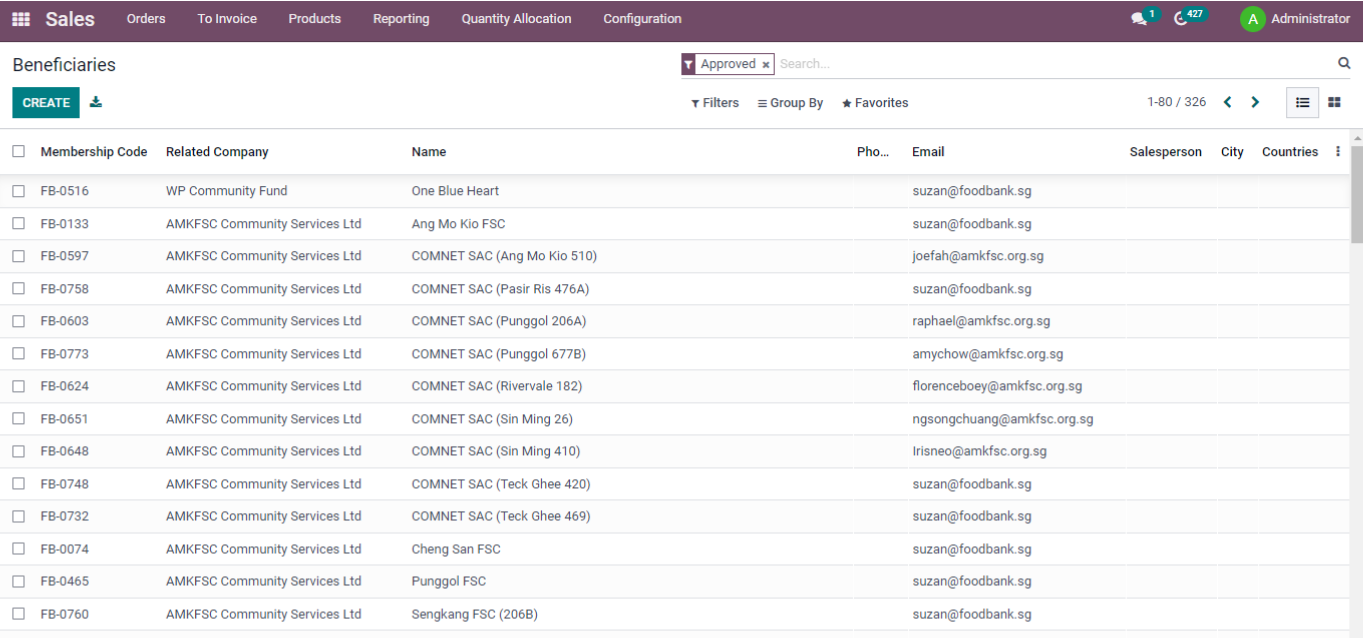 Purchase Management
With the assistance of the Odoo Purchase Management system, the Food Bank team can streamline their buying operations and boost their inventory productivity.

Odoo allows businesses to automate the process of requesting quotes from suppliers in response to stock level changes. The administrator may choose the donor's name, while making an incoming shipment, if the donor's data is already in the system. Donors may feel recognized for their monetary donations in the same way after an invoice for purchase has been created in the system.

With the help of the Odoo Purchase module, the Food Bank staff can keep track of all the supplies they acquire. In addition, by integrating this module with Odoo's Sales, Accounting, and Inventory modules, Odoo guarantees increased efficiency.

Another helpful feature of Odoo is the ability to use purchase orders to maintain accurate vending machine stock levels; when new food donations arrive at the food bank, the system will automatically distribute the new supplies to the appropriate vending machines. Grouping products together in a vending machine's storage space depends on their degree of complexity.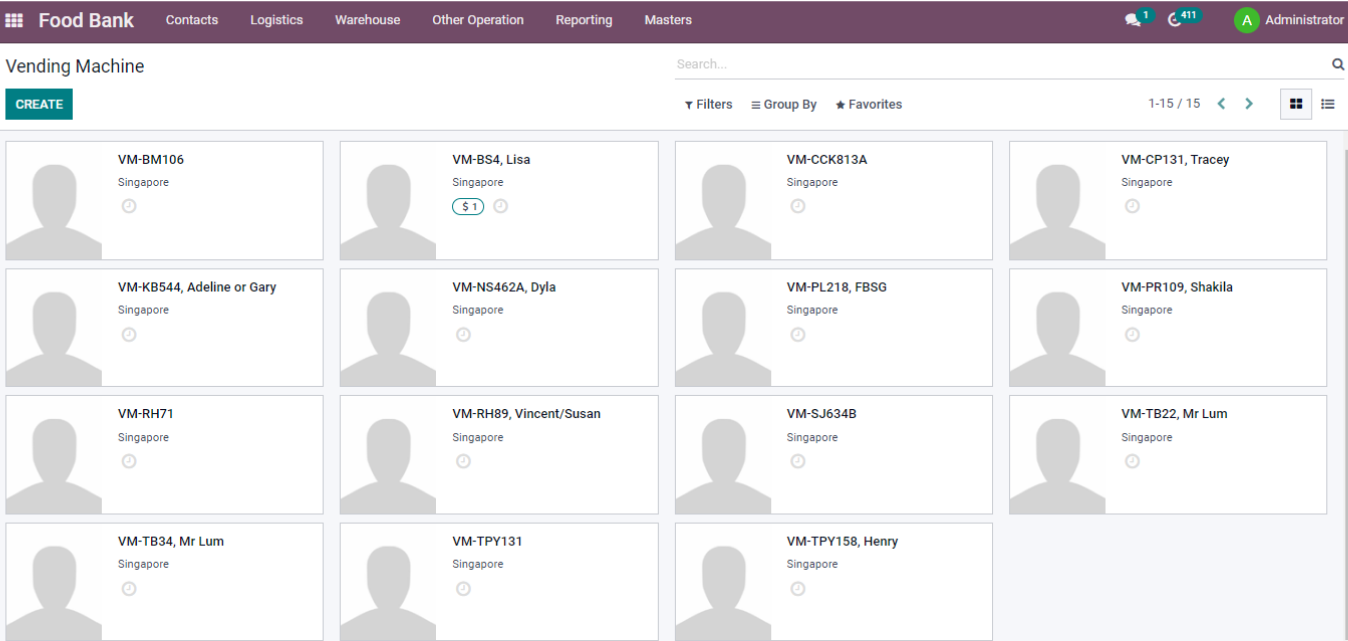 Inventory Tracking
All vehicle data will be stored in Odoo. There is a place for the administrator to submit data on cars and their drivers. The logistics group is in charge of coordinating the outgoing and incoming shipping schedules.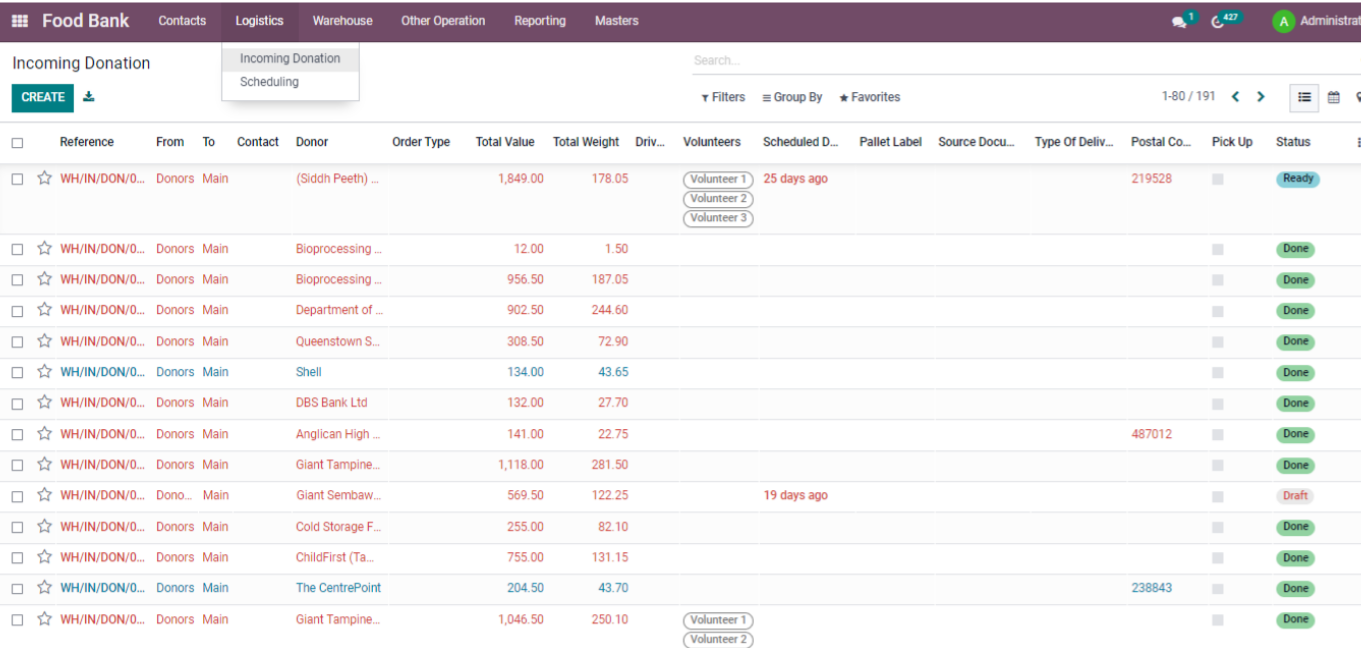 FBSG uses grouping to assign several items to a single carrier, in order to reduce the number of drivers and vehicles needed. Every incoming and outgoing shipment is automatically assigned a color-coded label, according to the kind of vehicle that transported the goods. Food Bank's logistics staff may also rearrange the arrival and departure dates of shipments, as well.
Each shipment order will include pertinent details, and an image of the pallet it was packed on. The administrator may make a waybill for each shipment. In addition, incoming shipments may now include QR codes, generated by Food Bank staff. As soon as the security guard scans a package's code, the incoming package is automatically created.

Stock Take Process
Odoo's stock adjustment function (also called a "stock take procedure") has been modified to meet specific company needs, allowing users to get a more complete picture of the inventory on-hand. As a basic Odoo feature, this mobile app may report that a selected location now holds a specified amount of goods.

Brainvire modified the Odoo function, so we could choose data about our beneficiaries, based on where they live. After that, the team will divide recipients into subsets, based on where they are, and the kind of enrichment activities they receive, with recipients free to shop from any subsets.

After making their selections, the foodbank creates a sales order, and submits it through email. The beneficiaries can then set their own quantity requirements or make specific quantity requests.

Once the administration has selected which recipient will get the goods, the allocation screen is used to calculate the final distribution, considering any adjustments.


Barcode Management
This add-on module expands Odoo's functionality, by enabling the generation of barcodes for Products, in accordance with a user-defined barcode rule.

Volunteer output is increased, and inventory management is simplified, with the help of barcode solutions. Products may be easily moved into stock, encoded, and looked up by serial number. Scanners that can connect to a mobile device, such as those that use Bluetooth or USB, are among the many barcode readers that work with this app.

Volunteers can drop-off donations at any of the many locations where Food Bank boxes have been placed. For this reason, the Barcode feature is essential for the "Bank Box." The security in charge of the area will scan the barcode when it's full, alerting the system, and someone from the team will come and grab it.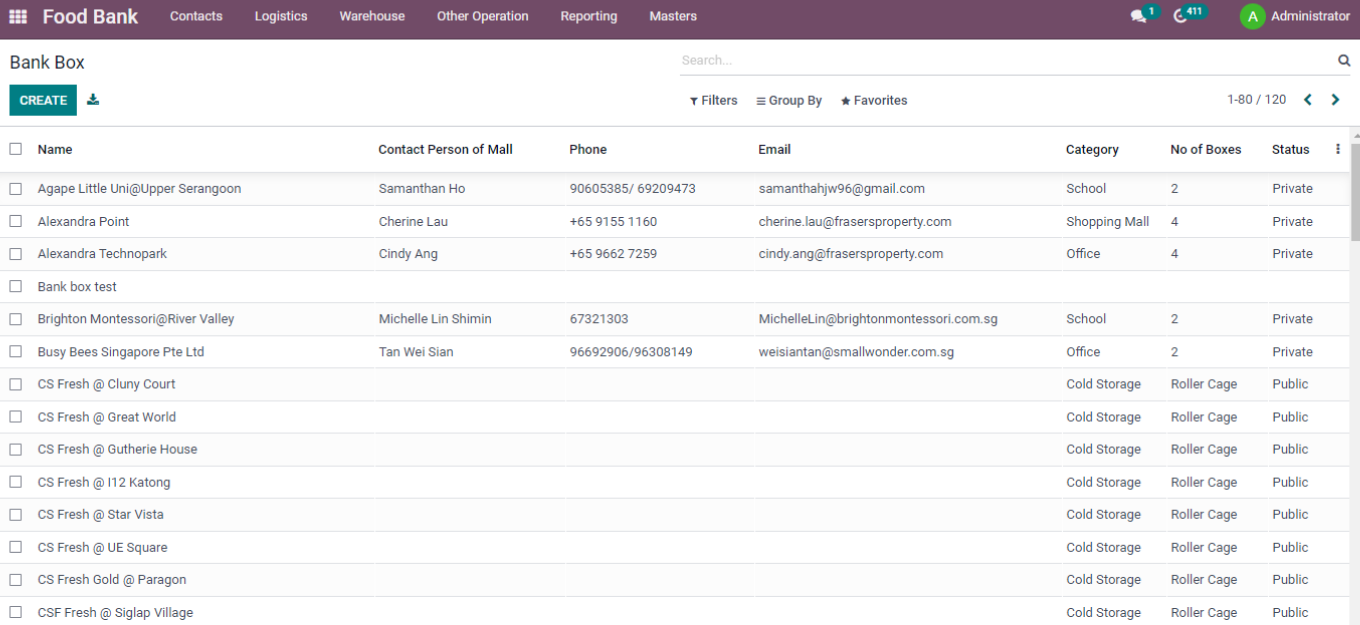 A barcode system makes quick work of all inventory-related tasks. Using barcodes, product detection may be automated. Odoo ERP's barcode app makes sure that packages can be followed at all times. It works in tandem with Odoo 15's Inventory module to keep track of everything in your warehouse.

Accounting Management
Brainvire has set up a localization team in Singapore to serve its customers better, and help them enhance their accounting management software. 

Some possible items to add in the configurations section are as follows:

Debit and credit balances for Journals, Taxes, and Accounts Receivable components of the Chart of Accounts are often shown as Journal Items.

The FBSG Accounting team has access to the funds through proper payment processing. When a donation is put into the FBSG account, the staff can mark it as "tax deductible," if they want. The staff at Food Bank has access to a complete record of each gift after it has been processed. In addition, after Food Bank has received a gift, the staff may send a receipt to the donor.

Other possible items include financial institutions and making regular reconciliation easier.

Brainvire integrated the software with DBS and OCBC Bank, and at present, Accounting is able to create budgetary positions in Odoo. In addition, Odoo's analytic accounting features make it simple to see which of a business's costs may be cut, without affecting its viability.

By settling on a budget position, budget period, and estimated amount, we have finished the first stages of developing a budget. Then, similar to monetary gifts, the system will be able to "write away" the value of food donations, thus canceling out any goods that have been received.
Processes in Odoo are Standardized

Brainvire assisted Food Bank in implementing the Odoo ERP system for streamlined inventory management, donor, monetary and food administration, and order tracking. The system handles everything: from collecting donor data, to processing monetary donations, organizing food deliveries, and everything in-between.

A donor can use the Odoo mobile app to enter a donation, customize a gift for a recipient's purchase, and verify stock levels. Offering a donor management system that can track - not just a person's profile, but also their food donations, monetary contributions, and a complete 360-degree evaluation of their generosity - is how Food Bank is going to stay successful (and efficient) for many years to come.

And, it's all thanks to Brainvire and Odoo!
---
About Brainvire Infotech, Inc.

Brainvire Infotech, Inc. is a prominent Odoo Gold Partner, having executed Odoo implementations in jewelry, manufacturing, retail, transportation, automotive, and real estate. 

Brainvire's growth strategy has effectively expedited project deployment for over two decades, thanks to a strong workforce of in-house experts. Brainvire provides complete migration, customized core Odoo modules, retail omnichannel ERP solutions, industry-specific solutions, gap analysis and consultation, 3rd-party app integration, quality assurance, deployment/rollout services, and so much more. 

For more information, visit brainvire.com.