Company Name: 

Balubaid Group of Companies Limited (BGC)


Location: 

Saudi Arabia - Jeddah


Industry:

Automotive Spare Parts




Company Size:

 1000+
Odoo Users: 40-50


Apps: 

CRM, Sales, Inventory, Purchase, Account, Warranty


Hosting:

Odoo.sh


Implementation Partner:

 Brainvire Infotech, Inc.


Implementation Timeline:

In-Progress

 
Balubaid was facing challenges with delayed deliveries, which was negatively affecting customer satisfaction. But, thanks to Odoo, they are able to streamline their delivery processes. Now, they're making timely deliveries and keeping their customers happy. They also created integrations to better manage vehicle year/make/model, third-party logistic/shipping gateway, and payment gateway, which automated their logistics and payment processes, reducing errors and making things much more efficient. 

They also automated their return management and e-invoice processes, saving them a ton of time and effort. And, to top it off, they integrated a catalog provider into Odoo, which solved their inadequate catalog challenges, providing up-to-date product information, which improved customer satisfaction and sales. This has streamlined their catalog management, saved them time, and greatly reduced errors, resulting in an improved customer experience and more efficient operations. 

Needless to say, Odoo has been a game-changer for Balubaid!
Balubaid is a leading service provider for various industries across the globe, including automotive retail, industrial machinery manufacturing, financial services, and now, they're embarking on a new venture in the spare parts industry. In a digital era, Balubaid has taken a bold step towards online business, specifically B2C eCommerce.

However, the complexity of their extensive product line, and vast network of dealers and distributors across Saudi Arabia, posed many challenges, such as delayed deliveries, high costs, and lost sales. As a result, managing orders and tracking inventory in a centralized system became imperative to prevent delays and errors.

To tackle these challenges, Balubaid sought an integrated solution that could seamlessly cater to their online and offline businesses, including their dropship approach. After careful consideration, Brainvire, an Odoo Gold Partner, recommended the Magento-Odoo integration approach to help Balubaid achieve optimal results.

With the implementation of Odoo, Balubaid was able to streamline its processes and gain real-time visibility into its operations. In addition, revamping their dealer and distributor networks with Odoo provided them with a centralized system to manage all their operations efficiently.

The integration of Magento and Odoo has been a game-changer for Balubaid. It's helped them achieve unparalleled efficiency in their online and offline sales, by reducing costs and ensuring timely deliveries. With improved customer satisfaction and streamlined operations, Balubaid is now poised for success in its new venture in the spare parts industry.
What was Balubaid Looking for?

The brand, eager to expand its digital presence, sought a reliable platform to connect its end users with its system. Brainvire, an esteemed Odoo Gold Partner, implemented the latest version of Magento 2.4 and Odoo for the eCommerce platform. 

Balubaid focuses on tapping into the B2C market in Saudi Arabia, with a multilingual website in English and Arabic. The eCommerce website will be developed using the latest Magento 2.4.x Commerce version, hosted on-premise. 

The base currency will be USD, with multi-currency support. B2C customer user groups will be created, if needed. The development team will establish integration with Odoo ERP Backend for order, product, return management, and store credit management. 

Additionally, there will be integration with the AAP 3rd Party for product information, and custom modules will be developed for the Year, Make, and Model search functionality.
Odoo-Adobe Commerce Integration Improved Sales

Balubaid, with its extensive network of dealers and distributors, faced challenges in managing and tracking orders, in addition to their ongoing issues with sales and inventory management. However, they overcame these obstacles by implementing and integrating Odoo with Adobe Commerce. This solution provided real-time visibility into inventory, sales, and order processes, enabling efficient operations and more informed decision-making.

The deliverables of the project include a Magento eCommerce website seamlessly integrated with Odoo ERP for the spare parts business. Also, integration with shipping courier companies, such as DHL, Aramax, and Samsa help ensure that deliveries are as smooth as possible. 

Following best practice methodologies during the implementation of Odoo and Magento helped the brand provide end-to-end solutions, covering the full supply chain journey in real-time. The integration also involved third-party vendor integration for product details and bulk orders, and played a major role in the managing of online orders for B2C and manual B2B customers, including drop shipments.

In addition, the solution covered financial aspects, such as bank reconciliation, assets, financial reports, and e-invoicing (based on Zatca regulations). They also implemented detailed location structures for multiple warehouses, different delivery solutions for B2C customers, and warehouse operation configurations. 

They managed the customer care department through the Helpdesk module, which helped them adequately handle returns and product warranties. This end-to-end solution effectively managed all of Balubaid's back-office processes through Odoo ERP.

This integration has allowed Balubaid to seamlessly streamline its business processes, and leveraged the capabilities of Odoo, in order to improve its operations and enhance the overall customer experience.
Customer Relationship Management

If a customer connected through an email or phone call, the Sales department team was able to capture those customer details as a lead/opportunity through the system. All users involved had access to this system, including the B2B Sales Specialist (Department User), the Manager (Department Head), as well as the Customer Support agent (Department User).

The requirements were defined as follows:

- B2B Sales Specialist.
- Able to add/edit leads/opportunities in the system.
- Has internet access.
- Has the correct URL.
- Has logged-in to the ERP.

The post-condition was that the B2B Sales specialist would be able to manage potential opportunities in the pipeline and create new quotations. Additionally, the Customer Support agent, and B2B Sales specialist, would be able to view existing (or new) customer details.

A B2B Sales specialist could schedule activities, such as emails or calls, with customers for effective interaction and follow-up. 

For example, when a potential customer is identified, the B2B Sales specialist could convert the lead to an opportunity, by selecting the "Convert to Opportunity" button. This action would trigger a new window, providing options to create a new customer, or link with an existing customer, to convert the lead into a new opportunity. 

Alternatively, if the B2B Sales specialist chooses to merge the lead with an existing opportunity, the system made it simple to select the appropriate option. Once the lead is converted, the opportunity would be added to the B2B Sales specialist's pipeline, where they manage all their prospects. The B2B Sales specialist could then create the quotation to provide a formal quote to the customer.

The feature list included the following capabilities for the manager:

- Configuring multiple sales teams, by adding Sales Team name, B2B Sales specialist name, Email alias (for automatic lead creation), Invoicing target, and Members.

- Having access to view the pipeline of all the B2B Sales specialists.

- Configuring different activity types allows B2B Sales specialists to schedule customer activities.

- Assigning leads to salespeople, by selecting B2B Sales specialist names from the drop-down list.

- Defining different stages to manage the pipeline for B2B Sales specialists, and being able to view all the opportunities of each B2B Sales specialist.

- Each B2B Sales specialist has their own pipeline to view each opportunity, and can manage their pipeline using Kanban/List view with different stages. B2B Sales specialists can drag-and-drop opportunities from one stage to another.

- B2B Sales specialists/managers can view pipelines using Kanban, List, and Calendar views.

- B2B Sales specialists can mark opportunities as "Lost," and mention different reasons for the loss.
Sales Management

The Sales module provides a dedicated window for B2B Sales specialists to manually manage generated quotations and sales orders for different types of customers. Before creating a quotation, the B2B Sales specialist should have internet access, enter the correct URL, and log-in to the ERP. 





Once the quotation is ready, it will be sent to the customer, via email. However, if the order exceeds credit limit, or has any sort of discount, it can be sent for approval. This can be approved, rejected, or revised (based on manager feedback). 

After sending the quotation to the customer, the customer can either confirm, request amendments, or reject the quote. If approved, the quotation can be converted into a sales order. The B2B Sales specialist can view all generated sales orders in the List view, and easily track activities on each sales order. 

There are validations in place to ensure that quotations can only be converted into sales orders based on certain conditions, such as discount approval, credit limit, and payment terms. For example, if a customer exceeds their credit limit, the B2B Sales specialist can request approval from the Finance Manager.

The quotation refers to orders in the 'Draft' stage, which the salesperson can edit. However, sales orders are confirmed references that cannot be edited. Canceled quotations are archived in the system when the B2B Sales specialist withdraws.
Inventory Management

The inventory management system is designed to efficiently handle various warehouse operations, including routes, rules, locations, and products. It incorporates Push Rules and Pull Rules.

Push Rules automatically transfer products from one location to another when they reach a specific area, and Pull Rules trigger procurement based on the demand for particular products. Both rule types can be customized to optimize warehouse processes.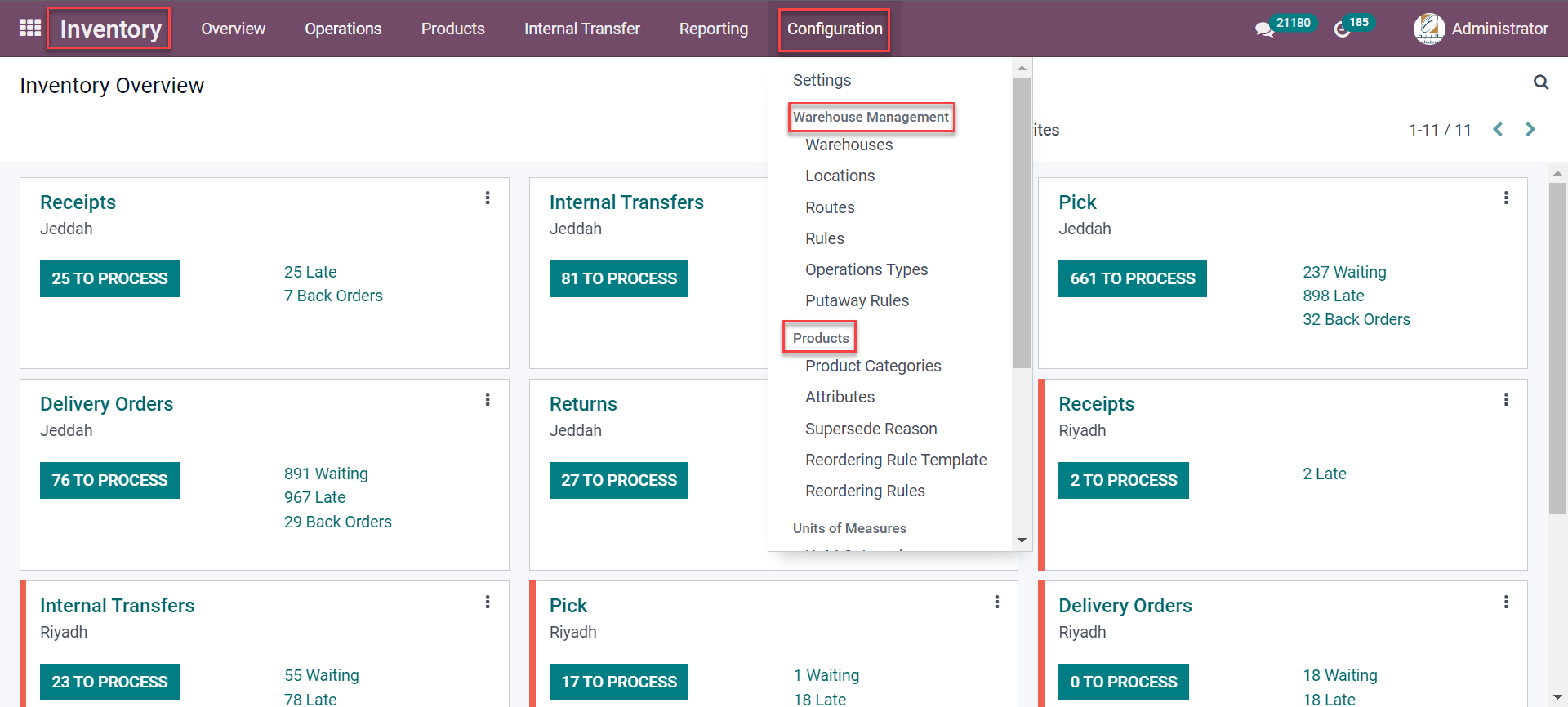 Access to the system is limited to Super Admin/Admin users with internet access, and those same users must be logged into the ERP with the correct URL. 

These users can configure multiple warehouses, with options for the Jeddah warehouse as the main warehouse, Riyadh warehouse as the secondary warehouse, and the ability to add an unlimited number of warehouses in the future. Incoming and outgoing shipments can be processed through three-step and two-step processes, respectively, for each warehouse.

Warehouse managers can create new locations within a warehouse, defining location name, parent location, location type, and various other attributes, such as scrap location or return location. 

The system supports various inventory operations, as well, including inventory adjustment, scrap operation, receipts, internal transfers, and picking and delivery orders. Route configuration is available for each inventory operation, and the system can notify users about late shipments.

Barcode management is a key system feature, allowing for an automatic (or pre-defined) generation barcode assignment, based on international standards, such as UPC or EAN. Barcodes can be printed on delivery notes, picking, and packing lists. They can be used to receive items from vendors, issue stock between locations, and track inventory products, consumables, or fixed assets.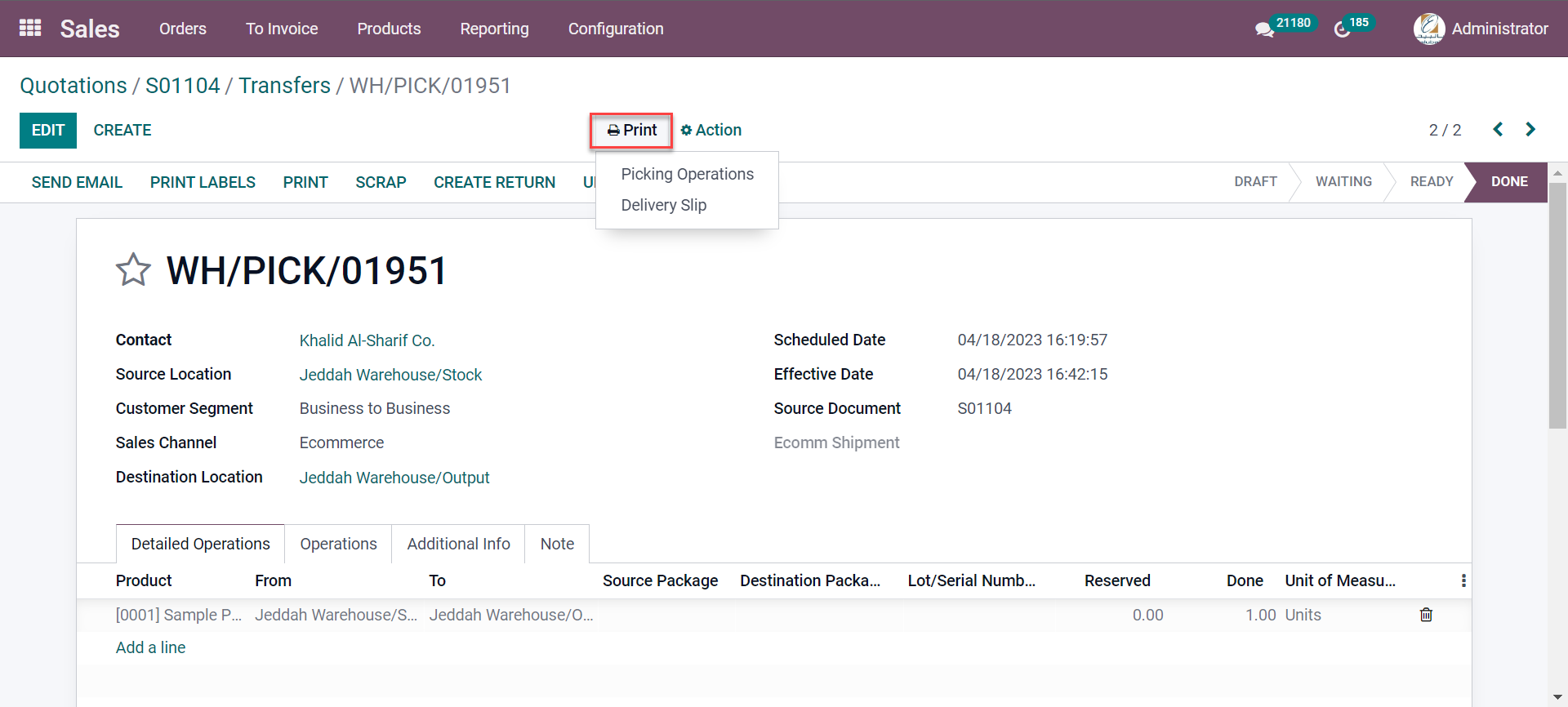 Purchase Management

The Odoo Purchase module streamlines vendor management and tracks sales history. The Purchasers in the Procurement Department can easily update local vendor information with internet access, the correct URL, and they must be logged into the ERP.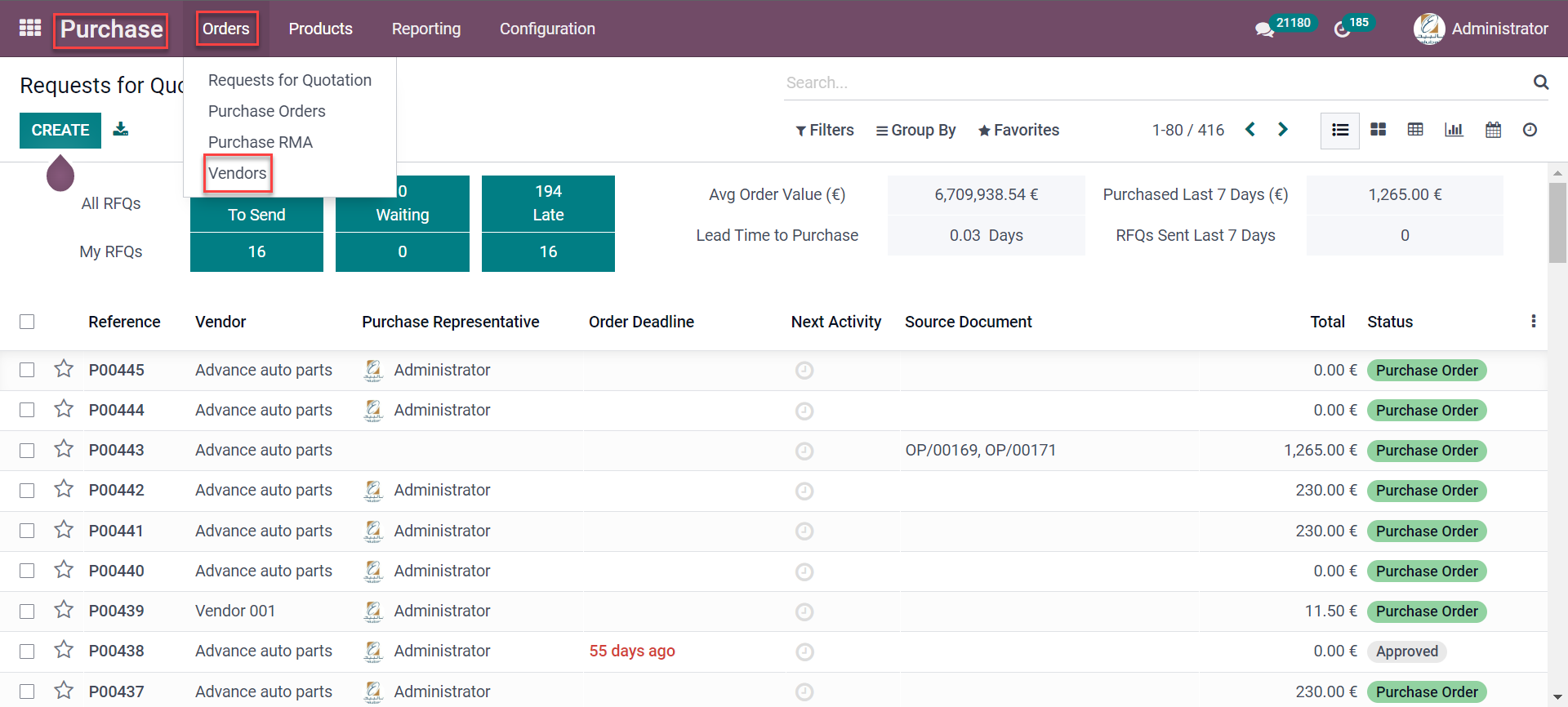 The Purchase module enables warehouse personnel to enter vendor information into the Odoo system using various fields, including the vendor's company name, address, type, site code, fiscal position for automated VAT calculation, phone number, email, website, tags, contact and addresses, CR number, unified number, TIN, payment terms, payment currency, and accounting details.

This module features a vendor master that stores local and international procurement vendors, with AAP as the primary vendor for fulfillment orders. Additionally, Odoo provides smart buttons for each vendor that provide full visibility into their purchasing history, including purchases, meetings (scheduled meetings with vendors), and vendor bills (number of bills generated for a specific vendor). 

Also, the procurement team can view all vendor details in Kanban or List view, and the partner ledger gives them access to comprehensive vendor information. Also, with that in place, vendors can simultaneously be customers, and a partner statement will be generated accordingly for netting. 

The module also includes validation processes to reconcile all vendor types, and a 3-way match (PO, receipt, invoice) for efficient procurement management.
Helpdesk Management

Odoo Helpdesk allows customers to create tickets for various issues they encounter. Users, such as guest users, logged-in users, and customer support agents, can utilize this functionality with the utmost ease.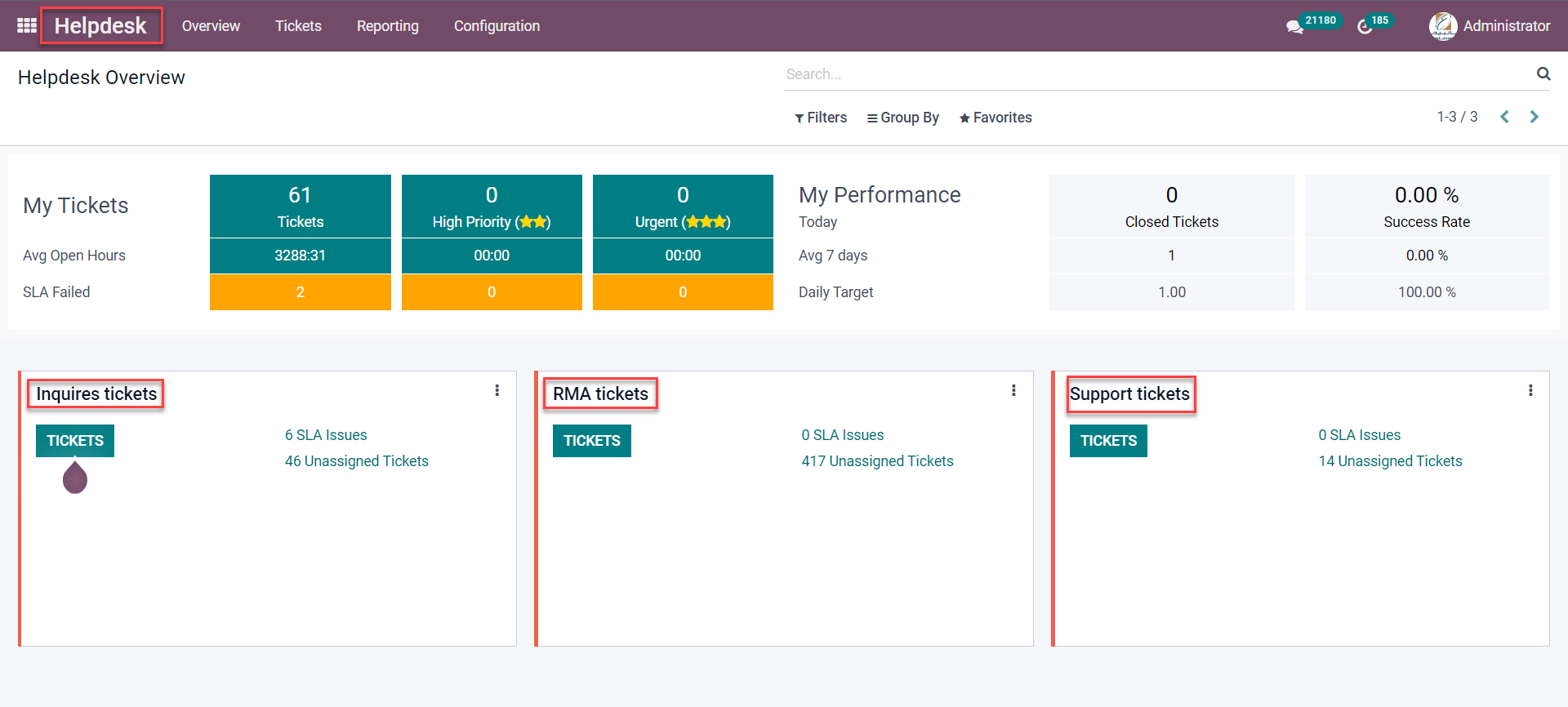 Users will be redirected to the Helpdesk form page to select the appropriate Ticket Type, such as Warranty, Inquiry/Question, or Issue/Support. Customers need to fill out the form with relevant details, including their name, subject, email, contact number, customer message, and any necessary attachments. 

Registered customers can also check the status of their tickets from the 'My Account -> My Ticket' module. All tickets will be synced from Magento to Odoo, and customers can view all the information related to the Ticket List on the Magento front, including the subject, ticket type, and status (e.g., open, closed, in progress). This helps customers easily track the progress of their tickets, and always stay up-to-date on their status.
Warranty Management

The Warranty module in the Balubaid system is designed to manage and track the warranty claiming process. It involves several users and departments, including Sales Operations - Warranty, Customer Support Agent, Warehouse & Logistics, and Warehouse Staff.

The following are the key requirements (and steps) involved in the warranty-claiming process:

Pre-Condition

- CSA should have internet access.
- Must have the correct URL.
- The CSA must be logged-in to the ERP.
- Odoo should be integrated with Magento to sync the warranty requests.

All warranty requests are synced from Magento to Odoo, and initially, the warranty request will be in the 'Draft' stage.

The Customer Support Agent will be able to view all the synced warranty requests details, which include:

- Customer Name/Info (Customer ID, email, phone number)
- Sales Order number
- Sales Order line
- Product Name
- Quantity
- Note
- Images

Customer Support Agents can reject the warranty request, by adding the reject reason. The system will automatically send a 'reject' email to the customer. The warranty request status will change from 'Draft' to 'Canceled,' and the status will be synced to Magento.

If the Customer Support Agent accepts the warranty request, the system will raise incoming shipments to receive goods from the customer. A confirmation email will be sent to the customer, and the warranty request status will change from 'Draft' to 'In progress.' The latest status will be synced to Magento.

The customer will arrange the delivery of goods to the Balubaid pickup points.

Following that, goods will move from the input area to the quality check area for inspection, and the Warehouse Staff will validate the internal transfer between the input area and the quality check area.

If the product passes the quality check, the Warehouse Staff will add the return location, and validate the internal transfer between the quality check location and the return location. Balubaid will bear the shipping charges on behalf of the customer.

However, if the product fails the quality check, Balubaid will communicate with the customer, requesting they arrange for the product to be picked up from the same delivered location. In this case, the customer will bear all the charges.

Customer Support Agents will generate the delivery order to deliver the same product to the customer, and a confirmation email with all details will be sent to the customer.

Warranty policies and validity will be applied, based on the item category, vendor, or any other attribute, as defined in the warranty SOP by Balubaid. Different warranty policies and approval workflows may be applied to different items.

The Warranty module also includes other useful features to help with other aspects of the process, such as: 
- Managing product warranty information.
- Returning items to the warehouse by taxable credit note.

- Controlling accounting entries for warranty events.

- Identifying and claiming to vendors, insurance vendors, freight vendors for returned items.

- Generating taxable invoices and credit memos.
- Linking each warranty request with the respective sales order.
- Providing a list view for users to view all warranty requests at once.
Expense Management

The Odoo Expenses system is designed to simplify and optimize expense management processes. With Odoo Expenses, employees can easily submit their expenses, managers can efficiently approve them, and accountants can accurately record and process payments.

Here are the key features and validations, based on the requirements and feature list provided:

- Employees can create and edit expense records in the system.



- Expense records can have multiple fields, such as expense date, category, description, attachment, taxes, amount, and total.

- Employees can attach receipts to expense records.

- Expense records have a status of 'To Submit' upon creation.

- Employees can view all generated expense records in a List view.

- Employees can select multiple expense records from the List view, and create an expense report.

- Expense reports include an expense report summary, manager, paid by, and expense lines.

- The employee reviews expense reports before submission to the manager for approval.

- If the manager approves the expense report, the status is changed to 'Approved.'

- If the employee pays the expense, the system allows users to post journal entries, and enables the 'Register Payment' button for the finance team.
Accounting Management

The Chart of Accounts (COA) is a comprehensive account list that records financial transactions in an organization's general ledger. The Finance Manager, as the department head, should be able to configure the COA based on Saudi Arabia Localization. 

This includes creating new accounts with fields, such as:

- Code 
- Account Name
- Type
- Default Taxes (applied when an account is used in product sales or purchases)
- Allow Reconciliation (a boolean value indicating whether the account can be reconciled)
- Account Currency
- Deprecated (to prevent deletion, if transactions have been recorded)
- Exclude from Aged Reports
- Division
- Dimension
- Analysis 1, Analysis 2, and Analysis 3. 

The finance team can also view the total balance of each account for financial analysis. Additionally, the COA can be imported in bulk using CSV files to streamline the setup process. Users should have internet access, the correct URL, and be logged-in to the ERP system, in order for everything to work properly.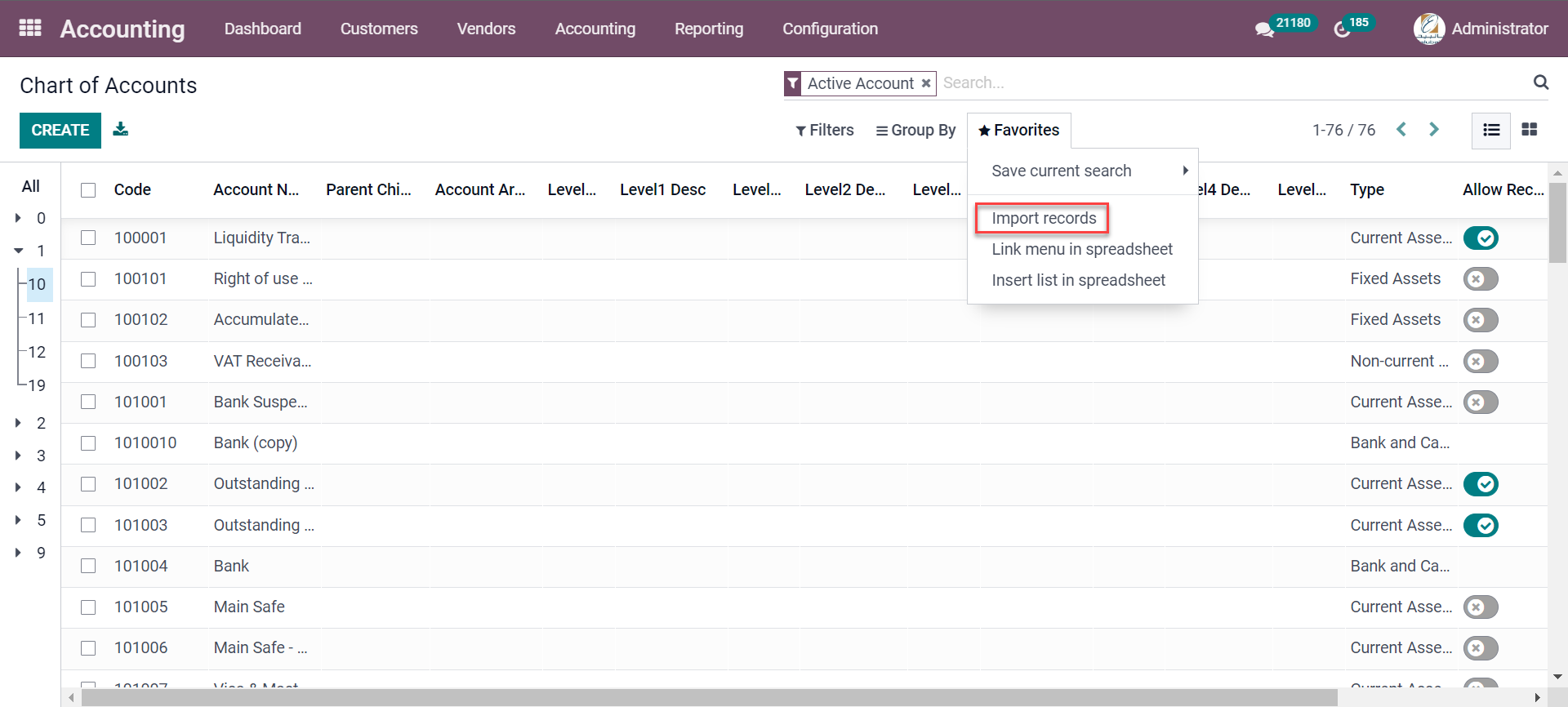 There are no specific post-conditions (or business logic) mentioned in the requirements. However, it's important to note that customization and configuration may be needed, based on the particular ERP system used and any other relevant business rules (or requirements). Consulting the ERP system documentation or vendor for guidance is recommended.
Customized Functionality for Better User Engagement
With Brainvire's assistance, Balubaid has enhanced user engagement by customizing its Odoo system to meet the specific needs of its users. In addition, they have dedicated more focus on their social presence, leveraging social media platforms to engage B2C customers and drive website traffic. 

They have also implemented safety precautions, such as mobile OTP verification, gift card redemption points, customized shipping charges, and approval processes for quotations. 

In addition, they have developed modules for reconciling Magento requests, managing RMA tickets, and implementing multi-level approvals. These customizations have helped Balubaid streamline operations, enhance customer satisfaction, and elevate its brand name in the market.



---
About Brainvire Infotech, Inc.

Brainvire Infotech is a prominent Odoo Gold Partner, having executed Odoo implementations in jewelry, manufacturing, retail, transportation, automotive, and real estate.

Thanks to a strong workforce of in-house experts, Brainvire's growth strategy has effectively expedited project deployment for over two decades.

Brainvire provides Odoo implementation services, such as: Complete Migration, Customized Core Odoo Modules, Retail Omnichannel ERP Solutions, Industry-Specific Solutions, GAP Analysis & Consultation, 3rd App Integration, Quality Assurance, Deployment & Rollout, as well as Training.

For more information, visit brainvire.com.