Odoo Enterprise apps can be hosted on 3 different platforms: Odoo Online, Odoo.sh (dedicated cloud), or On-Premises using your own infrastructure. Let's compare the pros and cons of each platform to help you find the option that best suits the needs of your company.
Odoo Online: The Simplicity
Odoo Online is SaaS (Software as a Service). In a few seconds, and a couple of clicks, your cloud instance will be ready to use anywhere and anytime. It even comes with a pre-configured email server!

The biggest benefit of Odoo Online is the simplicity: you'll never have to worry about the technical aspects because Odoo takes care of everything. We monitor the platform 24/7 to make sure that you always benefit from top-notch performance and our team will make sure that your cloud platform scales as your company grows! Moreover, our support team provides unlimited bug fixing and security updates.

Odoo Online benefits from our cloud Service Level Agreement: we can guarantee 99.9% uptime (excluding planned maintenance).

​Every day, Odoo will do a full backup of your database(s) and they are replicated on at least 3 different machines in different continents. From the database control center, you can download any of your back-ups within the last 3 months. You own your data! You can also easily duplicate your production database for a temporary test environment that can be very useful during the implementation of new features.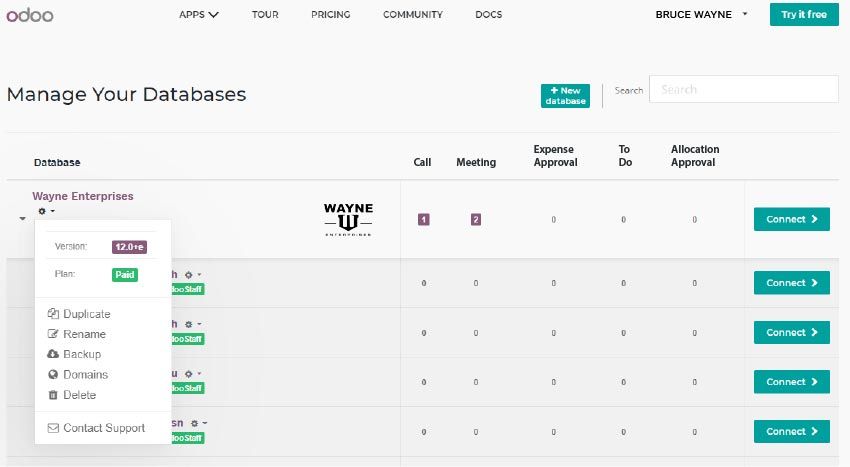 We also provide upgrades to the newest Odoo release for all the apps hosted on your Online instance.

On Odoo Online, you can install any certified app, also called the core apps. These are the apps that are developed, maintained, and upgraded by Odoo SA. One of the certified apps, Odoo Studio, will allow you to easily customize any view and any report, create new apps, or even perform automated actions (non code customization). However, installing third party apps or changing the source code is not allowed on Odoo Online for stability reasons.

All these extra services (hosting, maintenance, support, backups, upgrades) are included in the price of Odoo Enterprise. You control your costs, and you avoid bad surprises.
On-Premises: Limitless Possibilities
Odoo Enterprise can also be deployed on your own server if you want to set-up your whole hosting infrastructure.

We only recommend this option for customers with advanced technical knowledge as Odoo SA can't provide any guarantee nor any Service Level Agreement regarding the robustness, performance, and scalability of your infrastructure.

We provide some recommendations in our technical documentation and if you're looking for help, you can contact one of our partners that can help you with local deployments.

When hosting Odoo On-Premises, you'll have to take care of a lot of technical aspects that can be crucial for the robustness and for the cost of your software installation. If you work with a third-party provider, you should then make sure to know what's included in your contract and what will be an extra cost. ​​Here are the most important questions you should ask yourself:

​What is the service level agreement (guaranteed uptime) and how does it scale (when you add users, apps, or process more data)?
What is the disaster recovery policy?
How and when can I download my back-ups and what is the data policy?
What kind of test environment do you provide?
Who is responsible for the maintenance and upgrades of third-party apps (Odoo SA is always responsible for the maintenance and upgrades of certified apps)?
When you use Odoo On-Premises, you have full control and autonomy of your installation. Therefore, you can use any apps: certified, from a third-party vendor, or even build a new one from scratch!
Odoo.sh: The Best of Both Worlds
Odoo.sh is a PaaS (Platform as a Service) managed by Odoo SA. Odoo.sh allows you to deploy your own cloud platform in a couple of clicks. It also comes with an email server.

Odoo.sh is made for customized Odoo implementations: you can easily install our certified apps as well as any third-party apps available on the Odoo apps store.
Moreover, you'll find built-in tools that will help you to develop new apps and custom features such as:
Integration with Github

An online editor

Continuous integration (your own "runbot")

A development and staging environment

Branch management (track, fork, merge, etc...)
Automated testing of every new commit
And more

The platform is managed by Odoo SA, and we guarantee the same Service Level Agreement that we do for Odoo Online: 99.9% of uptime. We also do full incremental backup of your production environment every day. These backups are kept on 3 distinct data centers, on different continents, allowing you to download any backups within the last 3 months.

Odoo.sh gives you the flexibility to choose the best deployment architecture (number of workers, storage, and number of staging environments) and lets you easily adjust your configuration as your needs evolve. The platform will scale as your company grows!

The platform gives you the best of both worlds: the deployment and maintenance convenience of Odoo Online combined with the freedom of Odoo On-Premises.
Migrating to Another Platform
Migrating from one platform to another one is always an option. Depending on the origin and the destination platform, the migration complexity will vary and Odoo SA offers it for free in some cases. If you want to discuss the complexity of the migration from one platform to another, you can
contact us.
Summary
| | | | |
| --- | --- | --- | --- |
| | Odoo Online | On-Premises | Odoo.sh |
| Quick​ and easy setup | ✔ | | ✔ |
| Easy maintenance of certified apps | ✔ | | ✔ |
| Guaranteed 99.9% uptime | ✔ | | ✔ |
| Automated backups | ✔ | | ✔ |
| Email server | ✔ | | ✔ |
| Odoo certified apps | ✔ | ✔ | ✔ |
| Third-party apps | | ✔ | ✔ |
| Server Control | | ✔ | ✔ |
| Built in developer and sysadmin tools | Not necessary | | ✔ |
Choosing your hosting environment is an important decision to make before implementing Odoo and you have the freedom to choose what suits you best. Odoo Online is the best solution if you're looking for a standard software that is easy to set-up and maintain.

Using Odoo On-Premises is also an option, but you have to make sure you know what you're doing. If you want to use Odoo On-Premises with no technical knowledge, we strongly recommend that you contact one of our partners. Lastly, Odoo.sh is the best option if you're looking for a customizable solution, with incredible tools for developers and without the hassle of system administration.