Success factors of large Odoo deployments
Location:
Auditorium 2000 A
-
10/14/22, 9:30 AM
-
10/14/22, 10:00 AM
(
Europe/Brussels
) (
30 minutes
)
---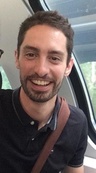 Pierre-Basile Meyer & Nils Gossens Bara
Business Advisors - Team Leaders
Business Advisors - Team Leaders
Pierre-Basile has been with Odoo's Sales team for 3 years. Specialized in following long-term implementations, he has been helping clients and partners successfully deploy their Odoo project on the French market and abroad.
Nils started his Odoo journey 3.5 years ago as a Partner Account Manager. His main responsibility was oriented towards developing our partner's network and their Odoo commercial activities. Today, he supports a team of 11 Account Managers working with around 450 partners located in 30 different European & African countries.

---

IT projects can be hazardous. As a potential customer or as an Odoo partner, some crucial steps are necessary to take in order to minimize risks and insure a smooth & efficient deployment. This talk aims at sharing the common mistakes that we have identified as well as some best practices.