Một ứng dụng cho mỗi nhu cầu

TÍCH HỢP TẤT CẢ CÁC DỊCH VỤ CỦA BẠN
THỰC HIỆN MỌI HOẠT ĐỘNG MỘT CÁCH DỄ DÀNG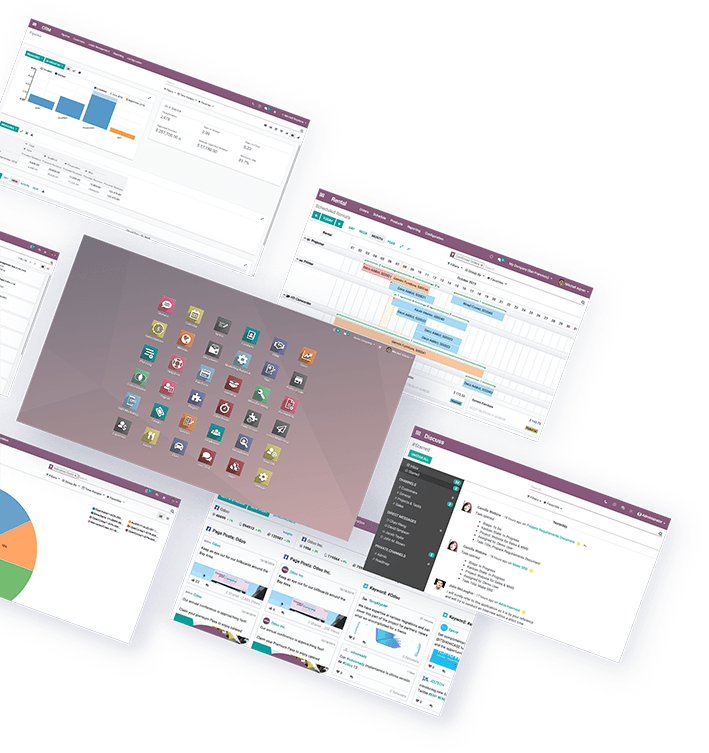 Không còn việc tích hợp khó khăn.
If you have individual software solutions that work, but don't talk to each other, you are probably entering things more than once and missing a comprehensive overview of what's going on.

Between the Odoo apps and the tens of thousands of Community apps, there is something to help address all of your business needs in a single, cost-effective and modular solution: no more work to get different technology cooperating.

Odoo apps are perfectly integrated with each other, allowing you to fully automate your business processes and reap the savings and benefits.
"We replaced 14 different applications and increased revenues by 10% overnight."

Marc Peeters, Tổng Giám đốc Bộ phận bán hàng tự động
Một đề xuất giá trị độc nhất
Mọi thứ bạn cần cùng với trải nghiệm người dùng đỉnh cao
Our family of apps work seamlessly together - giving you the ability to automate and track everything you do - centralized, online, and accessible from anywhere with any device.
The open-source development model of Odoo has allowed us to leverage thousands of developers and business experts to build the world's largest ecosystem of fully integrated business apps.
With a modern and elegant technical design, Odoo's framework is unique. It allows us and our community developers to provide top-notch usability that scales across all apps.
Các cải tiến khả năng sử dụng đối với Odoo sẽ được tự động áp dụng cho mọi ứng dụng được tích hợp hoàn toàn của chúng tôi.
Finally, with regular annual releases, Odoo evolves much faster than any other solution.
5
Million users
grow their business with Odoo
Giải phóngtiềm năng phát triển của bạn
Truy cập nhanh - Không yêu cầu thẻ tín dụng