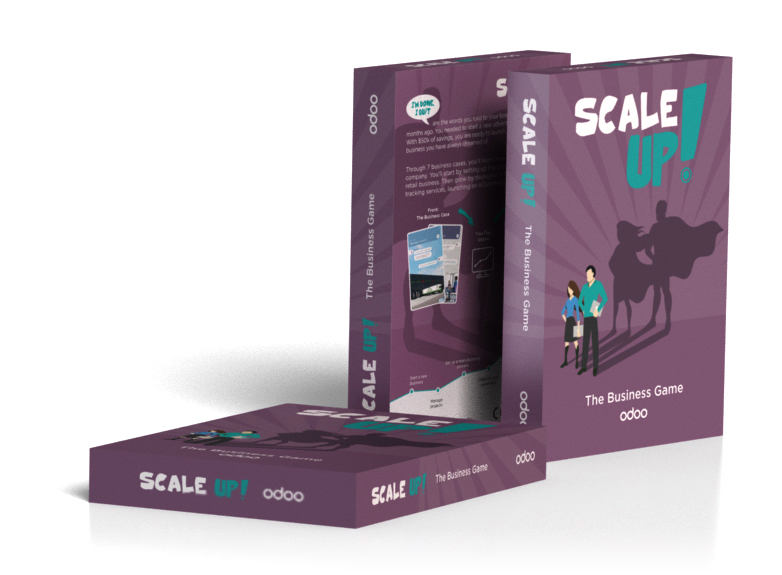 Öğrenin ve tadını çıkarın!
Hiç hayal ettiniz mi kendi işinizi kurmayı? Veya hiç merak ettiniz mi, bu süreçte bilmeniz gereken şeyleri? Odoo Scale-Up! ile 7 farklı iş senaryosuyla bunların hepsini öğreneceksiniz.
Basit bir perakende satış işinin işlemlerini ayarlayarak başlayacaksınız. Ardından bir üretim hattı kurarak, hizmetleri takip ederek, bir eTicaret sitesi yaparak ve daha fazlasını yaparak büyüyün!
Bu oyun ile:
İşletmenin sıfırdan nasıl kurulduğunu ve geliştiğini öğrenin
İnteraktif bir deneyim için kartlar ve bağlı cihazlar arasında geçiş yapın
Çözümünüzü ücretsiz olarak Odoo Online veritabanında test edin
60 adet güzel ve kolay anlaşılır kartlar edinin
7 farklı iş durumu ile oynayın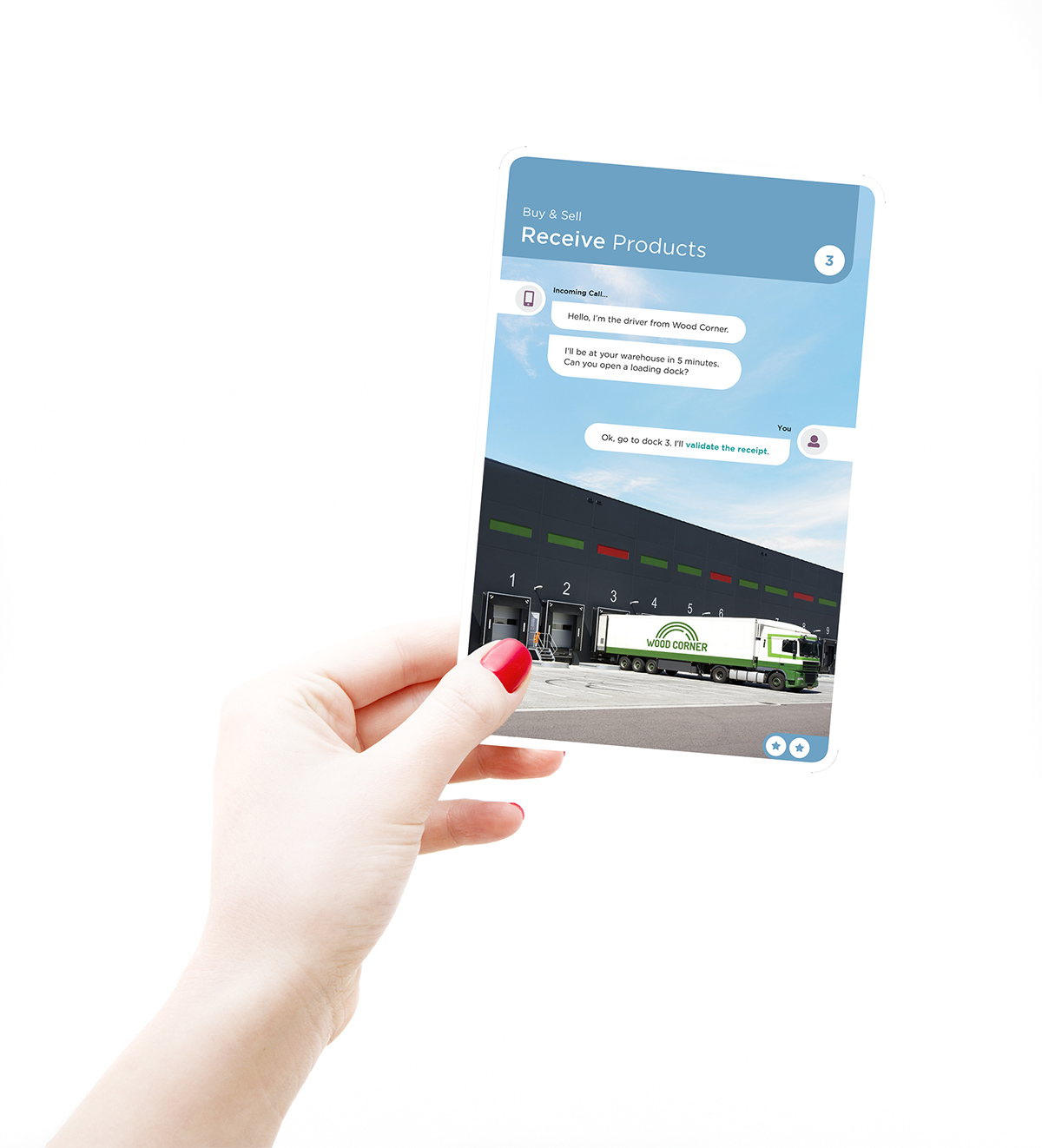 Kolay kullanım!
Oyunda her biri 8 ila 10 kartlık 7 iş vakası var.
"Al ve Sat" oyunuyla başlayın, sonra kendi taktiğinizee göre oynamaya devam edin.
Her kart için şu 3 adımı izleyin:
1. Oku önüne gelen iş vakasını.
Hemen arkaya bakma!
2. Çevrimiçi oynayın ve kendi çözümünüzü oluşturun.
3.Karşılaştır sen ne yaptığınla
kartın arkasındaki bizim çözümüzü.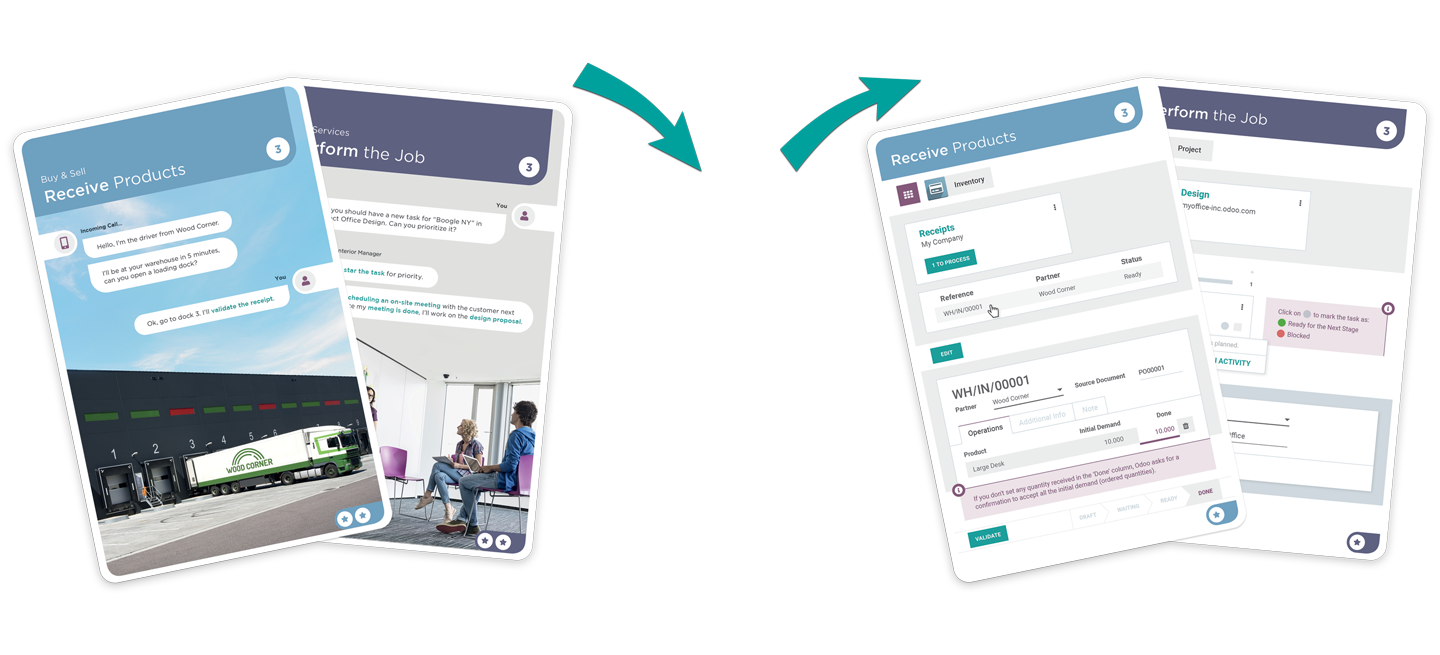 Biz Odoo seviyoruz ve müşterilere böyle şaşırtıcı ürünleri tanıtmak istiyoruz! Üniversite öğrencilerine giriş seviyesi ERP bilgisini öğretmek için Ölçek Büyütmeyi kullanırız ve çok hızlı ve çok ilgili öğrenirler. Ayrıca bazı işlevleri kendi başlarına deniyorlar ve etkileşimler harika!
Ortak: Prestige Digital Consulting, Tayvan
I'm using Scale up game in my classes in Vocational Training: The subject is ERP-CRM. The cases are perfect to explain the day-to-day work in a Company and how to register every movement in the system. My students are learning a lot about how to act in the "real world". The cases are great, and you have how to resolve it too in the same card, so it's quite easy to follow! Much recommended!!
Paz Rueda
School: Monlau. Barcelona, Spain
Course: M10. ERP
I introduced Odoo to my supply chain students for the first time in Fall, 2019 to introduce the concepts of ERP. The interactive nature of the Scale Up game was the perfect tool to teach these concepts. Traditionally, students have read about ERP solutions, but they never really have an opportunity to implement an ERP software. Scale Up gave my students first-hand knowledge of how comprehensive an ERP solution can be. The Odoo student experience opened up many new learning opportunities for the students as well. Students learned how to create a web site, set up an e-commerce site, explore inventory levels, manager customer accounts, and learn a new project management software. At the end of the course, my students used the knowledge gained from Odoo to create a demonstration ERP solution for a local business and then presented the solution to the business. Both the students and the local client benefited greatly from the Scale Up approach!
Dr. William Ritchie, Ph.D.
School: James Madison University, USA
Course: Management
The game was great!
Mariana Escobar
School: Universidad del Carribe, Mexico
Course: Taller de sistemas empresariales | Sistemas de planificación de Recursos Empresariales ERP
Through practical sheets, the "Odoo Scale Up!" business game allows students to discover step by step the functionalities of an integrated management software package (ERP). It's an interesting educational tool because it closely resembles reality!
Olivier Besançon
School: Haute-École de la Province de Namur (HEPN), Belgium
Course: Technologies de l'information et de la communication (TIC) - Organisation de l'entreprise - Comptabilité générale, analytique et budgétaire
The result is very fun and educational.
Javier Amaya
School: ITB Institut Tecnòlogic de Barcelona
Course: Vocational Training called Cross Platform Development. "DAM Desenvolupament d'Aplicacions Multiplataforma"
Previous
Next