Name of Company: Bay Alarm Medical
Country: United States
Number of Odoo Users: 80 Active Users
Industry: Healthcare
Company Size: Approx. 150 Employees
Name of Implementation Partner: Brainvire Infotech Inc.

Services Offered: Invoicing, Sales, Accounting, Inventory, Purchase, Email Marketing, Subscription, eSign, Marketing Automation, Documents, CRM, Helpdesk
Bay Alarm Medical's sole goal has been the same for over 70 years - to secure the most important things in life: family, wellness, and independence. They are proud to offer the best life-saving warning systems for seniors in the United States.
They strive to protect their clients with industry-leading medical alert technology. They are able to achieve this goal with support from one of the country's most reliable 24-hour medical alarm emergency call centers.
The company offers different devices for residences. Each one is designed to help the elderly (and aging) trigger an alert if they experience a medical emergency. Their devices are connected to the 24/7 call center (and 911 operators), who provide them with immediate help whenever an alert has been activated. 
Bay Alarm Medical is known for their different device packages, which offer their clients a mixed variety of gadgets to ensure they have complete connectivity - no matter what.  

Challenges With A Scattered System
The biggest challenge for Bay Alarm was the scattered nature of their workforce systems. The company was using multiple tools and software for different functions. They were using Salesforce for CRM and FinancialForce for ERP to manage their accounts and finances.
Moreover, they were relying on multiple excel sheets, a hybrid mobile application, and other custom solutions to take care of all their business affairs. For eCommerce, they were dependent on Magento, along with other third-party tools for additional operations. This dispersed way of functioning meant that none of these systems were 'talking to each other.' In other words, they were not providing a unified view of Bay Alarm's different business operations.
Since Bay Alarm primarily functions on a subscription-based model, it was difficult for them to track recurring businesses, payments, and subscriptions with this haphazard setup. Bay Alarm primarily caters to the elderly, by installing security alarm systems to ensure their safety.
Many times subscriptions are handled by children, grandchildren, or relatives of the primary customer. In such cases, the shipping and billing addresses can be different. This required an efficient system to properly manage payments, installation, and customer services.

Problems With Salesforce
While Salesforce is a premier CRM system, it just wasn't the right fit for Bay Alarm. Salesforce's only free version is the "Developer Edition," which is restricted in terms of data and users. Odoo is an open-source platform that comes in three versions: two are local and one is cloud-based. 
In addition, the high licensing and customization costs were another mark against Salesforce. Bay Alarm was shelling out a large sum of money while using Salesforce, however, they were unable to reap the benefits they had hoped for. The lower licensing costs helped save Bay Alarm a lot of money. 
In terms of Sales functions, Salesforce seemed to lag quite a bit, since it did not support pricelists, quotation templates, online payments, or invoicing. Most importantly, Bay Alarm struggled with Salesforce because it failed to provide a customer portal, and didn't simplify their subscription management system, which are two areas deeply rooted in their business model.
Essential analytics were missing in Salesforce, as well. Bay Alarm was unable to gather any kind of data about customers, purchases, and orders, which they would've utilized to make informed business decisions. 
The company's huge database was too much for Salesforce to handle, making it extremely cumbersome for the organization to manage their customers. Since Bay Alarm works on a subscription-based model for their products, the management of subscriptions (and subsequent invoicing) could not be customized in Salesforce. 
These obstacles ultimately compelled them to start searching for alternative options. That's when Bay Alarm approached Brainvire. Brainvire is an Odoo Gold Partner and offers fully-tailored Odoo ERP development services for clients across industry verticals. Our team took heed of Bay Alarm's requirements, and gave them multiple demonstrations for Odoo.
They were quick to prove why Odoo is the perfect platform, as it can sustain and manage their data easily, while simultaneously providing users with a scope for customizations and scaling. 
Headstart With Odoo
Overall, what Bay Alarm lacked was an omnichannel experience. They were unable to offer an integrated service to customers across platforms and channels. 
In light of these difficulties, Bay Alarm finally decided to opt for Odoo. Brainvire suggested the use of the Odoo Enterprise Version. Brainvire implemented multiple modules that were fully customized to suit Bay Alarm's unique needs. Here's a closer look at some of them.
Subscription & Workflow Management

The workflow management module in Odoo is connected to the CRM system, where the system will generate leads. Once those leads are converted, Bay Alarm can generate a sales order.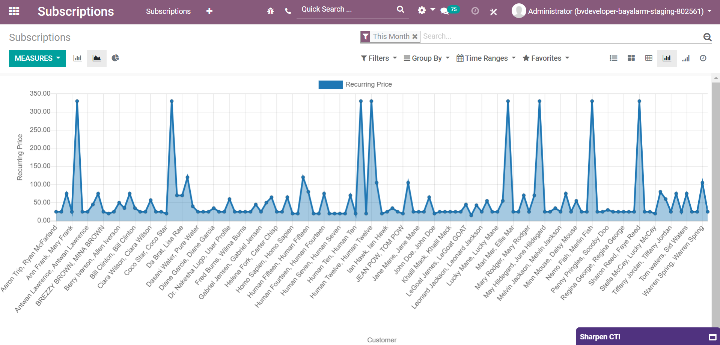 The sales and invoicing functions are directly connected to the subscription model. Lead generation and lead nurturing are other aspects where Salesforce falls dramatically short, since it does not provide scope for lead tracking through visited pages, nor does it offer events or blogging to communicate with those leads.
Bay Alarm sells products in a variety of packages, like monthly, annually, or semi-annually. They offer bundle products or simple product packages. In order to help them manage their purchases better, Odoo provided an excellent dashboard where they could simplify their orders, purchases, and subscription management processes. Customers have the option to choose from three different kinds of purchases: advance purchase, downgrade, or panel swap.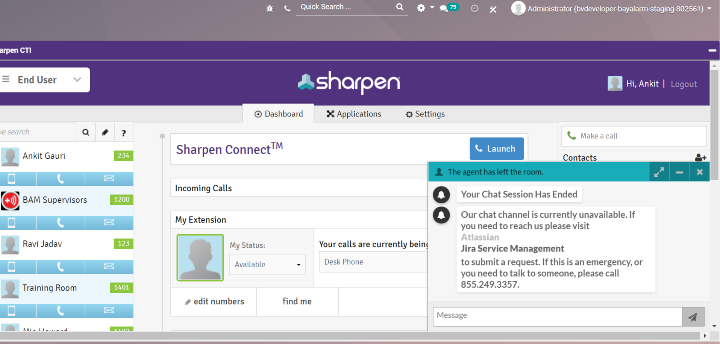 Earlier, when an order was canceled, it took almost 13-15 minutes for the call center reps to manage the order processing. With Odoo, it was reduced to 3 mins. The faster response time led to a 20%- 40% increase in recurring customers. 

Customer & Sim Card Registration

The system is further integrated with the Avant Guard to register the details of each customer and facilitate device activation (or deactivation). Jasper, a third-party application, is also integrated with sim card registration. These are required to trigger the alert that will be sent to the 24/7 emergency services. 
Invoicing & Recurring Billing

Odoo wins extra brownie points when it comes to recurring business, especially compared to Salesforce. The Odoo ERP system has been fitted with a high-performing recurring billing system that generates up to 1000-1500 invoices per day.
This is in-line with the deferred revenue system, where the system automatically calculates the total revenue and profit earned by the company after taking into account subscriptions, recurring bills, and prorated invoices. 
To ensure safe and secure payment, Odoo has been integrated with Authorize.Net and CyberSource.
Warehouse & Inventory Management
For Bay Alarm, Odoo ERP has been integrated with DHL, a third-party inventory and warehouse management system for stock storage and deliveries. DHL will provide regular and real-time inventory updates to the Odoo system. This will keep Bay Alarm in the loop about the status of stock, orders, and deliveries to ensure smooth and transparent service.
Conclusion
With Odoo, Bay Alarm completely transformed their subscription management system and invoicing processes. Since they've witnessed the advantages that Odoo provides over other CRM systems, they are now looking for a long-term partnership with Odoo that will enable them to make more informed business decisions going forward. We created an integrated business ERP, wherein Bay Alarm could cater to their customers fully and effectively. 
Furthermore, all functions like accounting, reporting, billing and payments, and eCommerce were all integrated into Odoo to provide a complete and transparent view of all ongoing business processes. Our aim to improve the overall customer journey was fulfilled with Odoo. Brainvire's
Odoo ERP Consulting Services
will play an integral role in helping the company seamlessly transition to Odoo.
About Brainvire Infotech Inc.

Brainvire Infotech Inc. is a leading Gold Partner with Odoo. They specialize in helping companies increase their efficiency and optimize their internal businesses processes with innovative, modern solutions.


Learn more at brainvire.com