Name of Company: GAFCO: Gulf Air Filters Factory Company
Country: Riyad
Company Size: 200
Number of Odoo Users: 100 Active Users
Industry: Manufacturing
Hosting: Odoo.sh
Apps Implemented : CRM, Sales, Purchase, Inventory, Manufacturing, Accounting, Quality, Maintenance, Fleet, Payroll, Time-Off, Employee, Document, Recruitment, Survey, Expense, Attendance
Implementation Partner: Brainvire Infotech Inc.
Implementation Timeline: 6 Months
Company Overview
GAFCO is a leading Middle Eastern company, with over 20 years of experience selling next-generation air filtration systems in more than 20 countries to satisfy market demands and environmental norms. Their goal is to deliver that same great experience for customers worldwide, enhancing operational productivity in one, single platform.

One thing that sets them apart is the many variations in filters (and sizes) that they offer their customers. While each filter provides a custom fit for each client, clients can customize what they want by selecting from one of their various preset filters, or they can order customized filters (which will be considered "new products" when ordered).

There are multiple details that go into each one (such as the size, etc.) and all these change depending on the order. Each time the PO/Sales Order is raised, we need to make sure that these details change accordingly.
Business Challenges
The client wanted to digitize their current process by managing a customer-facing website in Magento, and solving frontend needs using the request for quotation.

Previously, they used SAP for that task because it can customize the features and inventory on the same platform. However, they recently abandoned these plans due to customization limitations and a limited support system.

They initially started using Odoo on a trial basis, and after trying out different options, they liked the features with easier customizations, and decided to jump into Odoo ERP for their backend solutions.

The business wants to integrate Odoo ERP with a leading open-source backend solution as a master data source. In addition, they want to be able to handle CRM, Sales, Purchase, Inventory, Manufacturing, and HRMS using special product codes.
Odoo - Magento Integration
We integrated Odoo's backend with Magento. The site now has features to send inquiries about products from Magento to the Odoo system, and back. It can also keep track of shipping and delivery status, so customers know when their products will arrive, or have been shipped.
Odoo Enterprise Modules
CRM
Since GAFCO communicates with many different partners, we relied on Odoo to manage contact relationships and their details. This system also helped us manage their product codes.

This CRM module has customer data entered through an excel sheet, and uploaded to the Odoo application. The list will contain all customer names, customer codes, phone numbers, contact persons, addresses, tax ID numbers, and delivery terms.

Also, there are other fields, like registration number, VAT number, billing address, shipping address, Google Map links, industry type (price-oriented or quality-oriented), and contact information (such as: email addresses and phone numbers).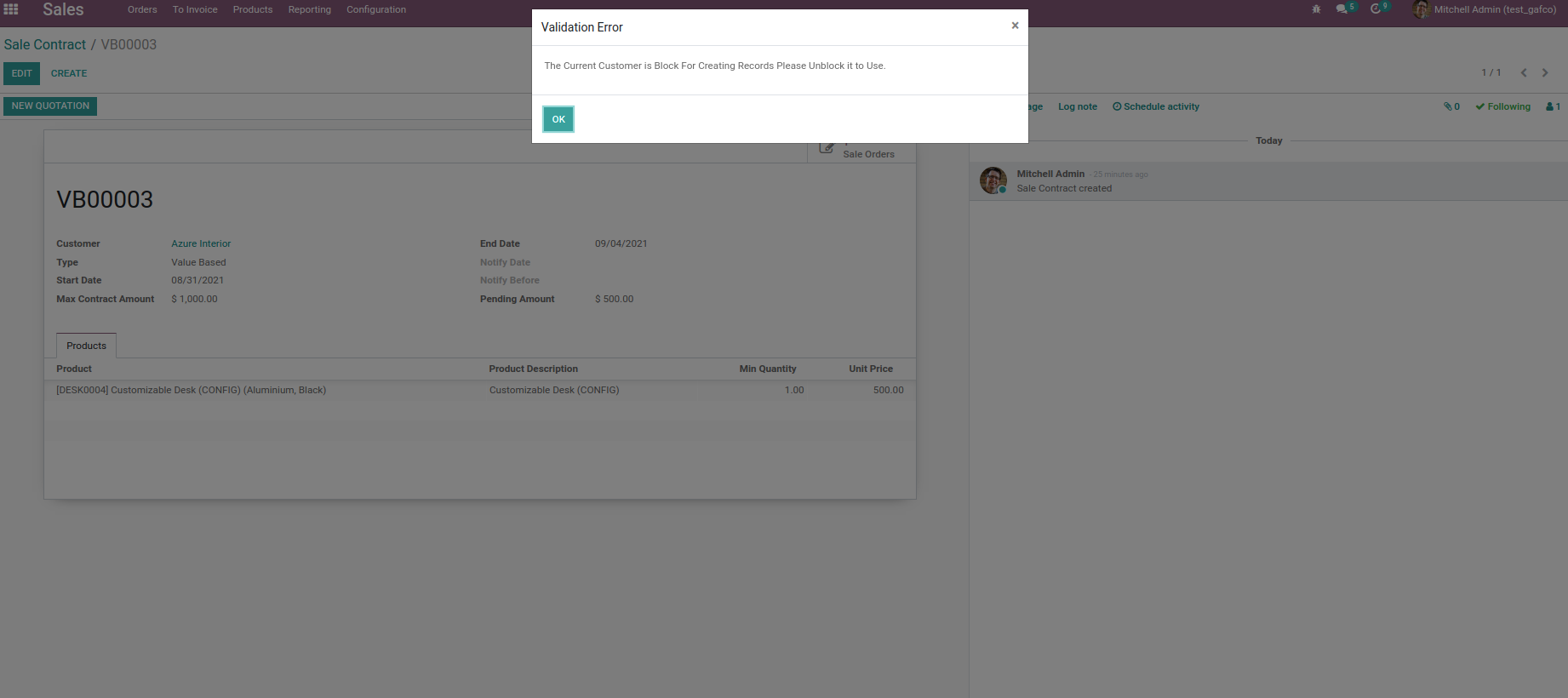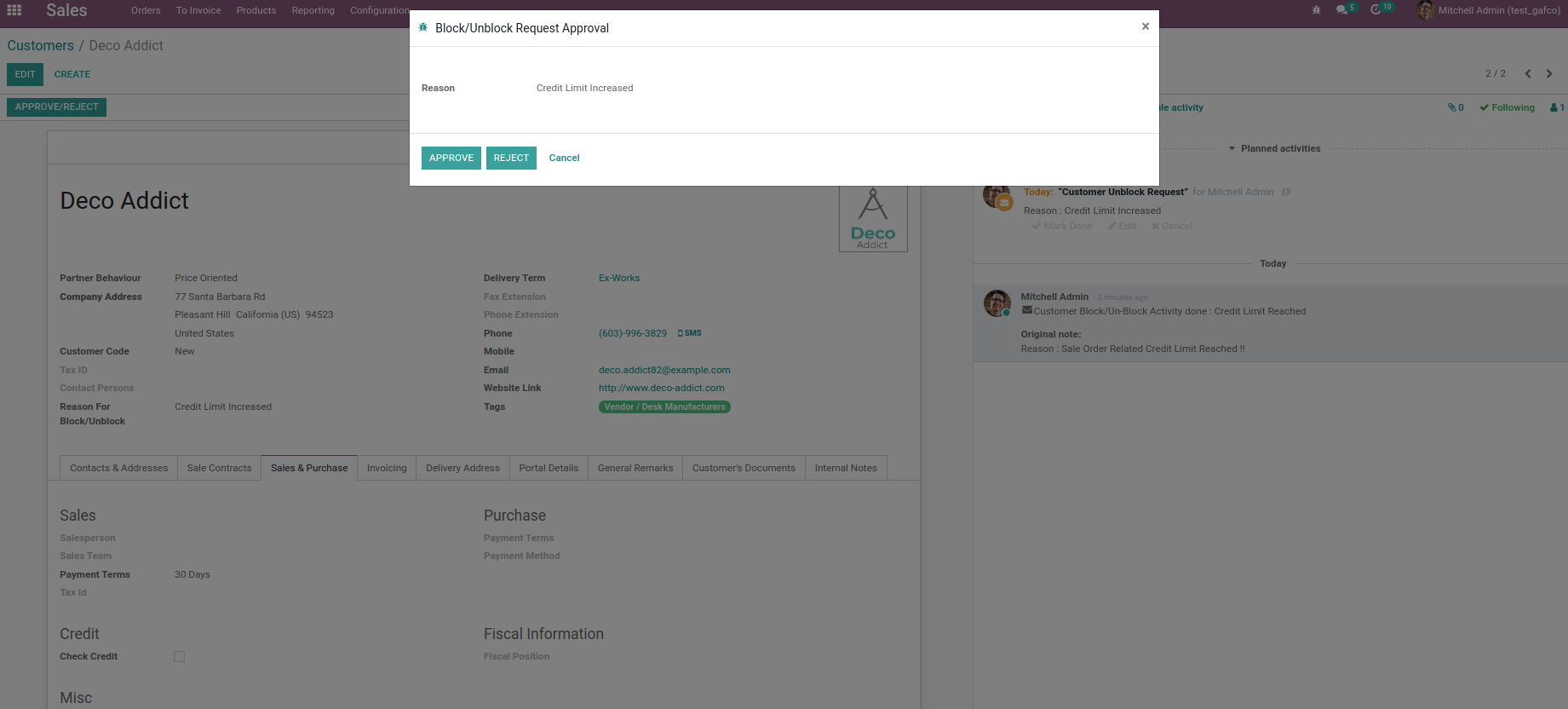 Sales
We have integrated the Odoo Sales module to customize many product and bundle attributes, making it more straightforward for sales managers to update the price (or appropriate fields) with a single click.

We have also included blanket order management for customers, which means orders are sorted by contact name, rather than order date. As a result, sales reports can now be generated from a sales quote.

We have made improvements in this area through the Odoo Sales module:

- Product Data Manager

-  Managing product data, which is displayed on the website

-  Raw Materials Master Management

-  Standard & Custom Product Code Management

-  Optional Product Management

-  Service Type Product Management

-  Sales Quotation

-  Quote Pricing Management

-  Sales Order Interface

-  Sales Order Commission Management

-  Sales Document & Printing

-  Sales Report

-  Customer Orders (based on Contracts)

-  Searching Previous Transactions

-  Sales Dashboard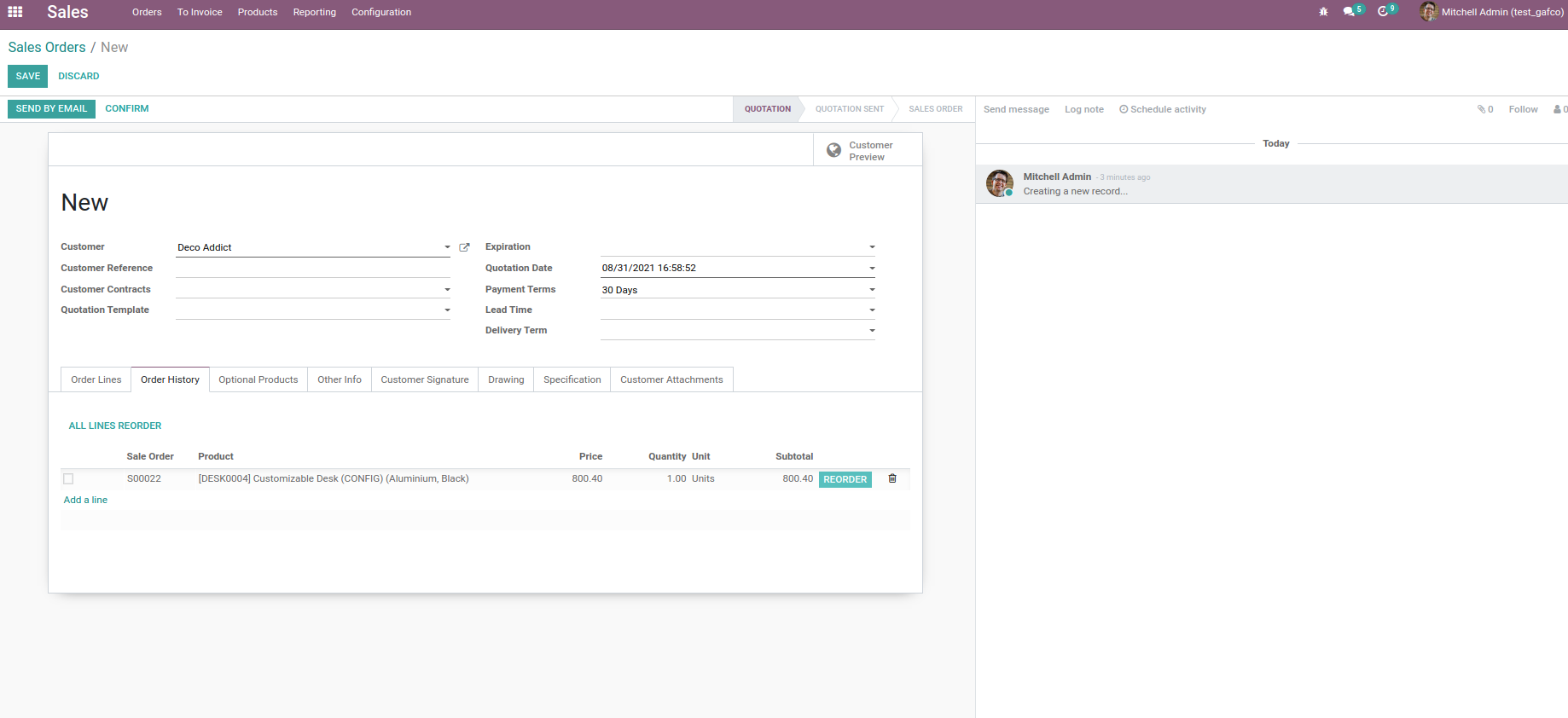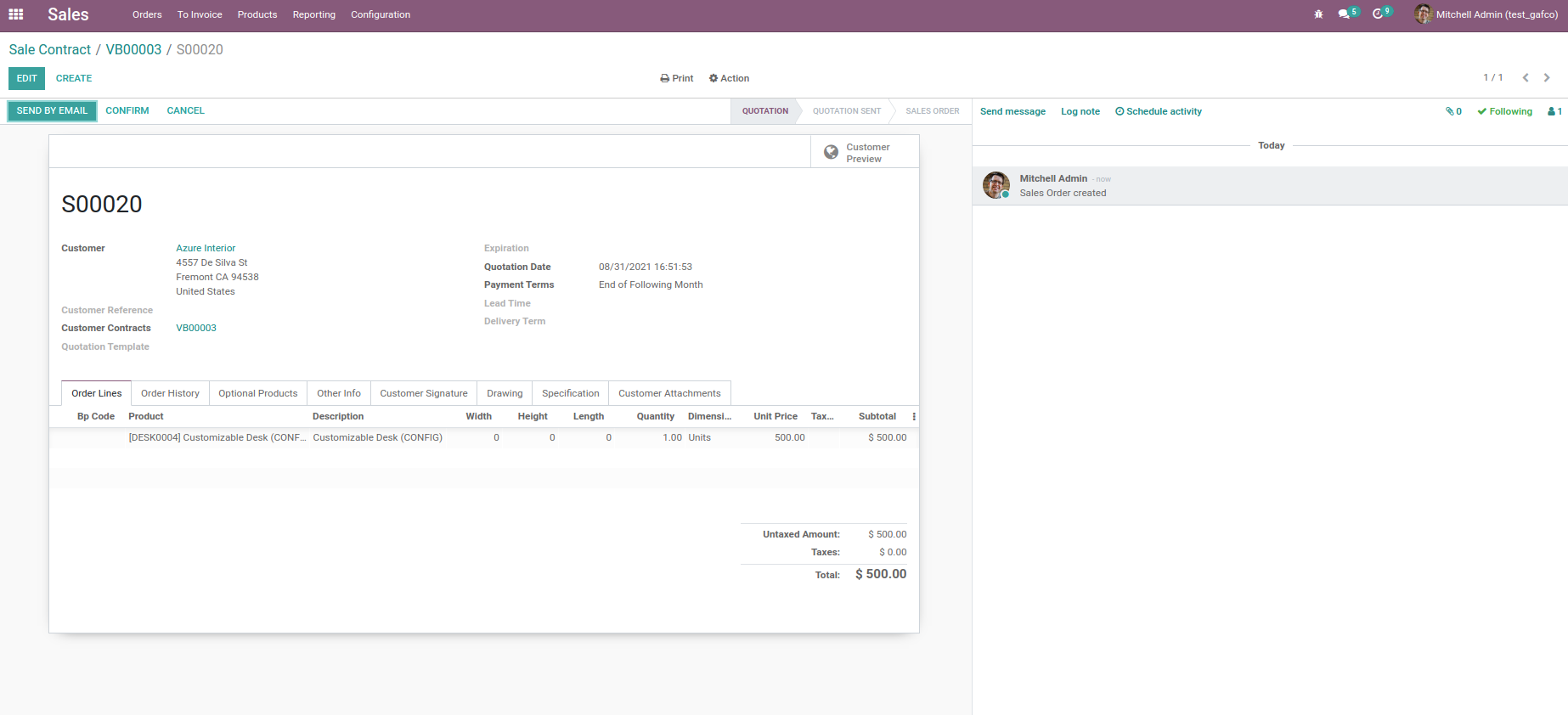 Purchase
Manage purchase requisitions, on-confirmation raise purchase orders, call for tenders, and share the product requirements in an excel sheet to vendors.
Purchase Features Implementation
Purchase Order

Blanket Agreements

Purchase Request

Purchase Quotes & Orders

Landed Cost

Purchasing Documents

Purchase Dashboard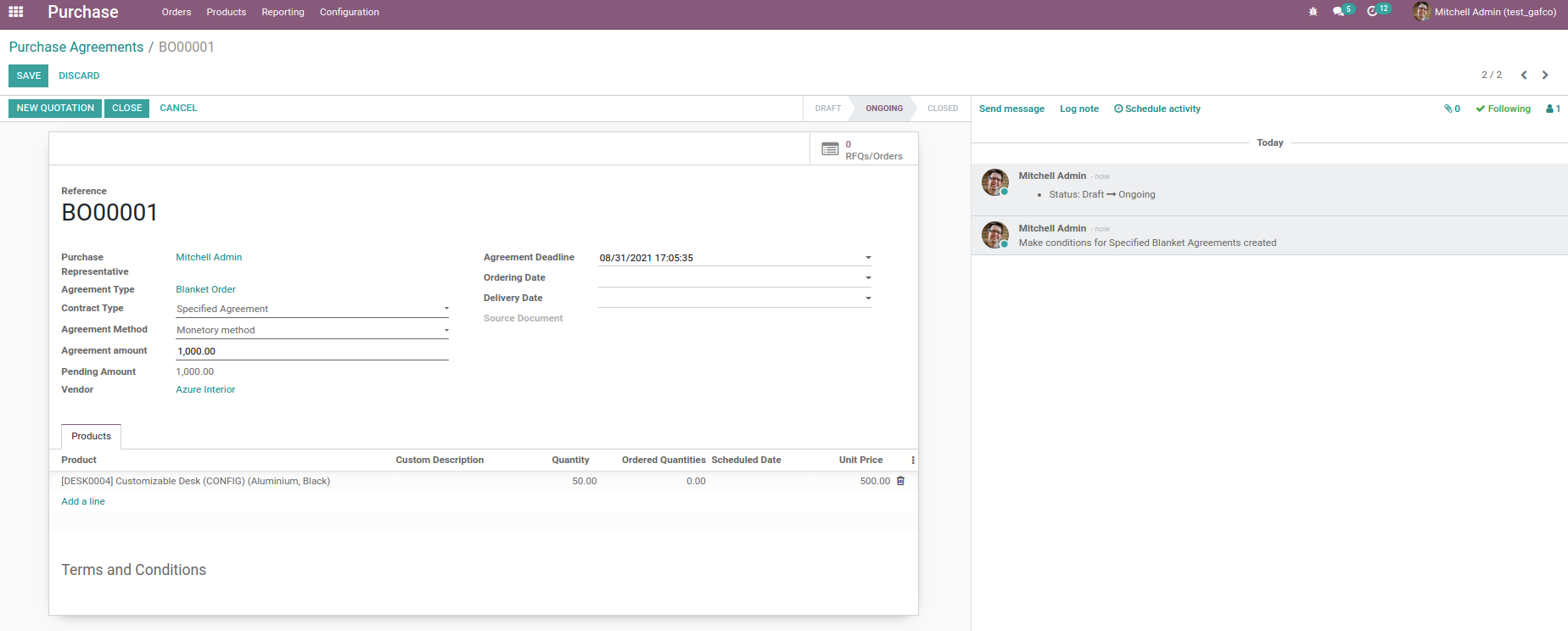 Inventory


Manage inventory and logistic operations, generate Arabic delivery notes and invoices, and access the TNT and OTEX Express shipments manual upload feature.

Inventory features implemented by us:

- Product Inventory Management

-  Warehouse Management

-  Shipment Process

-  Delivery Orders Management

-  Logistic Documents Management

-  Shipment Forms Management

-  3rd-Party Deliveries

-  Inventory Dashboard
Accounting
The Odoo Accounting system helps manage Saudi Arabia's localization needs and handles customer credit limits and tax reports.

Features that we created under Odoo Accounting modules:

- Saudi Arabia Localization

-  Invoice Management

-  AR/AP Interface

-  Account Balance Management

-  Credit Note Management

-  Internal Reconciliation Interface

-  Accounting Reports

-  Tax Structure and Report Management

-  Manual Bank Reconciliation

-  Debtors/Creditors Interface

-  Financial Claim Templates

-  Company Documents, Assets, and Expense Reminders

Expense Management
GAFCO will be able to manage employees' expenses and reimburse them in a two-step process with the system.

The first step will involve inputting data into the system, which will generate an expense form, from which the employee can create an entry for reimbursement.

They can scan expenses, and through OCR technology, the system will automatically read the bill and generate expense records. The system will allow you to claim your business expenses on payslips.
Project
GAFCO will be able to create tasks from leads and opportunities. With the ability to organize, schedule, plan, and analyze the projects created for new leads, the out-of-the-box Odoo project module also lets them discuss tasks and share documents.
There is a quick task from leads or opportunities extension that can be considered.

Manufacturing
The Odoo Manufacturing module is supported by several different quality assurance checkpoints and equipment maintenance.

Features that we implemented in the Odoo Manufacturing Module:

- Production Line Grouping

-  Material Transfer

-  Notification when Production is Done

-  Labeling

-  Serial Numbering

Quality Control
GAFCO's production managers will be able to define quality checkpoints on manufacturing orders.

Through configuration, these production managers will be able to delegate responsibilities to their team of qualified specialists.

In addition, the production manager will be able to assign quality points for each work center, and specify which team is responsible.

This fits with the user's desired quality standards, and if they order a product that doesn't meet all of them, they can define the reason why in their follow-up documentation.

Maintenance
We modified the maintenance management module so GAFCO can create and raise maintenance requests.

The entire team's details are managed in Odoo, and the company can add multiple team members to that category. All of the equipment information is also found in Odoo, if necessary.

The equipment page will contain information on the category, a summary of who has used it and when, any technical details that may be needed to keep your equipment working well, where to find vendor information, and what other facilities this equipment is in (as maintenance schedules).

Maintenance requests contain information about the nature of the work, who should be responsible for it, priority level, and how long someone says they'll need to complete it.

You can view all requests in a given calendar day, week, or month, and we'll also provide out-of-the-box analysis tools.

Fleet
Odoo's fleet management module will allow for the management of deliveries using company-owned trucks. When GAFCO assigns a service order to a driver, they will see the name of their next delivery as an indicator on the screen.

When GAFCO registers drivers and trains them, the driver service agreement provides an easy way to identify employees.

Behind this agreement is Odoo's employee master data. Once the driver completes training as registered by the company, via ODOO, they are expected to complete deliveries and become familiar with all the necessary documentation.

The driver will come over to the operations department and collect already downloaded documents. The driver then loads shipments into a suitably-sized vehicle, and changes the status to: Shipped.

If the customer cannot collect goods from the driver, they can arrange a collection time through GAFCO's website. When the goods are delivered, drivers (or forwarders) will inform us of the goods' delivery, and we have to change the order status in our system to: Delivered. The sales team is also notified about this change in position as soon as it happens.

Approvals
Through Odoo's customer approval management, GAFCO can now approve the new account creation, or manually add that contact in the existing Customer record, and restrict creating a new customer or a new lead.

Whenever the same company contacts the GAFCO team with a new branch customer, it will be easy for the GAFCO team to approve each detail before creating a new lead. You can also manually add customers if you are an existing account holder, (i.e. when you contact different branches of your own company).

For companies not yet registered from Magento, the Customer must add a company first, then secure approval from our sales team. Once that registration process is concluded, and the company has been activated on the site, the Customer can also be activated.
Documents
All customer-specific documents are to be managed in the Document module in a separate folder.

Users shall be able to manage all customer and employee documents. Document management is considered in scope to manage all the customer and employee documents in one folder. 
HRMS Features & Customizations
We customized the payroll module in Odoo for GAFCO and included a standard payroll for employees. Along with the alterations required to complete an end-to-end flow, we allowed candidates to submit their applications via email, as well.

The recruiter can use a survey to create an interview form (or a quick questionnaire) shared with applicants and then tracked in the Recruitment module, while also managing employee documents. Additionally, triggering renewal alerts on ID cards expires.

Therefore, GAFCO's org chart, system users' work entries, non-system users' work entries, and Salesperson expense claim reimbursement tasks can all be managed through the payroll module.
Recruitment Management
The company customized recruitment management software to track all recruitment activities. The recruiters will post job openings and start the application process, while GAFCO's recruiting specialist team handles most of the vetting for them.

GAFCO's hiring system can create several job openings and allow them to be staffed. All applicants email their resumes, and the system automatically creates a new application for each position.

They can create and manage a pipeline for candidates, so they're never scrambling to get organized. They also compile applicants' resumes in an easily accessible and visually appealing resume-library. Candidates can be narrowed down using a recruitment interview form—but this is only true for "some reports."
Time-Off Management
GAFCO users will be able to manage each employee's time-off. A user will be able to generate pay based on time-off. Users will have a calendar view to see all the employee's time-off.

Users will be able to manage different types of time-off in the system. Users will view additional employee time-off requests, and can approve (or reject) time-off based on situation and condition. 
Payroll Management
To provide access to HR, who will be able to see the HR module in Arabic

Users will be able to define pay structure in the system and provide payroll module key terms (provided by Odoo) in the Arabic language for GAFCO.

To configure different salary rules using python code

Customize overtime salary rules to calculate overtime on each employee's salary structure. Also, customize the GOSI contribution salary rule.


To develop functionality to automatically calculate overtime by comparing each employee's punch-in and punch-out records

We will create other salary structures for different employees by grouping multiple salary rules—for example, junior sales executive, senior manager, etc. We will add the overtime checkbox. By enabling the overtime checkbox, the GAFCO team will add the hourly rate of overtime.
Attendance
Users will have access to approve each employee's attendance and, based on that, a payslip can be generated.

Functionalities that we implemented:

- Mobile-Based Attendance Tracking

- Attendance Management 
Rundown
Brainvire's experienced Odoo experts offered more usability of its integration for its CRM and other modules. This has helped with recent frontend and backend updates, making requests for quotations, business partner contracts, cost, invoicing, monitoring, and human resource management much better than before.

We simplified the product selection steps, along with the customization of the product selection options, allowing business partners to filter their desired results quickly.

Through Odoo Enterprise, we have simplified the data fetching process: by adding multiple facets for product selection, we can fetch the requirements of manufacturing products based on different demands. Therefore, in this app, you can find a solution that suits your needs.

We also mapped the product more plainly and added assistance from the Odoo- Magento integration solution, which maps an item's serial number to its location. So if a customer previously purchased this, or any other version of that item, and reorders it, they can be sure the correct one will be delivered.

The purpose was to improve business processes, and Odoo exceeded expectations greatly. Brainvire's Odoo ERP Consulting services are likely to be crucial in helping the company's seamless transition to Odoo.

About Brainvire Infotech Inc.

Brainvire Infotech is a prominent Odoo Gold Partner, with Odoo implementations completed in various sectors, such as: Automotive, Retail, Logistics, Automobile, Diamond, Real Estate, and others. Brainvire's growth strategy has effectively advanced project deployment for over 20 years, thanks to a strong workforce of in-house experts. 

Brainvire provides Odoo implementation services, such as: Comprehensive Migration, Customization of Core Odoo Modules, Retail Omnichannel ERP Solution, Vertical Wise Solution, GAP Analysis & Consultation, 3rd-Party App Integration, Quality Assurance, Deployment & Rollout, and even Training.


Learn more at brainvire.com