Hello, so I'm following the docs documentation now, but I still encounter the same problem as I watches tutorial, I can't figure out why I can't see my custom module I made. 

I don't know if my I make mistake, but i'm following the docs, please explain to me if possible on which part I got wrong, I really appreciate it guys, thank you so much!

This is my main directory.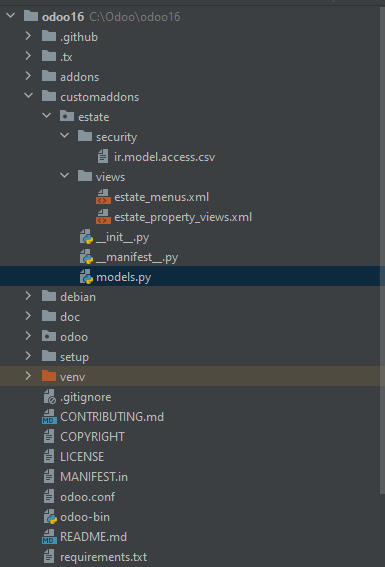 models.py


from 

odoo 

import 

fields

, 

models



class 

RealEstate(models.Model):
    _name = 'estate_property'
    _description = 'Real Estate Property'

    name = fields.Char(

string

=

"Name", required

=

True

)
    description = fields.Text(

string

=

"Description"

)
    postcode = fields.Char(

string

=

"Postcode"

)
    date_availability = fields.Date(

string

=

"Date"

)
    expected_price = fields.Float(

string

=

"Expected Price",  required

=

True

)
    selling_price = fields.Float(

string

=

"Selling Price", required

=

True

)
    bedrooms = fields.Integer(

string

=

"Bedrooms"

)
    living_area = fields.Integer(

string

=

"Living Area"

)
    facades = fields.Integer(

string

=

"Facades"

)
    garage = fields.Boolean(

string

=

"Garage"

)
    garden = fields.Boolean(

string

=

"Garden"

)
    garden_area = fields.Integer(

string

=

"Garden Area"

)
    garden_orientation = fields.Selection(
        

string

="Garden Orientation",
        selection=[(

'north', 'North'

)

, 

(

'east','East'

)

, 

(

'south','South'

)

, 

(

'west','west'

) ] 
    )

estate_menus.xml




estate_property_views.xml





This is my __manifest__.py



{
    

"name"

: "Estate",  # The name that will appear in the App list
    "version": "16.0",  # Version
    "application": True,  # This line says the module is an App, and not a module
    "depends": [

"base"

],  # dependencies
    "data": [
        'security/ir.model.access.csv',
        'views/estate_property_views.xml',
        'views/estate_menus.xml'
    ],
    "installable": True,
    'license': 'LGPL-3',
}


This is my ir.model.access.csv


id,name,model_id:id,group_id:id,perm_read,perm_write,perm_create,perm_unlink
estate.access_estate_property,access_estate_property,estate.model_estate_property,base.group_user,1,1,1,1


ADDITION: 

This my odoo.conf

[options]


admin_passwd 

= $pbkdf2-sha512$25000$7N07x/hf670XwvjfG2OMsQ$4bzF6iN4y0uxX3o915LeEAznINV1e8bZMf1c6rkyOX4Q5UfZE5uMYsvQwiY89IIZ2b61izNr3uVqEnbV3b6kxQ


db_host 

= localhost


db_port 

= 5432


db_user 

= admin


db_password 

= admin


addons_path 

= addons , customaddons


http_port 

= 8015