Looking for Services?
Contact a Partner in Switzerland
giordano.ch ag
Ready

Partner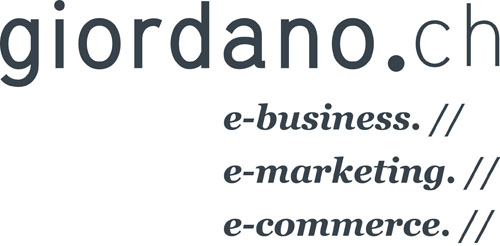 Teufener Strasse 11
CH-9000 St.gallen
Switzerland
giordano.ch ag ist Ihr kompetenter Partner für E-Business, E-Marketing und E-Commerce. Von der Beratung, Konzeption und Programmierung bis hin zum Betrieb entwickelt giordano.ch ag kundenspezifische Anwendungen. Wir bieten Ihnen Know-How und Kompetenz aus über 30 Jahren Erfahrung in Business- und Kommunikationslösungen.
giordano.ch ag ist spezialisiert auf die Definition und Implementierung von Business-Prozessen für Handels-, Fertigungs- und Dienstleistungsbetriebe mit odoo Management Software. Wir garantieren Ihnen höchste Qualität im Betrieb. Gerne unterstützen wir Sie mit professionellem Support für den reibungslosen Betrieb Ihrer individuellen Sicherheits- und IT-Infrastruktur.
Auf unserer Website www.giordano.ch finden Sie einen Link zur kostenlosen Registration Ihrer individuellen odoo Demo-Datenbank.
Unsere odoo Websites bietet Ihnen umfangreiche Produkt-Informationen in deutscher Sprache. 
giordano.ch ag is your competence-partner for e-business, e-marketing and e-commerce. From consulting, conception and programming to operation we are going to develope customer-specific solutions. We provide know-how and competence over more then 30 years in business- and communication-solutions.
giordano.ch ag ist highly specialized on definition and implementation of businessprocesses for companys in commerce, manufacturing and service with odoo management software.
We guarantee you the highest quality in service. And we support you by professional assistance for a smoothly operation of your individual security- und it-infrastructure.
On our website www.giordano.ch you will find a link to the registration of your own odoo demo-application for free. Our odoo websites provide a extensive odoo knowledge in german language.
References