Key Account Manager Mid-Market & Corporate
Rue laid Burniat 5, 1364 Louvain La Neuve, Belgium
Sales
Are you ready to learn fast and have a real impact on the company?
Join our amazing and dynamic team of Key  Account Manager  Mid-Market  &  Corporate  and rise to the challenge to evolve in the IT sector!
Products Users
7,000,000
Company Growth
60% year over year
Team Size
15 people
Sales Cycle 
6 - 12 months
Our department
Our Mid-Market & Corporate Sales department dedicated to large customers implementation projects is looking for new colleagues to join our amazing team. This department was created only 2 years ago and is one of the main pillars of Odoo's turnover growth this year.
You will be dealing with Mid-Market & Corporate companies (+100 employees) across Europe in any industry. Their complex business needs will require a high effort of pre-sales analysis and functional advisory to convince them Odoo is the best ERP system to optimize their activity for the long term. 
If you are looking for a position where you will value your experience in IT or business consultancy and use your analytical and sales skills to advise large companies, then you are definitely at the right place!
Responsibilities
Understand the context of the project (legacy systems, challenges they are facing, reasons for the change, timing, decision makers etc) through a first qualification meeting.

Analyse their business processes and workflows of all relevant departments through various meetings, RFI/RFQ or use cases received by the customer

Present how Odoo applications could fit with their needs and advise them how they can optimize their way of working through a live software demonstration and architecture advisory

Work closely with the business analysts' team to design specific solutions for your customer and reassure them about their industry specificities

Convince them to choose Odoo among multiple players on the market

Advise  CIO, CFO, CEO in their digital transformation 

Negotiate  pricing and legal aspects

In addition to managing the full sales cycle, you will closely follow the project implementation with the consultant team and participate at the Steering Committee

Grow with your customers and manage long term relationship with them

Contribute to the optimization of the MMC department with your experience and initiatives
MUST HAVE
Master in Business 

2 to 5 years experience in Consulting or technology Sales   

English & French  (Dutch is an asset)


Strong business knowledge & analytical skills 

Strong communication skills 

Genuine interest in IT and ERP 

Work permit for Belgium
WHATS GREAT IN THE JOB
The perfect position between

Consulting and Sales 



A new department where you will be encouraged to contribute with your ideas 

Manage the full sales cycle and ensure the implementation's success through regular follow-up with internal team and customer 

Strategic projects for large companies with potential international deployment 

A learning experience when you will develop an expertise in various industries 

A small but amazing team of 15 direct colleagues
 
WHAT DO WE OFFER
 A full-time position with attractive benefits 💰 Car, fuel card, up to 35 days off, meal vouchers (8

€/day), eco-cheques, hospital & Group Insurance, representation fees and much more ! 

CDI Full-time (38h/week) with home working 2 days/week

High commissions with no ceiling 

International company with offices worldwide : Mexico, San Francisco, New-York, Hong-Kong, India, Dubai,  etc  🌍 

12 days of training a year 

Sport activities 💪

Several events : after works, barbecue, team building, rooftop, etc 

Fruit basket, coffee and a chef  👨🍳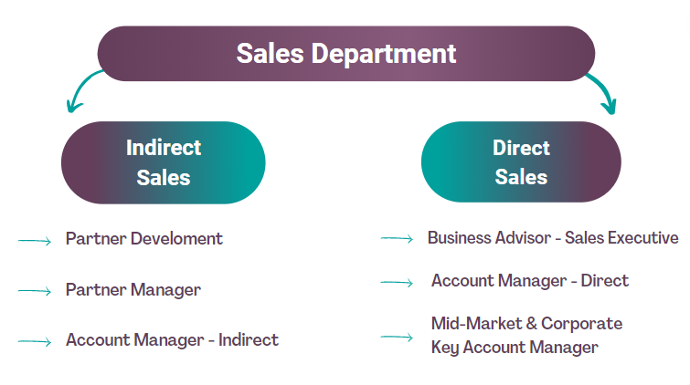 How does it work in Sales? 
Our Sales department is divided in two parts: Direct & Indirect Sales. 
In Direct Sales, we work in direct contacts with SME's. 
In Indirect Sales, we collaborate with Partners (Odoo resellers).

Hunter? See here 👉Business Advisor & Partner Development 

Farmer-spirit?  👩🏼🌾 Account Manager will be perfect for you!

More into large projects? 📚 Go see our Key Account Manager position. 

Want to train & teach our Partners? 🧑🏫 Our Partner Manager position is made for you!