[Indonesia Week] Case study: Digitalizing Indonesian trading company with Odoo apps
Success case study:
Trading company
First of all, we would love to thank all of you who have supported our Jakarta roadshow by signing up for the events. However, we have no choice but to cancel our upcoming events in view of the current COVID-19 situation, in order to protect the health and safety of all involved parties.
But that does not mean we are not at your service anymore. Actually we are planning to meet you for almost a week online.
Sincerely launching the exclusive "Indonesia Week" in the Odoo Webinar Series. The web series will cover one live-streaming session per day (from April 6 to 9), which will be hosted in Bahasa Indonesia.
This one, Digitalizing Indonesian trading company with Odoo apps, will take place on April 8 at 10AM (GMT+7). In this webinar, we will share how Indonesian trading companies can take advantages from various Odoo apps, such as our Purchase, Inventory and Sales apps. These apps help you manage a complete business cycle from supplier procurement to customer delivery and invoicing, done by automation.
Exciting enough? Register for this one-hour webinar where the followings will be go through for you, and participate in the Q&A session where you will be able to interact with our speakers:
Products and product categories

Vendor and vendor pricelists

Procurement strategy

Sending quotation and delivery to customers

Some extra: call for vendors, dropshipping, paying multiple vendor at once
*This webinar will be in Bahasa Indonesia.
Save your spot
And do not forget to discover other exciting topics we have for you!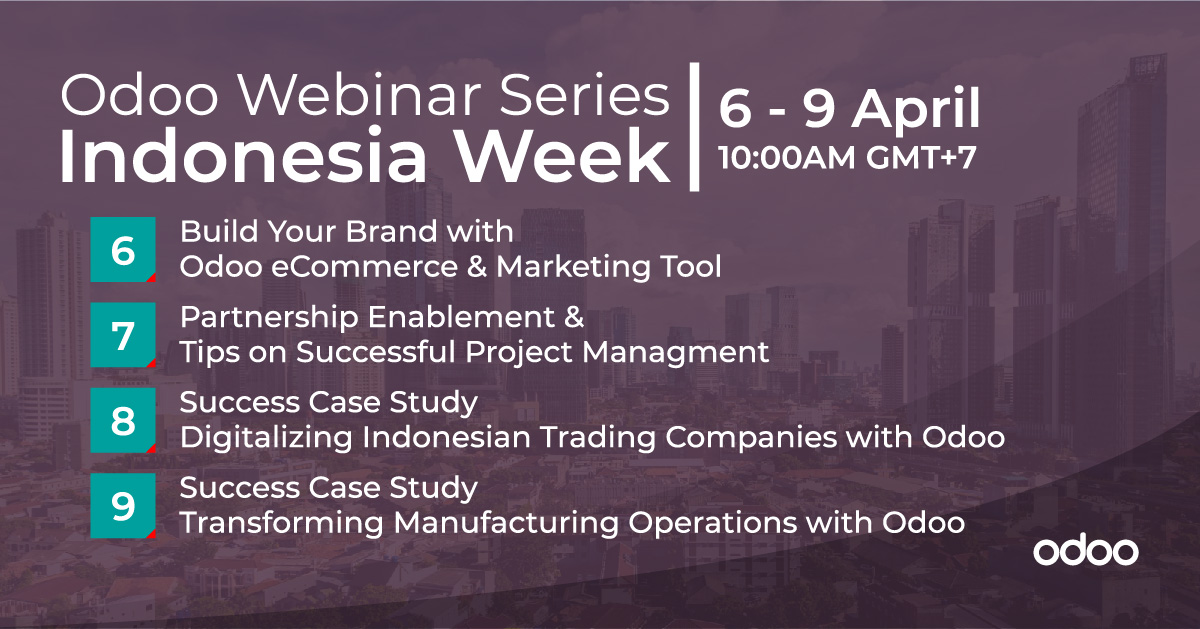 ---
SPEAKER
Lelita Ferdiana
Customer Service Officer - Direct (APAC)
Marianne Janet Oentaryo
Functional Consultant (APAC)
If you would like to discuss using Odoo for your business, schedule a demo, or anything Odoo related, please get in touch with us using the following link:
Asia Pacific: https://www.odoo.com/r/meeting-hk​