[Philippine Week] eCommerce from scratch: Steps of building an online shop through Odoo
Le registrazioni sono chiuse
Witness how Odoo builds an E-shop!
---
These days many activities are happened online, so as our seminar. To reassure you we are always at your service, here we are, sincerely launching the exclusive "Philippine Week" in the Odoo Webinar Series. The web series will cover one live-streaming session per day (from April 21 to 24), which will be hosted in Tagalog. 
This one, eComemrce from scratch: Steps of building an online shop through Odoo, will take place on April 21 at 11AM (GMT+8). This webinar is for every one, especially business owners and entrepreneurs who want to start eCommerce but have no IT knowledge for website infrastructures. The following will be covered: 

Impressed by Odoo Website Builder
Drag and drop features and neat templates for an artistic website
Success Pack 50% off! Yes we are marking down our Success Pack. It is a vital tool to a sound implementation. We will explain more in the webinar.
Sign up now. And prepare some questions because you will be able to interact with our speakers in the Q&A session at the end of the hour.
*The webinar will be given in Tagalog and may assisted with English.
And do not forget to discover other exciting topics we have for you!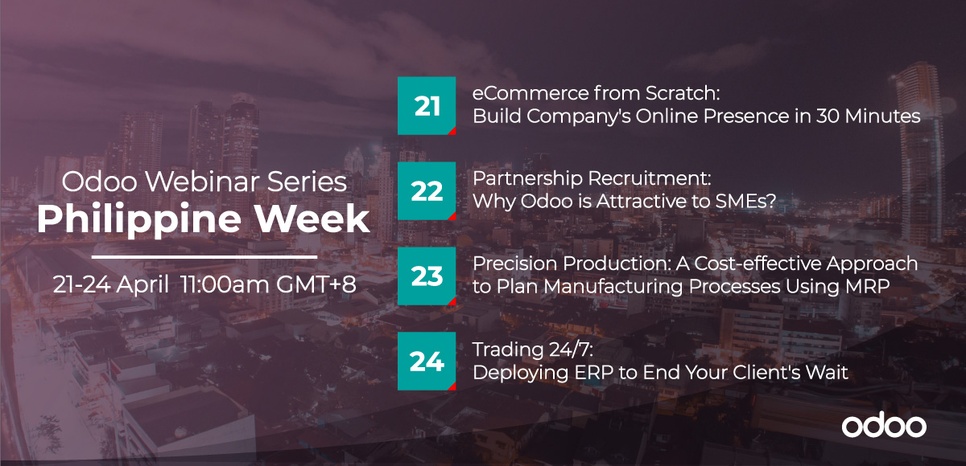 ---
SPEAKER
Angela Gratela
Business Advisor (APAC)


If you would like to discuss using Odoo for your business, schedule a demo, or anything Odoo related, please get in touch with us using the following links: