Naghahanap ng Mga Serbisyo?
Kontakin ang Partner sa Portugal
ThinkOpen Solutions (Portugal)
ThinkOpen Solutions (Portugal)
Ready

Partner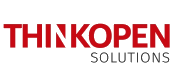 Miraflores Office Center,
Avenidas das Túlipas, nº6 13º A/B
1495-161 Algés
Portugal
sales@thinkopensolutions.pt
[PT] Parceira oficial Odoo desde 2011, a ThinkOpen Solutions implementa soluções Odoo ERP completas e 100% adaptadas à realidade nacional, nas áreas da Faturação, Contabilidade, Processamento Salarial, Imobilizado, etc.
Mais de 200 clientes, de inúmeros setores, em mais de 12 países beneficiam da nossa experiência em saber fazer Odoo. Cresça connosco!

[EN] Odoo oficial partner since 2011, ThinkOpen Solutions implements Odoo ERP solutions fully compliant with Portuguese tax regulations in areas such as Invoicing, Accounting, HR Payrol, Asset Management, etc.
More than 200 customers, from a multitude of sectors, in over 12 countries, benefit from our experience in deploying Odoo solutions. Come and grow with us!
References