Allied Metals Corporation
Allied Metals Corporation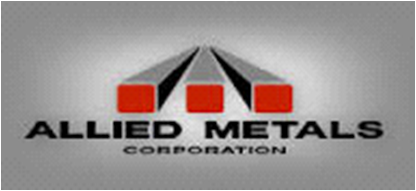 Implemented By

Headquarters 980 Hammond Drive, Suite 1275
Atlanta, GA 30328
United States
About Allied Metals Corporation:
As an innovative, future-focused industry leader, Allied Metals enjoys a commanding position in the markets we serve. They are a global supplier of high-purity, low carbon steel and stainless steel melt stock, and maintain large product inventories to serve customers throughout North America, Europe and the Far East. Consequently, they offer worldwide, one-day shipment of materials that have been prepared and packaged to customer specifications.Their products are used to make a wide variety of alloys that must meet extremely high product performance requirements for use in advanced engineering systems. These systems operate in a variety of high temperature and corrosive atmospheres, most notably in aerospace manufacturing and the entire spectrum of oil and gas exploration, refining, distribution, transportation and energy storage.Theirs is a tightly integrated operation, with a significant presence – including processes, people and products – in every market around the world. Consequently, they are well informed about technologies taking place in every important corner of the globe every day and how they can affect our industry, and our business.After more than 60 years, they continue to meet their customer's' expectations for quality, responsiveness, delivery, consistency, responsibility and depth of inventory. And they look forward to having the opportunity to do the same for you.
Challenges Faced by Client:
• Customer was using Sage ERP.
• There was no room for Customisation as per Business processes that were constantly changing.
• They were Unable to integrate their ERP with other softwares and Hardwares
• Support from sage was very poor Proposed Solutions
• Multi Company.
• Multi-currency
• Customized Sales, Purchase, Warehouse, Accounting Reports.
• Customized Purchase Order Contract Module.
• Customized QC Module.
• Customized Landed Cost and Price List for Suppliers.
• Customized Accounting Reports.
• Customized label printing and barcode generation.
• Customized Dashboards.
Read More: https://www.bistasolutions.com/resources/case-study/allied-metals-corporation/
For More insights on Odoo and its related modules get in touch with us at sales@bistasolutions.com.