Odoo Roadshow Raleigh, NC
Build An Effective Supply Chain With Odoo
Through supply chain software, companies can effectively manage inventory, orders, and logistics; but the fact is that most software is not flexible enough to accommodate varying business needs, until now...
Odoo's suite of supply chain applications have been meticulously designed alongside industry professionals, for almost 20 years, to produce common-sense technology that business can depend on to grow. The supply chain apps, specifically, focus on bridging the analog and digital worlds together to automate procurement and streamline production and supply-chain operations, while offering limitless customization based on the unique needs of the business.

Event Details
Odoo Supply Chain Roadshow Raleigh, NC.
Raleigh, the capital city of North Carolina, has a thriving business scene. The city is home to a diverse range of industries, including technology, service, healthcare, finance, and education, all which contribute to the city's economy. In addition, Raleigh also has a strong supply chain infrastructure that supports businesses.
Supply chain is just one of the industries that Odoo can help automate your business's day to day functions. 

City Club Raleigh
150 Fayetteville St.
Suite 2800
Raleigh, NC27601
United States
Registration
This event is 100% Free!
About Odoo roadshows
Join us for an Odoo Roadshow: a series of international events specifically organized around the release of a new version of Odoo, or to celebrate the launch of a new Odoo application. These popular, transformative events provide the perfect opportunity to discover the many ways Odoo can help your company thrive.
At an Odoo event, you can expect to connect with world-renowned partners, founders, CEOs, and key business operators, who are willing to share their industry knowledge with you.
And, since our software spans across all industries, we welcome all guests - from startups to larger companies. These brilliant business professionals are more than happy to share their invaluable knowledge, experience, and expertise with like-minded individuals, just like you!
Past events have seen more than 1,000+ attendees form and foster lasting business relationships, and that number continues to grow year after year, as more companies switch to Odoo to manage their business.
---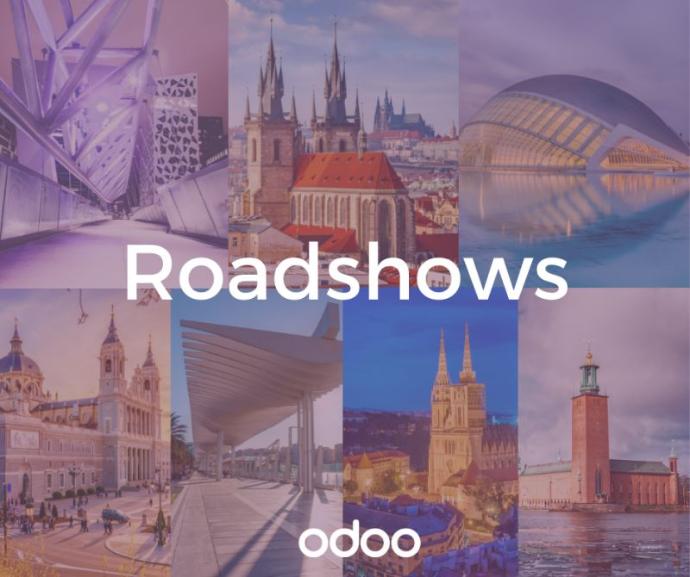 Odoo fits small and large companies alike
Our mission is to provide a range of easy to use business applications that form a complete suite of tools to accompany any business need. We give millions of companies easy access to the software they need to run and expand their business.
Here at Odoo, we have developed 30 main applications which are regularly upgraded. In addition, our community of more than 1500 active members, have contributed another to 16000+ apps to cover a wide variety of business needs.
With the "On-premise" offer, Odoo is the most installed business software in the world. It is used by over 8.000.000 users worldwide ranging from startup companies (1 user) to large enterprises (300,000+ users).