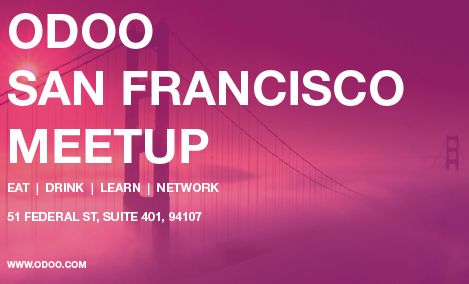 At Odoo we love to hear from our user community. Come by our offices and see what's new with Odoo!
Discover Odoo
Odoo ERP is a fully integrated suite of business applications for every aspect of your business from Website and eCommerce to Manufacturing and Inventory to CRM and Accounting; all from a single platform. An all-in-one business solution that is easy to use, open source, and packed with 4,000+ apps to cover a wide variety of business needs for companies of any size, scope, or industry.

Join us at our office in San Francisco
Looking for an ERP solution for your business? Already using Odoo? Whether you are seeking information on the latest developments in business efficiency, a replacement solution for your current ERP, or if you are already an Odoo user and want additional tips to help your business get the most out of your Odoo software, this event is for you! Come join us at our San Francisco offices for free pizza, Belgian beer, and expert advice from the Odoo team on Wednesday March 16th, 2016 from 5:00-6:30 pm PST.