How to become a successful partner in one year? - Become An Odoo Integrator
Be the change you wish to see
Many businesses have probably heard about digitalization for long, but it only comes to their attention when there's a pandemic and work from home becomes mandatory. So you can imagine how many companies have reached out to us lately for a trusted online solution, which enables them to handle their businesses at anytime, anywhere.
However, for non-IT background customers, implementing Odoo by themselves can be a bit challenging. That's why a knowledgeable and dedicated system integrator is the MVP here. We are looking for more MVPs who understand local context and enthusiastic in driving successful digitalization projects to team up with. And for us to grow together as a strong team, Odoo is always happy with empowering partners by providing useful resources, for example, documentations, e-learning and source code, etc.  
"How to become a successful partner in one year?" will take place on 29 May at 11 a.m. (GMT+8). Whether you are an existing Odoo partner or a partner-want-to-be, this webinar is going to help you to project your thriving path.
Sign up now. And prepare some questions because you will be able to interact with our speakers in the Q&A session.
*This webinar will be in English.
Save your spot
And do not forget to discover other exciting topics we have for you!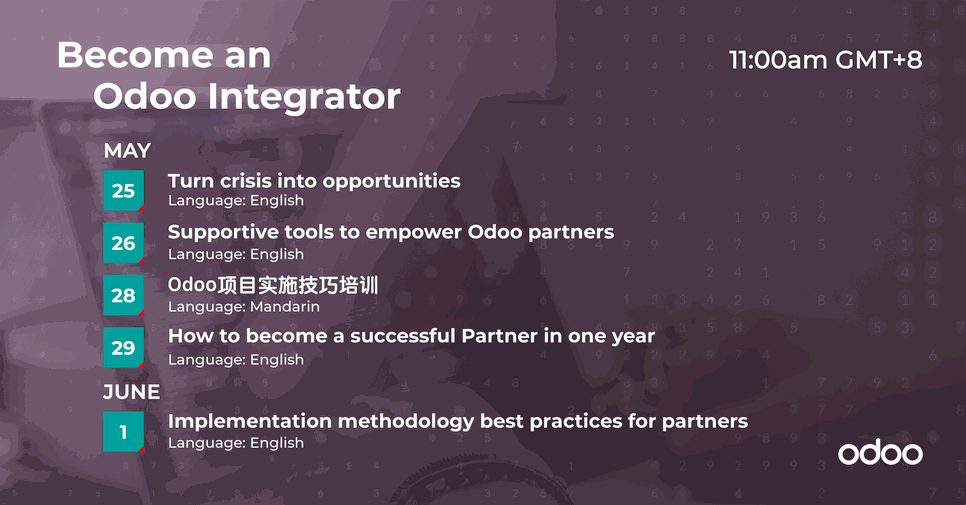 ---
SPEAKER
Morgan Alonso
Key Account Manager (APAC)
Petra Bartol
Partnership Consultant - Team Leader (APAC)


If you are interested to become a successful Odoo partner too, please don't hesitate to get in touch with our Partnership Team: https://www.odoo.com/r/partnership-asia

---
Benefits 
for Odoo Official Partners 

Access to Odoo Enterprise GitHub repositories.

Access to an Account Manager at Odoo to discuss strategies, sales, and service issues.
Visibility & recognition by being listed as an official partner on the Odoo Partners​ page.

Commitments
Together we work as ONE
Train your staff by following Odoo training sessions  

Pass the Odoo Certification test
 ​
Be the 1st level of support for the client & use Odoo as a 2nd level of support