Unigraf LLC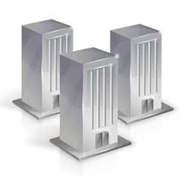 Implementado por Office # 220, Techno Hub 2, Silicon Oasis
Dubai
Emiratos Árabes Unidos
1- What challenges did the company face before they implemented Odoo, and what were the specific needs addressed by the solution?
Our company basically lacked an electronic workflow with approval integrations and proper material flow management.
Odoo has provided a very strong purchase and inventory control process with a nice image feature for every product. It also provided us with the means of creating packs assembled from several products.
2- What solution was delivered (apps/features and how they solved the issues)?
We have introduced all the possible basic apps from Odoo and have used extensively the project management module in addition to the purchasing, inventory, and accounting. The sales module has provided us with a great monitoring tool for all leads, and opportunities.
These have increased our efficiency and throughput in processing and having information on all our projects.
3- How was the outcome, how did the implementation impact the business (cost/revenue/customer satisfaction,...)? Please include any relevant facts and figures.
The system has been implemented for the past 2 months only, so no effective measures have been detailed yet on outcomes.
4- How would you describe what the company (you as a client manager) value most with Odoo?
We value the main overall integration that this system has provided, information flows and availability of data