Use these 5 accounting metrics to generate real profit through your reports
Successfully handling accounts makes a huge difference to the success of your business - there is hardly a better, more defined picture than the one numbers provide. But, there's more to your reports and balances than just abiding by your country's accounting regulations. When read and used properly, these reports are the ultimate tool for getting to know your business (and your competitors!) inside out.
And what happens when you have an excellent command over your business, your competitors and your industry? Your activity thrives. 
Here are a few tips on how to use metrics that will maximize intelligence from your reports.
Prepare to look at your balance sheet and income statement in a whole new way.
The balance sheet
The balance sheet is a legal, public document that must be provided to the state yearly. As the reflection of your accounting, it summarizes the company's liabilities, assets and equities at a precise point in time. It highlights not only what the company owns and owes, but also the amount invested by shareholders. As a public document, investors will definitely look at it when searching for information on the health of your company.
 
In general, a financially healthy company possesses a good mix of liabilities and equity – in relation to industry characteristics and depending on the business line. Here you will find more than one example of how this report can be more useful than you would expect.
Try this to take it to the next level: PP&E and ROA
PP&E, or property, plant and equipment, is a synonym for fixed assets, and is highly dependent on the nature and the field of the business. You may want to calculate the average between two or more fiscal years - this will give you insight on whether the company is managing this fixed assets efficiently. The higher turnover rates identify a healthy, growing business.
 
ROA, or return on assets, indicates how much earnings come from a business' assets. If the comparison between the average total assets and the net income reveals a high percentage return, it's a sign that the assets are being managed in a healthy way. In order to make the most of this indicator, use it to compare a business' current situation to previous fiscal years, or to compare similar businesses.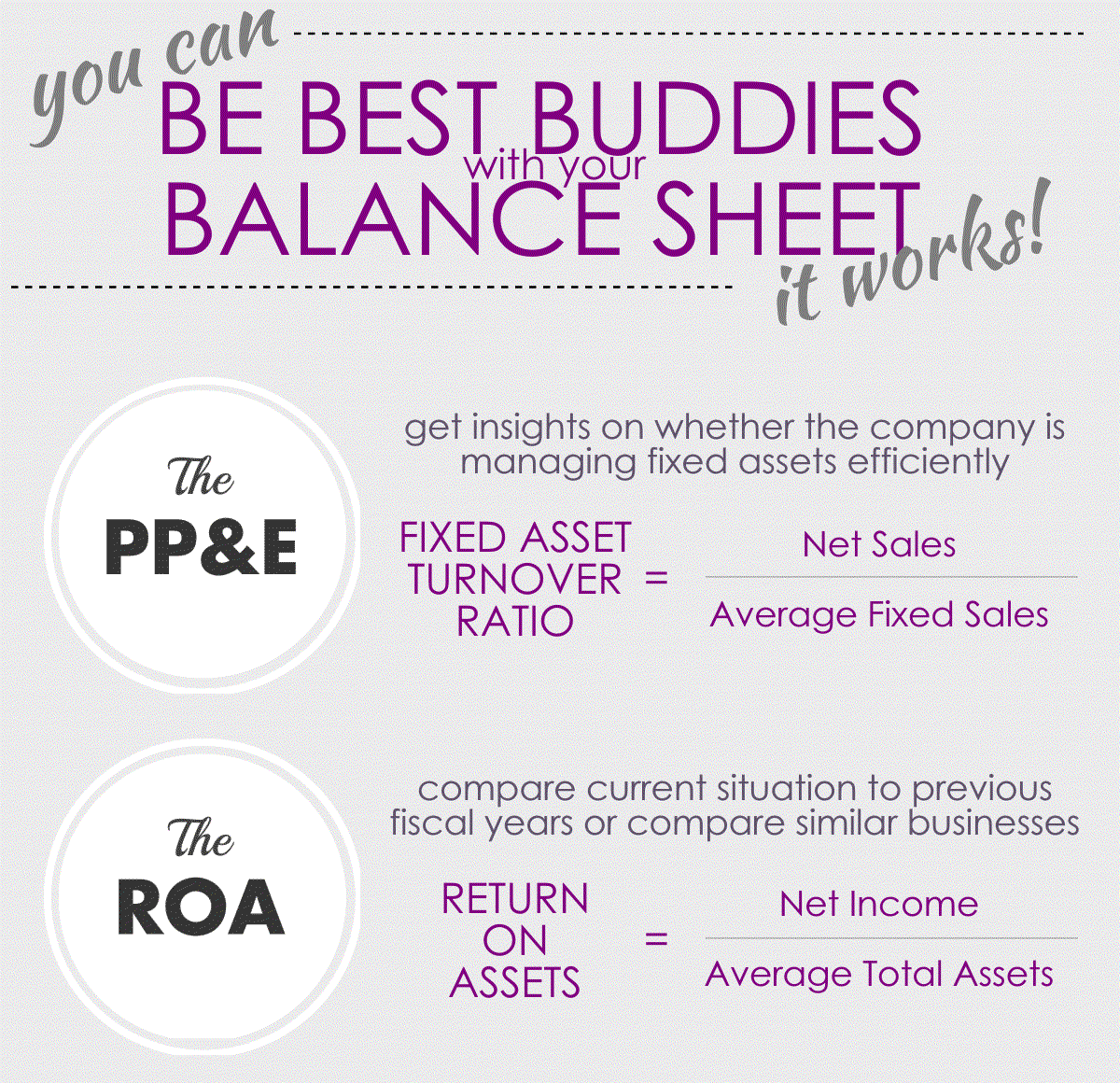 The profit and loss statement
This report provides you with both your revenues and expenses, breaking them down by categories. Ultimately, this gives you a clear image of profits and losses. It is sometimes referred to as the "income statement" or "statement of revenue and expense."
 
If you're looking for information on your company's future growth, this isn't where you should search because this document provides you with insights on the business' history. But if you want to find out more about a company's securities value or its creditworthiness this is the right place.
Try this to take it to the next level: Operating Expense Ratio (OER), Return on Investment (ROI) and Interest Coverage Ratio (ICR)
What's great about the profit and loss statement is that it's public. Investors and creditors can look you up and have a clear idea of how you're dealing with revenues and expenses. So why don't you use your P&L statement to get some intelligence on competitors and similar businesses?
 
Here are three measures that will help you maximize not only your own P&L, but also your competitors'. Using each formula below you will be able to add up to your knowledge of the industry and your business.
 
Evaluate the skills on operating costs control with the operating expense ratio. This useful comparative measure will allow you to determine how well the company is performing according to how low the ratio is.
Another key measurement that you might have overlooked is return on investment, in this case used to understand whether the company is able to use resources in an efficient way based on total assets.

Finally, how would you like to know whether a company has a hard time covering its debt payments? The interest coverage ratio (or 'coverage ratio') allows creditors to calculate times interest earned from the income statement. A healthy business' resulting ratio will always be above 1.0. Thus, the higher the ratio, the healthier the business.
 
In conclusion, by using these five simple formulas you will not only maximize the data from your balance sheet and profit and loss statement, but also be able to get a deeper understanding of your business, your competitors and the industry that will turn out to be a key competitive advantage. 
Do you rely on your reports and your competitors' as a valuable source of intelligence? Let us know. 
Happy calculations! 
Subscribe to our Finance and Accounting newsletter
Get the new blog posts directly in your inbox.
¿Estás preparado para llevar tu negocio al siguiente nivel?
¡Estamos aquí para ayudar!