Configurez votre compte Paypal¶
Paypal est accessible et populaire dans le monde entier. Créer un compte est très facile et l'inscription est gratuite. C'est pourquoi nous le recommandons d'emblée à ceux qui débutent sur Odoo. Cela fonctionne comme un flux continu dans lequel le client est dirigé vers le site de Paypal pour enregistrer le paiement.
Paramètres sur Paypal¶
Tout d'abord, voyons comment configurer votre compte Paypal afin de créer une expérience client optimale avec Odoo.
Connectez-vous et ouvrez les paramètres. Allez sur Actualiser sur Préférences du site Web.
et cliquez sur
Retour automatique¶
Le retour automatique redirige automatiquement vos clients vers Odoo lorsque le paiement est traité. Cochez Retour automatique et indiquez votre nom de domaine suivi du suffixe /shop/confirmation comme URL de retour (e.g. https://yourcompany.odoo.com/shop/confirmation).
Cette URL est requise par Paypal mais elle n'est pas utilisée dans la pratique car Odoo la transmet à chaque transaction. Ne vous inquiétez pas si vous devez gérer plusieurs canaux de vente ou bases de données Odoo.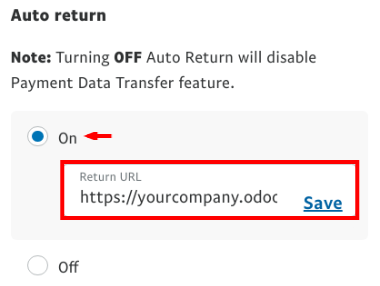 Transfert des données de paiement (PDT)¶
La fonctionnalité Transfert des données de paiement transmet la confirmation de paiement à Odoo dès que celle-ci est traitée. Sans elle, Odoo ne peut pas finaliser le flux de vente. Ce paramètre doit également être activé. Lors de la sauvegarde, un Jeton d'identité est généré. Plus tard vous devrez l'introduire dans Odoo.
Compte Paypal optionnel
Nous vous conseillons de ne pas inciter vos clients à se connecter avec un compte Paypal lorsqu'ils règlent leurs achats. Laissez-les payer également avec des cartes de débit ou de crédit, ou vous pourriez perdre certaines affaires. Assurez-vous que ce paramètre est activé.
Notification instantanée de paiement (IPN)¶
Le transfert des données de paiement (PDT) n'envoie les confirmations de commande qu'une seule fois. Il faut donc que votre site soit en fonctionnement lorsque cela arrive. Autrement, il ne recevra jamais ce message. C'est pourquoi nous vous conseillons d'utiliser la Notification instantanée de paiement (IPN) en plus. Avec l'IPN, la réception des confirmations de commande est quasi garantie puisque les confirmations sont renvoyées jusqu'à ce que votre site en accuse réception.
Pour activer l'IPN, retournez au menu de Paiements du site Web et cliquez sur Actualiser sur la Notification instantanée de paiement.
L"URL de notification à configurer est votre nom de domaine + "payment/paypal/ipn" (e.g. https://yourcompany.odoo.com/payment/paypal/ipn).
Format des messages de paiement¶
Si vous utilisez des caractères accentués (ou quelque chose d'autre que les caractères latins) pour le nom de vos clients, leurs adresses… vous DEVEZ configurer le format d'encodage de la rêquete de paiement envoyé par Odoo à Paypal.
Danger
Si vous ne configurez pas ce paramètre, certaines transactions échoueront sans aucune notification.
Pour cela, ouvrez :
Cliquez ensuite sur Plus d'options et configurez les deux formats d'encodage par défaut sur UTF-8.
Votre compte Paypal est prêt !
Astuce
Si vous voulez que vos clients payent sans devoir créer un compte Paypal, vous devez activer la case Compte Paypal optionnel

Astuce
Pour des paiements sur des sites marchands cryptés & EWP_SETTINGS error, veuillez consulter la documentation Paypal.
Activation¶
Activez Paypal depuis la barre de configuration des applications Ventes, Facturation et eCommerce, ou depuis le menu de configuration Intermédiaires de paiement.
Identifiants¶
Odoo requiert trois identifiants Paypal :
ID email c'est votre adresse email de connexion sur Paypal.

Merchant ID can be found in the settings of your Paypal account, in .

Le jeton PDT Paypal est fourni dans la configuration Payements du site Web comme expliqué ci-dessus.
Frais de transaction¶
Pour couvrir les frais de transaction que Paypal vous facture, vous pouvez à votre tour facturer des frais supplémentaires à vos clients qui paient avec Paypal. Une fois redirigé vers Paypal, votre client voit un supplément appliqué au montant de sa commande.
Pour activer cette fonctionnalité, cochez la case Ajouter des frais supplémentaires sur l'onglet de configuration de la configuration Paypal d'Odoo.
Pour configurer les frais vous pouvez vous référer à `Frais Paypal `__.
Note
Les commerçants de l'UE ne sont pas autorisés à facturer des frais supplémentaires pour les paiements par cartes de crédits.
Passez en direct !¶
Votre configuration est prête à fonctionner. Assurez-vous que le mode Production est activé. Ensuite, publiez le mode de paiement en cliquant sur le bouton Publier à côté de celui-ci.
Paypal est maintenant proposé dans les formulaires de paiement disponibles sur les applications de eCommerce, de ventes et de facturation. En cliquant sur Payer Maintenant les clients sont redirigés vers le site Web de Paypal. Dès que le payement est traité, ils sont redirigés vers une page de confirmation dans Odoo.
Environnement de test¶
Vous pouvez tester l'intégralité du flux de paiement dans Odoo grâce aux comptes sandbox de Paypal.
Connectez-vous au Site de développement de Paypal avec vos identifiants Paypal.
Cela va générer deux comptes sandbox :
Connectez-vous au sandbox Paypal avec le compte marchand et suivez les mêmes instructions de configuration. Entrez vos identifiants sandbox dans Odoo et assurez-vous que Paypal est toujours défini sur Environnement de test. Assurez-vous également que la facturation automatique n'est pas activée dans vos paramètres eCommerce pour ne pas générer de factures lorsqu'une transaction fictive est finalisée.
Lancez une transaction test depuis Odoo en utilisant le compte personnel sandox.
Edit on GitHub