Odoo Groups
Drive communication on your company's best ideas
LOSLEGEN
Kostenlos. Unbeschränkte Benutzer. Für immer.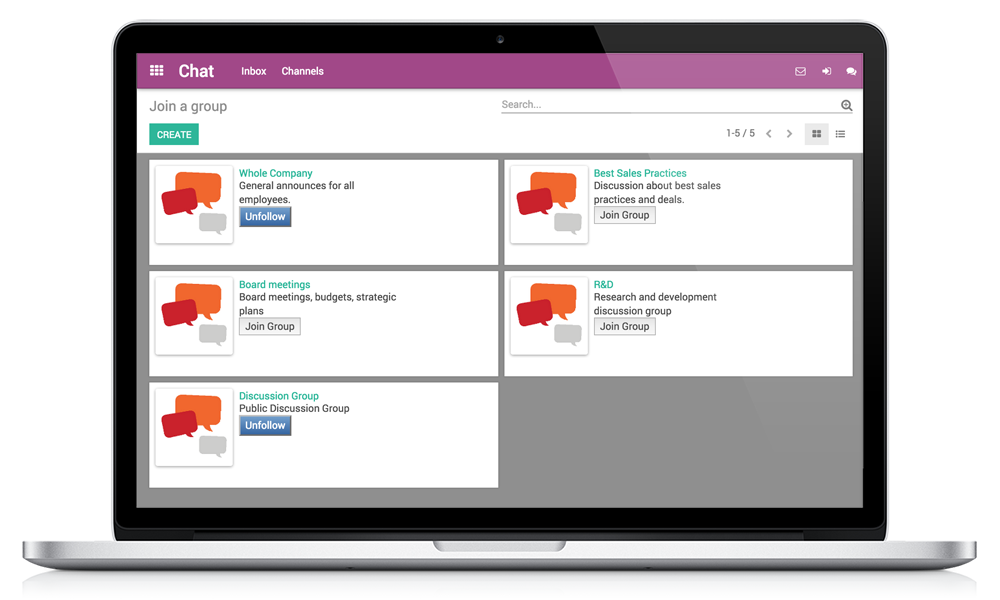 Create discussion groups
within employees
Specific groups for specific projects
Do you have a new project involving several people from different departments and offices? Are there specific topics that need to be discussed with specific people? Create internal groups to structure communication and engage employees within different projects, and easily add and remove members from groups.
Internal company email made easy
Keep employees informed at all times
No more time-consuming and complicated manipulations in your mailbox, no more forgotten or unsolicited recipients for your internal communication! Create internal groups and mailing lists with any topic, and determine which departments or specific employees will receive news and notifications on that specific topic.


Manage public mailing lists
Make public announcements an easy task
Create public groups and build-up mailing lists to manage newsletters and community mailings. Announce big changes in the company, the release of new products or other important news to your wide audience and followers. In just one click, visitors subscribe with their email address to be added to your database.
Voll integriert mit Odoo-Apps

Email Marketing
Gestalten Sie effiziente E-Mail-Kampagnen. Senden, konvertieren und verfolgen Sie ihren Erfolg.

Live Chat
Beschäftigen Sie sich direkt mit den Besuchern Ihrer Website, um Leads anzuziehen und den Online-Verkauf zu fördern.

Community builder
Build and engage with communities with forums, Q&A, mailing lists.

Notizen
Personal to-do lists that works. Share and collaborate on meeting minutes.
3
Millionen Anwender
bauen ihr Geschäft aus mit Odoo