Company Name: 

Super Asia Foods & Spices Ltd.


Location: 

Toronto, Canada


Industry:

Grocery Wholesaler


Company Size:

 60-100 Employees
Odoo Users: 52


Apps: 

Purchase, Sales, Inventory, Accounting, Website, and CRM


Hosting:

Odoo.sh


Implementation Partner:

 Brainvire Infotech, Inc.


Implementation Timeline:

6 Months 
Super Asia Foods & Spices, a prominent food products and grocery wholesaler/retailer, based in Toronto, Canada, opted to migrate their software from Odoo v13 to v16 with the professional assistance of Brainvire.

The migration was necessary due to software customizations that resulted in performance and maintenance problems. To optimize their warehouse process, automate internal location replenishment, enable automatic lot number assignment, implement inter-company order management, track landed cost per unit tracking (lot-wise), assure pallet capacity visibility at the location level, and streamline product expiry management using the default Odoo features, Super Asia Foods & Spices enlisted the company's expertise.

The Odoo partner consulted with the entity, visiting their Toronto warehouse operations to resolve user pain points and achieve operational excellence using the default features of Odoo.

Super Asia Foods & Spices, a renowned retail giant in Canada that started its journey in 1994, has been importing high-quality food products and groceries from the Asia-Pacific region, and supplying them through a massive B2B distribution network across Canada and North America.

To manage the complex and lengthy distribution channel, the company needed a robust and stable system to handle all the business processes efficiently. In addition, with over 1000 internal locations to manage, they sought a solution to streamline their warehouse processes and enable efficient pallet tracking.

To achieve this, they partnered with Brainvire, an Odoo Gold partner, and their trusted ERP consultant for years - mainly because of their in-depth understanding of Super Asia's business operations and vast experience working with Odoo software.

In addition, they had previously implemented, managed, and consulted Super Asia through their Odoo v13 journey, and were now all set to help them leverage the potential of Odoo v16.


Odoo's Out-of-the-Box Solutions for Super Asia's Success

Super Asia's Journey from Odoo v13 to v16

Odoo is a comprehensive business management software that combines different modules, including Sales, CRM, Accounting, Inventory, among many others. Despite its numerous features and functionalities, upgrading to the latest version has always been a bit challenging for some businesses.

Super Asia faced a similar challenge when they migrated from their existing Odoo v13 to the latest Odoo v16 version. Again, the migration was crucial to access the latest features, such as: an advanced user interface, better performance, and enhanced functionalities.

Super Asia had several customizations in their Odoo v13 version that created limitations in modifications and enhancement. Therefore, Brainvire, a leading digital transformation entity, provided assistance to overcome this challenge. To do so, they used the available out-of-the-box solutions offered by Odoo v16, customized them, and quickly deployed them through Odoo.sh, a cloud service.

Their team also handled all warehouse management operations, and utilized the Odoo Mobile App for product scanning and fulfillment. The migration process enabled Super Asia to grow exponentially, manage a large volume of sales, and achieve operational excellence, while minimizing custom development hurdles.

The latest Odoo v16 version boasts numerous built-in features, such as real-time reporting, advanced accounting tools, and enhanced inventory management, helping businesses of all kinds flourish. It also offers better usability, faster processing, and advanced security features to keep businesses secure and efficient.
Efficient Barcode System Revolutionizes Warehouse Management

The task of managing inventory and warehouse operations can be challenging for businesses with a vast range of products and a widespread distribution network. For example, Super Asia, being a top brand, faced similar obstacles in managing their warehouse and tracking pallets, necessitating comprehensive management and tracking solutions.

To streamline the management of the warehouse and pallet tracking for Super Asia, Brainvire's team implemented a barcode system that encompassed products, packages, and packaging pallets. 

The barcodes were integrated with the products upon receipt in the warehouse, facilitating effortless tracking and inventory management. Location tracking was also enabled, reducing manual intervention and picking time, while increasing order processing with better time and resource management.

The barcode system solution provided by the experts was highly efficient, allowing the brand to take advantage of tracking each product with ease. The procurement management team, which had previously struggled with aligning the list of existing and on-demand products, can now quickly comprehend the requirements and stock the items accordingly.
Odoo Partner Optimizes Super Asia's Putaway Strategy

Efficient inventory management is critical for businesses that handle large volumes of stock. The Odoo partner improved Super Asia's inventory management by optimizing the v13 customizations, and implementing a default putaway strategy with Odoo's Storage Category feature.

A putaway strategy is a fundamental component of warehouse management that determines the optimal location for each item in the warehouse. This strategy is based on various factors, such as space availability, item type, and demand for the item. With the implementation of this strategy, the Super Asia team can quickly locate each item, simplifying inventory management.

The putaway strategy is further enhanced with inventory automation, which reduces the manual effort required to understand the supply and demand of items for management. With automation in place, the putaway strategy is optimized, reducing the stock management cycle time by several minutes.
Product Master Configuration: Odoo Experts Simplified Order Management

The Odoo experts aimed to provide Super Asia with a more efficient solution by reconfiguring the product unit of measure (UoM) from a pack of 'x' units to individual units. This reconfiguration was implemented across all sales, purchases, and eCommerce orders, utilizing Odoo's default features with zero customization.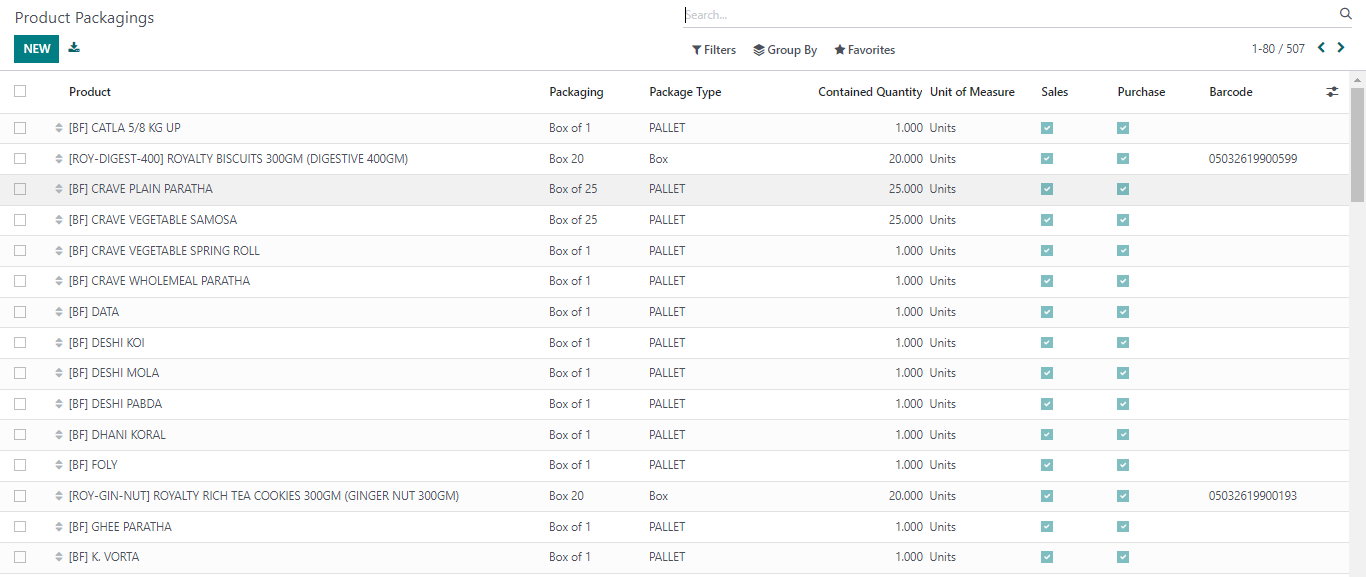 The reconfiguration of product UoM from pack to unit streamlined the order management process, reducing the manual intervention required for calculating item quantities. Additionally, for packages with multiple UoM box packs, their team configured them with barcodes to simplify inventory tracking and management.

The solution optimized Super Asia's order management process more accurately and efficiently. By reconfiguring the product UoM, the team ensured a precise calculation of units required to fulfill each order, while barcodes guaranteed inventory tracking accuracy.
Super Asia's Storage Category Solution with Odoo

As Super Asia expanded its business, and experienced an increase in sales volume, effective inventory management became crucial. To achieve this, the professionals proposed a storage category solution to streamline the inventory management process and optimize product quantity.

To implement this solution, the team made minor customizations, including auto-fulfillments, and utilized the new Odoo Storage Category feature. This feature enabled the team to map storage capacity to specific locations and categorize products based on their storage requirements.



The Storage Category solution provided Super Asia with numerous benefits, including streamlined product management, improved product location accuracy, increased storage capacity utilization, and enhanced warehouse operation efficiency. In addition, this solution allows Super Asia to effectively manage their inventory, even as they continue to grow their business.
Streamlining Delivery Planning

The company utilized the Odoo Fleet Module to streamline the delivery planning process and manage routes effectively. In addition, the module facilitated fleet management by keeping track of vehicle maintenance and fuel consumption, while providing real-time vehicle tracking.

To implement the solution, the team configured the Fleet Master with all the vehicle's essential details, such as: capacity, fuel consumption, and maintenance schedule. They also developed a new app that integrated with the Fleet Module, allowing the team to plan and manage their delivery routes efficiently.

Using the Fleet Module, the team could monitor their vehicles in real-time, enabling them to optimize their delivery routes and ensure timely deliveries. The module also helped the team to reduce costs and increase efficiency, by keeping track of their vehicles' fuel consumption.
Empowering Business Analysis with Dynamic Dashboards

In order to empower the entity with practical business analysis, Brainvire's team introduced a cutting-edge dashboard feature. This dynamic dashboard offered a holistic overview of key business elements, such as sales, inventory, and procurement.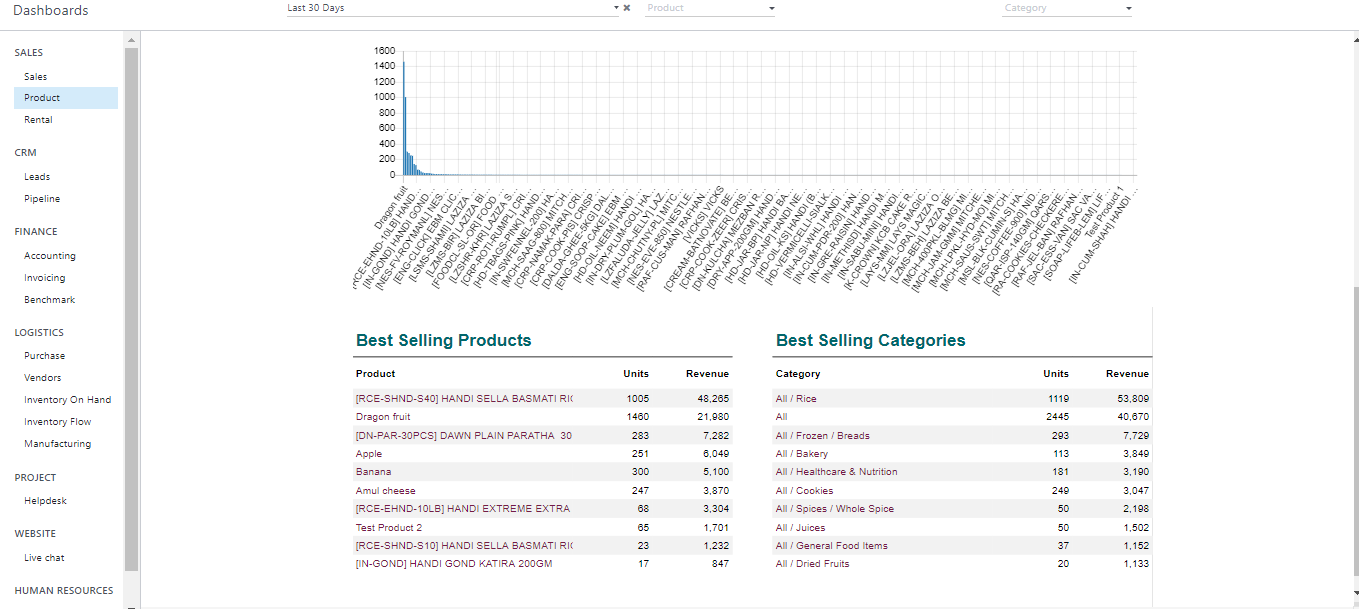 The company gained swift insights into its business performance through the dashboard, facilitating prompt analysis and comprehension. In addition, the team meticulously customized the dashboard, presenting vital parameters, such as revenue, regional sales breakdowns, and product performance. This lets the business swiftly pinpoint areas of improvement, which in turn, help them make more-informed decisions, based on data.

Moreover, the dashboard's capabilities extended beyond mere visualization, facilitating the generation of comprehensive reports encompassing sales, inventory, and procurement. This enhanced reporting functionality enabled the brand to conduct efficient analyses of its business operations, empowering them to make well-informed choices for continued growth and success.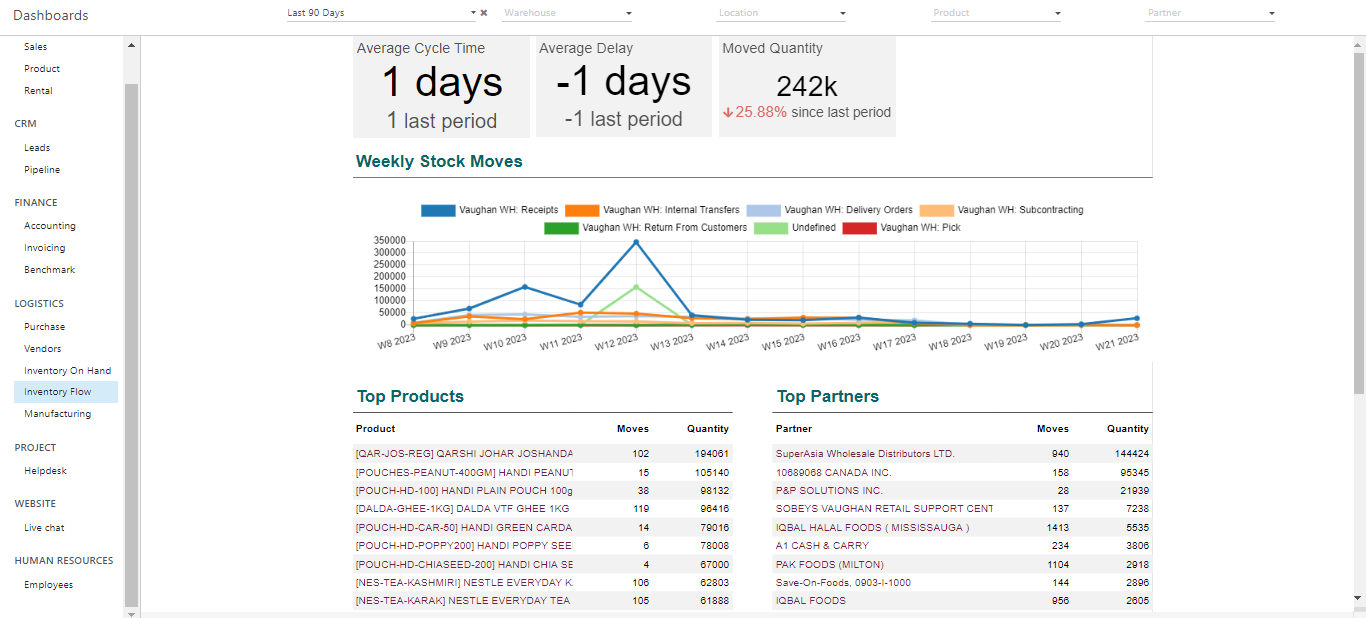 Odoo Integration Upgrade Boosts Business Efficiency

The experts enhanced the business process by updating the Odoo integration with the PEPPERI mobile app for the field sales staff. This integration facilitated real-time access to inventory, pricing, and customer information data, enabling the sales staff to make informed decisions during customer interactions.

Moreover, the team integrated the Odoo system with shipping and payment gateways, allowing the business to automate the shipping process, minimize errors, and reduce order processing time. In addition, the payment gateway integration provided customers with a more convenient way to pay for their orders online, improving the overall customer experience.

As a result, the integration with shipping and payment gateways optimized the business process, and reduced errors, ensuring accurate and timely order fulfillment. In addition, the payment gateway integration improved the customer experience by offering a more convenient way to pay for their orders.
Key Takeaways from Super Asia's Odoo Implementation

Odoo v16 Migration Improved Super Asia's Business Productivity

It is crucial for businesses to keep upgrading their software (and systems) to maintain and enhance productivity and efficiency.

For example, the Odoo v16 migration has enabled Super Asia to substantially improve multiple areas, such as productivity, ROI, and manual intervention. This outcome highlights the significance of keeping pace with the latest technology, and continually enhancing processes, to remain competitive and fulfill customer demands.

Improving Business Profitability with Accurate Accounting

Accurately assessing business profitability is essential for informed financial decision-making and gauging a company's well-being. Super Asia's improved accuracy in measuring business profitability was made possible by implementing the Landed Cost Division with the correct account type.

The implementation ensured that the inward and outward stock Cost of Goods Sold (COGS) were accurately accounted for, allowing Super Asia to understand the costs associated with their products. This enabled the company to make informed pricing and inventory management decisions and accurately calculate profit margins.

By gaining a more accurate measurement of business profitability, Super Asia could identify areas where costs could be reduced, analyze the profitability of different product lines, and optimize its overall financial performance.
Achieving Operational Excellence with Odoo

Achieving operational excellence is critical for any business striving to enhance its overall performance and efficiency. Super Asia, in particular, was able to attain this goal by adopting a new user interface and leveraging the intuitive features offered by the Odoo Web and Mobile App.

This resulted in significant improvements in operational efficiency, leading to streamlined business processes, faster transaction times, and lower costs. In addition, the intuitive user interface improved employee productivity and reduced the time and effort required for complex or repetitive tasks.

The easy-to-use Odoo apps also facilitated seamless collaboration and communication between team members, enabling faster decision-making and prompt response to customer demands.

In conclusion, implementing the new user interface, and Odoo applications, enabled Super Asia to achieve operational excellence by optimizing time, cost, and resource management. It contributed significantly to their success and laid the foundation for future scalability and growth.
Odoo Implementation Enables Seamless Expansion
It is essential to consider scalability when deploying a business solution. The Odoo implementation for Super Asia was designed to be scalable, enabling them to expand their operations effortlessly.

For example, Super Asia can introduce a new company, establish a new warehouse, handle inter-company transactions, and manage customer orders from various regions through the new configurations. This adaptability and scalability will enable Super Asia to evolve and expand seamlessly, without significant interruptions or changes to its business workflows.
Super Asia's Odoo Transformation Journey
To summarize, Brainvire assisted Super Asia in recognizing the importance of continuously upgrading its business operations to achieve progress. Their system migration from Odoo v13 to v16 resulted in remarkable productivity, along with increased ROI, and cost reduction enhancements. Deploying the Landed Cost Division with the correct account type also contributed to a more accurate measurement of business profitability.

Additionally, the solution enabled operational excellence through better time, cost, and resource management, via a new user interface, and user-friendly options in the Odoo Web App and Mobile App.

Finally, the scalability of the solution ensures that Super Asia can expand its business with a new company introduction, a new warehouse, and inter-company transactions, while still managing customer orders from different regions through custom configurations.

---
About Brainvire Infotech, Inc.

Brainvire Infotech is a prominent Odoo Gold Partner, having executed Odoo implementations in jewelry, manufacturing, retail, transportation, automotive, and real estate.

Thanks to a strong workforce of in-house experts, Brainvire's growth strategy has effectively expedited project deployment for over two decades.

Brainvire provides Odoo implementation services, such as: Complete Migration, Customized Core Odoo Modules, Retail Omnichannel ERP Solutions, Industry-Specific Solutions, GAP Analysis & Consultation, 3rd App Integration, Quality Assurance, Deployment & Rollout, as well as Training.

For more information, visit brainvire.com.