Name of Implementation Partner: Blueback
Name of Company: BAR.BER
Country: Curaçao, Dutch Caribbean
Number of Odoo Users: 7 (6 Barbers & 1 Owner/Manager)
Industry: Hair Care (Barbershop)
Country: Curaçao, Dutch Caribbean

Company Size: 7
Services Offered: PoS, Inventory, Website, and Accounting
One Incredible Island
Curaçao is home to plenty of amazing things. They have beautiful beaches, breathtaking vistas, and an infectiously optimistic and welcoming culture. But, did you know this gorgeous oasis also has a surplus of super-affordable barbers, too? It's true!
Don't believe us? Just ask Anthony Richardson, founder of Blueback, a company that offers "back-office solutions" to up-and-coming businesses. Anthony explained that getting a haircut in Curaçao is fairly easy to do. With male haircuts costing $10, and shops being abundant in every neighborhood, folks often get their hair cut on a fairly regular basis, with the average guy getting a trim every 1-2 weeks.
Usually, there is very little organization within these establishments. "There's typically just a few guys standing there. You walk in, wait your turn, get your haircut, and then you're on your way. It's very traditional," Anthony explained.
But one day, through some mutual friends, he met Chiarra. She wanted to take on this male-dominated industry. Her vision consisted of a truly unique take on the classic barbershop, which she aptly named, BAR.BER.
Her dream was to provide a more upscale service to her clients. Sure, it's a touch more expensive than a standard haircut, but that tiny increase in price is more than worth it, especially considering the ambiance (and overall experience) she is able to provide her customers.
The expertly tailored design and aesthetic of the shop, itself, is unlike any other in the industry on the island. With subtle allusions to the classic barbershop charm of yesteryear, Chiarra has single-handedly created a mesmerizing blend of modern culture and traditional vibes. When combined, these elements produce a sincerely serene haircutting experience for the citizens of Curaçao.
While at BAR.BER, customers can comfortably sip on a drink of their choice as they await their turn, or partake in some relaxing libations at the restaurant next door. This is a far more sophisticated way to wait and receive a haircut, compared to the usual noisy atmosphere of nonsensical chatter and boisterous television sets blaring throughout the course of your cut.
But, of course, like with any new business, this visionary entrepreneur encountered her fair share of problems in the early stages of her company. Lucky for her, however, she was friends with Anthony at Blueback, and he knew exactly how to solve her problems.



Help Wanted
During the early days of BAR.BER, Chiarra was encountering a number of consistent issues with the way she was managing her business.
In addition to being the founder of BAR.BER, she was the manager, and at that time had two talented barbers working alongside her. But, despite their impeccable skill for cutting hair, there was no organization. Because of that, many minor errors kept happening on a daily basis. Chiarra had very little control over the various aspects of her business, and that was mainly due to her cumbersome management system at the time.
During this time, she was using nothing but Quickbooks, and the mountain of roadblocks and obstacles she encountered was never-ending, but it wasn't her fault. She constantly went above and beyond to do all she could to ensure that everything would run smoothly, but the software always created unforeseen problems.
Just to achieve some sort of ramshackle normalcy, she was essentially forced to visit the shop each day to pick up the receipts, in order to manually reconcile everything that happened, and double-check the figures to verify if the bank had the same information. It required a ton of extra time and attention on her part. She would work on these tasks every single evening and on weekends. But, despite her tireless efforts, the software was simply too flawed, and a new solution was needed right away.
One day, she heard about how Blueback had partnered with Odoo's one-of-a-kind, fully-integrated database. She discovered that the PoS and Accounting modules with Odoo were truly integrated, including Inventory control. That was something Quickbooks attempted to do, but never succeeded.
As Anthony Richardson recalls, when she first saw the amazing capabilities and unbeatable functionality of Odoo, she exclaimed, "This is exactly what I'm looking for - a system where I can do EVERYTHING!" In other words, she was sold on Odoo right away, and she couldn't wait to see how it would improve her company, BAR.BER.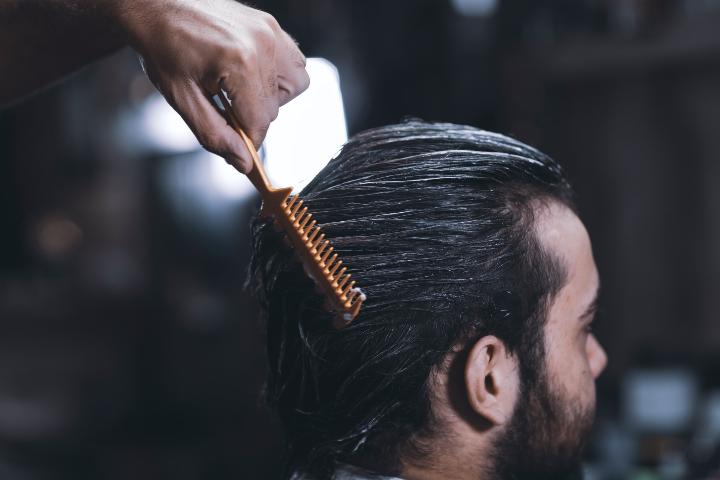 Smooth Sailing
The implementation process conducted with BAR.BER was led by Othniel, a superstar employee at Blueback, and it couldn't have been easier. For starters, he showed her the "in's and out's" of Odoo's intuitive PoS module.
Othniel, and the team at Blueback, took a list full of items that are sold at BAR.BER, and quickly turned them into products in the app. In doing so, he was able to show how employees can easily select the correct product from the catalog, and ensure that it properly shows up on the receipt. Before this, they were just entering in various amounts. But now, all of that was standardized, which made everything super-easy to manage.
After that, Othniel sat down with BAR.BER's accountant, Hendrick. He wanted to make sure that, at the end of the fiscal year, they'd have everything they need in one, single place. They asked about numerous different scenarios, in which various functions and features would be necessary, and Odoo was always able to deliver a solution. In short, Hendrick was stunned by Odoo's impressive level of seamless integration from app to app. To say they were intrigued by this world-renowned ERP, would be a massive understatement.
Othniel, and the Blueback team, continued to "wow" them by showing that, if configured correctly, every single thing from PoS will automatically flow into the Accounting application. Once there, they can take care of the rest (like bank reconciliations, and whatnot). Now, with Odoo helping BAR.BER's business, the busy entrepreneur no longer needed to stop in for receipts at the end of each day. She only stops in when she feels like it to check on inventory levels and things of this nature. It saved her a lot of time and made her company far more efficient.
While Odoo makes everything run smoothly by design, it was Blueback's decades of experience and knowledge, in concert with this client's eagerness for change, that made this entire transition simple and painless.
Anthony Richardson commented on the implementation of Odoo to BAR.BER's business model, stating that, "It was a very smooth, smooth project because we were talking to the owner, who was also the manager. She knew everything. She was in charge, and she was eager to move from her existing system to one integrated system."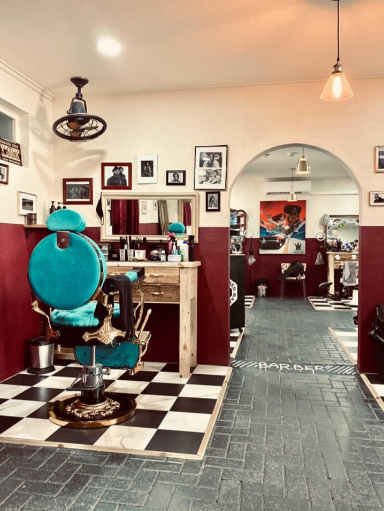 Built For Anything

Chiarra also chose Odoo because of its capability to be fully customized to fit any company's needs, regardless of where they are in the world. This is important because there are different types of legislation governing various aspects of businesses across the globe.  
Specifically, in Curaçao, PoS systems must be fiscalized. This means they must be able to work directly with a special fiscal printer, fit with a specific tracking chip, that is approved by the tax authority. These particular PoS systems are somewhat rare and relatively expensive. These are required because, if the tax authorities ever decide to pay you a visit, they can easily read the information provided by this special printer, and compare it to your tax filings. It helps them verify information and keep everything in-synch.
So, seeing as how Odoo can solve any problem thrown its way, the Blueback team decided to develop a fiscal printer app with Odoo, that automatically integrates itself with BAR.BER's existing PoS (also from Odoo). When she realized this was a possibility, she couldn't help but implement it into her business model immediately.
Since welcoming Odoo into her business, BAR.BER has been thriving. So much so, that she was able to triple the number of barbers she works with (from 2 to 6). With Odoo powering the behind-the-scenes business solutions for the barbershop, there are no longer any unnecessary headaches or frustrating errors. Everything is fully customized and integrated to fit her wants and needs perfectly, and the harmony between the two is simply heavenly.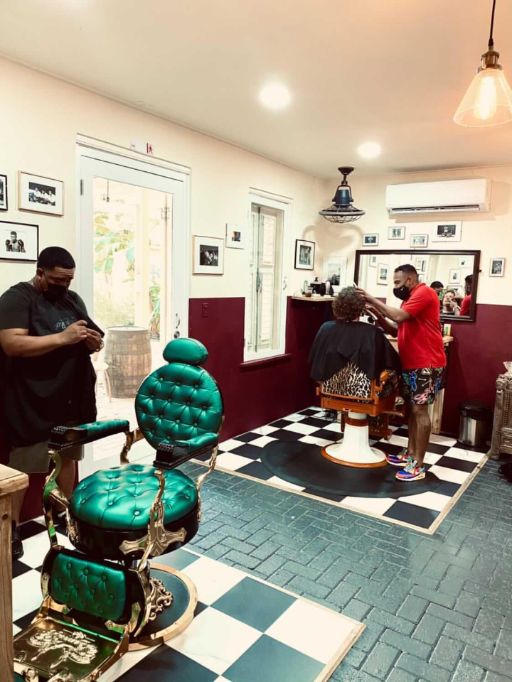 What's Next?


There really is no end in sight for BAR.BER. At the moment, the owner is working with Blueback to create a new reservation system with the Odoo Appointments module. This quickly proved to be a more efficient, cost-effective solution, especially when compared to the exorbitant prices others are paying to be a part of another appointment application.

Not only is this route more beneficial to her pocketbook, but the knowledge (and experience) she has with Odoo, and the helpful team at Blueback, made the decision to go with Odoo (once again) a no-brainer. Blueback excitedly took on this project and was able to get her up and running, just like before, in no time at all.

With Odoo, BAR.BER now has one, single integrated platform, where everything links together. And, once their Odoo website is complete (which should be soon), they can utilize this platform for a number of different things, in addition to promoting her business, scheduling appointments, and so on. One of the ways she could use her new website is to promote BAR.BER's annual party to celebrate loyal customers and welcome new ones, which she had to cancel this past year for obvious reasons.

But, the next time she does plan a major event, she can make it even easier on herself, thanks to Odoo. She can use the CRM app in the database to quickly send out invites, via mass mailing, to any (or all) of her customers. This is just another one of the countless ways that Anthony, and his hardworking team at Blueback, have improved the internal processes of BAR.BER with Odoo. But we're sure it won't be the last!

About Blueback

Blueback is a top Gold partner in Curaçao, Dutch Caribbean.

Blueback provides organizations with decades of experience, expertise, and knowledge to help any company improve their management processes systematically. Blueback is fully-committed to help any business attain the streamlined success they deserve, by eliminating pain points and unnecessary issues.


Learn more at blueback-office.com