Apps für jeden Bedarf

BINDEN SIE KERNPROZESSE EIN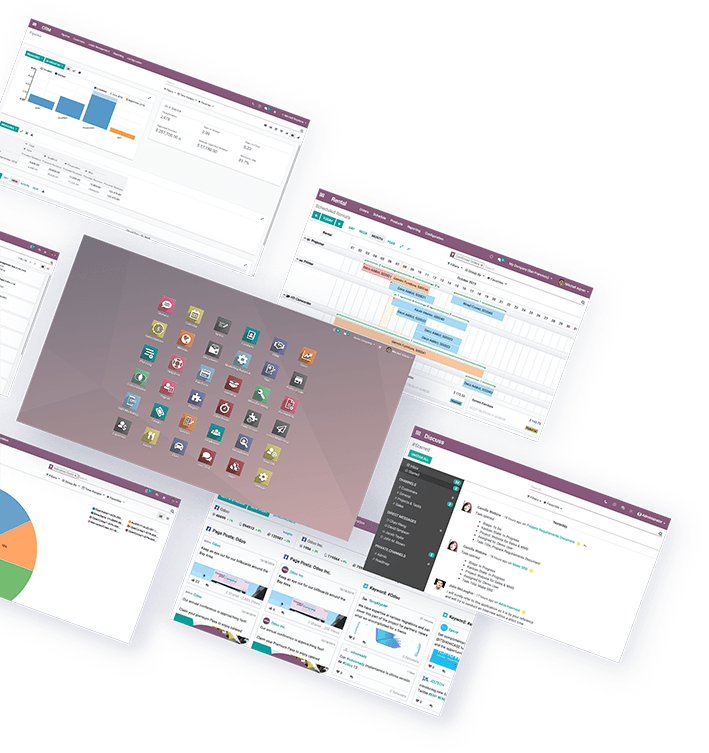 Schluss mit mühsamen Integrationen.
If you have individual software solutions that work, but don't talk to each other, you are probably entering things more than once and missing a comprehensive overview of what's going on.

Between the Odoo apps and the tens of thousands of Community apps, there is something to help address all of your business needs in a single, cost-effective and modular solution: no more work to get different technology cooperating.

Odoo apps are perfectly integrated with each other, allowing you to fully automate your business processes and reap the savings and benefits.
"Wir haben 14 verschiedene Anwendungen ersetzt und den Umsatz über Nacht um 10 % gesteigert."

Marc Peeters, General Manager des Bereichs Verkaufsautomaten
Ein einzigartiges Wertversprechen:
Alles, was Sie brauchen, mit einem erstklassigen Benutzererlebnis.
Unsere Palette von Anwendungen arbeitet nahtlos zusammen und gibt Ihnen die Möglichkeit, alles, was Sie tun, zu automatisieren und zu verfolgen - zentralisiert, online und von überall mit jedem Gerät zugänglich.
Das Open-Source-Entwicklungsmodell von Odoo hat es uns ermöglicht, Tausende von Entwicklern und Geschäftsexperten wirksam einsetzen, um das weltweit größte Ökosystem von vollständig integrierten Geschäftsanwendungen zu bauen.
Mit einem modernen und eleganten technischen Design ist das Framework von Odoo einzigartig. Es ermöglicht uns und unseren Community-Entwicklern eine erstklassige Benutzerfreundlichkeit zu gewährleisten, die über alle Anwendungen hinweg skalierbar ist.
Verbesserungen der Benutzbarkeit, die in Odoo vorgenommen werden, werden automatisch auf alle unsere vollständig integrierten Apps angewandt.
Finally, with regular annual releases, Odoo evolves much faster than any other solution.
5
Millionen Anwender
bauen ihr Geschäft aus mit Odoo
Setzen Sie Ihr Wachstumspotential frei
Keine Kreditkarte - Zugang sofort