Locations: UAE, KSA, Qatar, Kuwait, Bahrain, Lebanon, Cyprus, Greece Partnership year: 2018 Services offered: Enterprise Resource Planning, Content Services, Process Services and Data Governance. Employees: 35 Odoo Employees Odoo Implementations: 25+
Ever Business Solutions, a subsidiary under Everteam Global Services – Intalio, is an international software provider that brings about 30 years of leadership and innovation combined in Enterprise Resource Planning, Content Services, Process Services and Data Governance. They have a presence in Europe and the MENA regions and have partners scattered around the globe.

With its distinctive knowledge in advanced technology conducted by its micro services architecture, Ever Business Solutions emphasizes on covering all business needs related to various sectors and industries such as: Government and Public Sector, Manufacturing, Healthcare, Finance, Food and Beverage, Hospitality, Advertising and Marketing, Automotive, Education, Logistics, Media and Publishing, Oil and Gas, Real Estate, Retail, Services and Telecom, Wholesale and Non-profit Organisations. 
With offices located around the US, Europe and the MENA region and with years of expertise, the enterprise managed to become a trusted leader in information governance supported by an ever-increasing legal and compliance environment.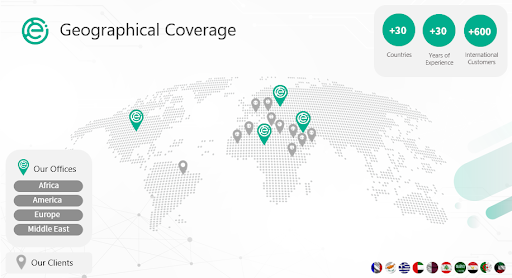 Odoo Partnership, Vision & Mission
Through a well-planned service offering portfolio, Ever Business Solutions works on generating specific business solutions while combining cutting-edge innovations such as AI, IoT and machine learning, while developing a selection of tools and connectors working as extensions to complete the needed solutions.
In 2018, Ever Business Solutions was on the lookout for a sustainable ERP software to take its solutions to the next level while preserving the best standards for its services. After getting to know Odoo, its position in the market and the various benefits it offers, it seemed that both entities shared a very similar methodology supported by powerful values. 
Ever Business Solutions, prioritizes adding value to clients and creating timeless experiences out of the achievements, through professional services that generate the best results for the customer.
Due to the partnership with Odoo, EBS upgraded its ability to provide a range of easy to use business applications that form a complete suite of tools to accompany the customer need through a software that is intuitive, full-featured, tightly integrated, effortless to upgrade, all while running smoothly for every business and every user.
"We absolutely loved working with Ever Business Solutions! Our services were delivered professionally using the best practices. Definitely recommended!"
--Antoine Salloum, Client Relations Manager at QShield
An Award Winning Partnership
Since the beginning, Ever Business Solutions has built their business via the following methodology; to have the customers define their business needs.
As the winner of the Best Partner MENA 2020 award, Ever Business Solutions takes it as its responsibility to constantly deliver above all expectations, always keeping the customer as a priority, and the project success rate at a high standard. The company has shared its future plans and goals with Odoo, and together, the future seems exciting and promising.  
See the video below for a couple of words from Samer Hobeika, Managing Director at Ever Business Solutions during the
Odoo Awards 2020.
Geographical Expansions
Ever Business Solutions operates in Europe, the MENA region and Africa, directly through its sales team or through several partners around the globe. In 2020, the partner has expanded their territories further adding Greece, Kuwait and Bahrain to their geographical portfolio. In the future, they are looking to further expand their reach getting closer and closer to customers, one country at a time. 
You can learn more about Ever Business Solutions at: 
https://www.everbsgroup.com