Mass mailing made easy
Odoo's new mass mailing app is fully integrated with other apps. It can be used by sales teams to reach out to clients, by marketing teams to create promotional campaigns, by HR managers to send recruitment forms or by event managers to promote upcoming events and activities. It's beautiful and easy to use.
Here are some of the best features:
You can design attractive emails using our building blocks and themes. Our mass mailing app is user-friendly, intuitive and easy. You can create beautiful campaigns and mass mailings without any design skills or previous experience.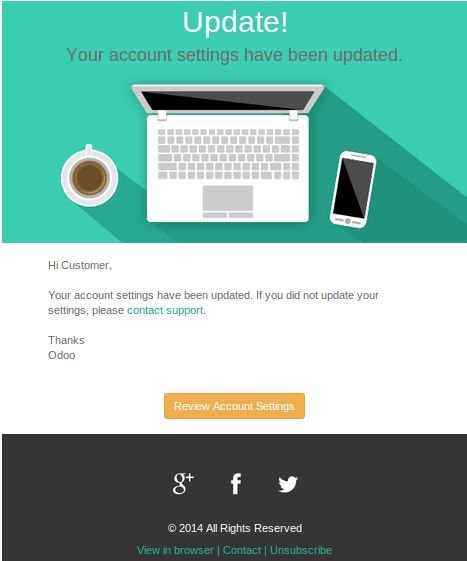 Odoo's fully integrated system gives you the opportunity to manage your mailings and keep track of all important data. You can create mass mailing campaigns, set up mailing lists, create template emails and use contacts from your database. You can also 
get immediate statistics on the number of mails opened and replied to - all to help give you useful information about the success of your campaigns.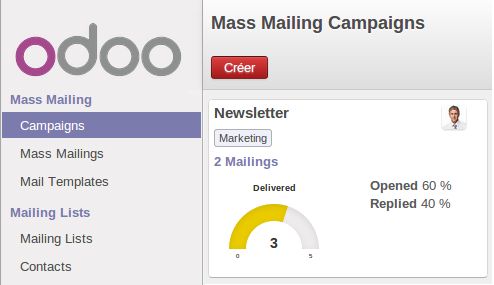 You can create a variety of mailing campaigns to meet your different needs - whether it's a regular newsletter sent to all your contacts, a recruitment form for new candidates, invitations to an event, marketing promotions or general news. Simply select the sender and recipients - either a specialized mailing list or contacts that are easily imported from your database.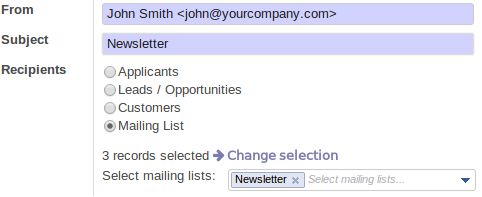 Immediate statistics on your mailings can help you to analyze your campaigns quickly and easily. You can see how many recipients received the email, how many opened it and how many replied. This will give you great insights and help you to improve your future mass mailings.

Subscribe to our Odoo Newsletter
Follow our news and get the blog posts directly in your inbox.