One of the best CRM mobile apps on the market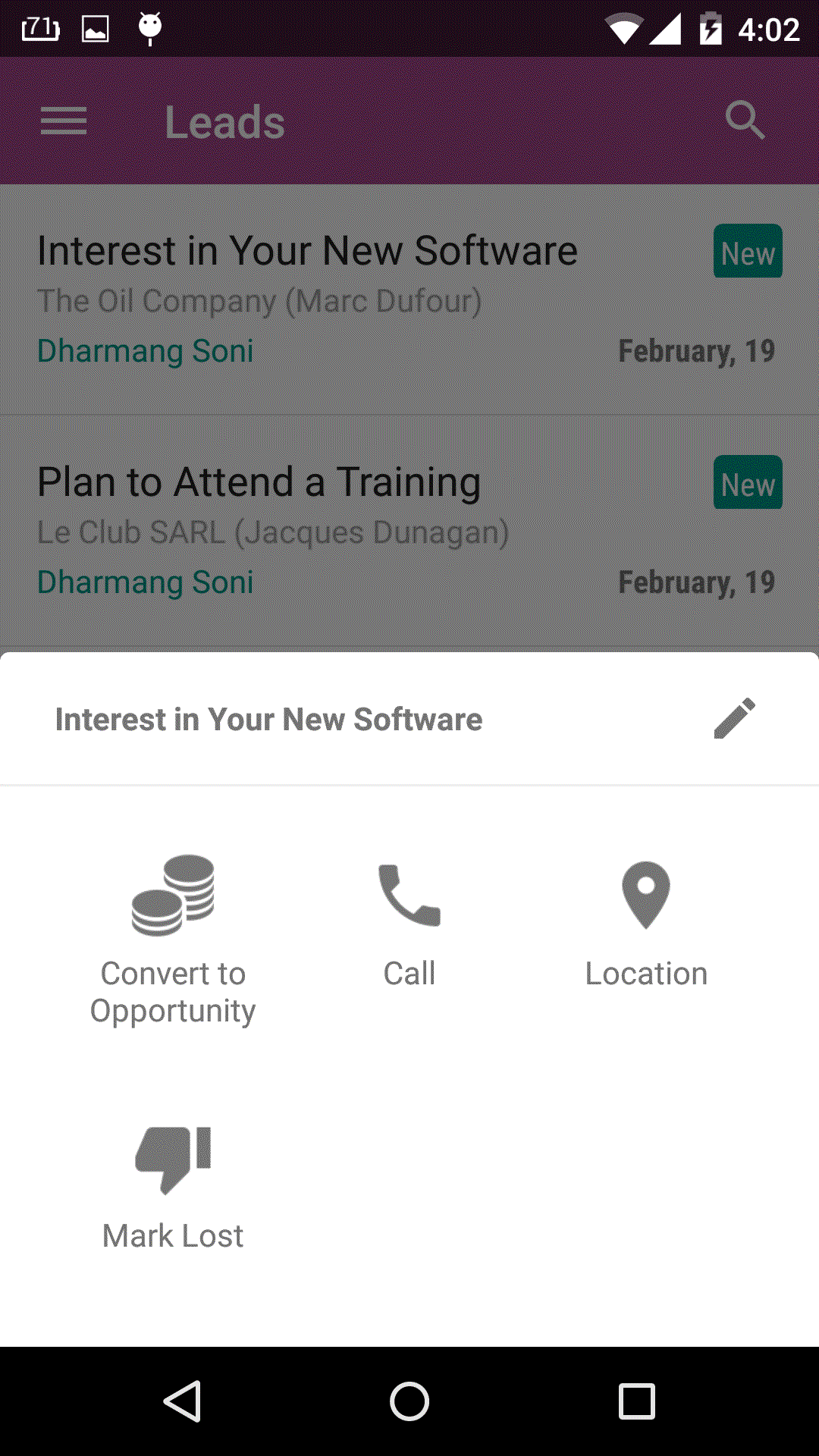 The new Odoo CRM for mobile phones allows you to manage opportunities on the go. Every salesperson will enjoy using it. Even though this new mobile app is still in beta version, it already has all the features and benefits that we can expect from a great mobile CRM app:
great interface

enhanced user experience

comprehensive set of features
"Simplicity is about subtracting the obvious and adding the meaningful."
The look and feel of the CRM mobile app is very impressive. With a clean interface, we've been able to build a strong CRM app. This interface is based on elements of Google. Indeed, we really wanted users to feel as though they're in a familiar environment - making the on-boarding easier and keeping the user experience recognizable.
Less is more
A familiar environment means users can easily navigate through the different sections. In a business market where mobility is essential, we've released a mobile app that is incredibly effortless in its use and set of features. That helps you gain more productivity and agility in your sales - typing on the fly and saving the most relevant information.
Plus, the first screens introduce the key features and demonstrate how-to navigate into the mobile app. 
Key features at glance
OPERATING SYSTEM - Odoo CRM mobile app is currently available for Android. You can download the app from Google Play.

SYNCHRONIZATION - On installation, data (customers, leads, agenda, etc.) is instantly pulled from the web app  to the mobile app. Useful and intuitive, synchronization is done according to your use. Odoo mobile CRM can be used offline and once reconnected to the internet everything is synchronized automatically. So, for example, if you meet prospects at a networking event but you don't have internet, don't worry - you'll still be able to create new leads and schedule calls or meetings. And all the information will be available in your Odoo web account once you've reconnected to the internet!

COMPLETE SALES CYCLE - Thanks to our CRM mobile app, the complete sales flow (from leads to sales orders) is in your hands at all times. Everything works seamlessly and managing your sales cycle on the go becomes easier.

BUILT-IN CALENDAR - As I already mentioned above, you can schedule calls and appointments with leads and opportunities. These meetings are available in the built-in calendar. Moreover, you receive reminders for all meetings and scheduled calls and can be guided to a client's office on Google Maps.

INTERACTION HISTORY (chatter) - And finally, one of the major features is predictive information: you get information about your caller before answering the call. And at the end of the call, the app reminds you to make a log note to summarize the conversation or next actions. This information is also available in each customer, lead or opportunity file in the mobile app as message history.
In creating this mobile app, the Odoo team has prioritized the information that will help sales people to sell and manage their pipeline seamlessly while on the go.
These elements, combined with a simple navigation, makes Odoo CRM one of the best mobile CRM apps on the market.
This is a beta version of the Odoo CRM mobile app. To suggest improvements and/or give feedback, please go to Google Play.