EDI, or electronic data interchange, allows companies to rapidly send information digitally, using a standard format. The annual volume of EDI transactions exceeds 20 billion per year [1] and in 2019, EDI accounted for 78% of all B2B electronic sales [2]. By moving away from a paper-based exchange of business documents, companies can replace outdated, slow transactions, increase automation, and improve accuracy. Companies can streamline their processes and automate documents like purchase orders, invoices, and advance shipping notices (ASN). EDI improves the supply chain in retail, logistics, and manufacturing industries, but any business that deals with large amounts of paperwork and forms can benefit from an EDI solution. 
Odoo Offers EDI Integration With SPS Commerce
Odoo offers an EDI integration with SPS Commerce. SPS Commerce is the retail industry's trusted EDI provider, with over 35,000+ customers worldwide. SPS provides trading connections to some of the world's biggest retailers, like Amazon, Costco, Target, Walgreens, and many more. EDI connections can be tough to implement, but SPS handles the hard part. You'll be able to connect easier, fulfill orders, eliminate time spent on manual processes, and gain access to the largest EDI network in the world. Search this list to find your current and future retail partners. Don't see the retailer you're looking for? No problem. We can make a connection.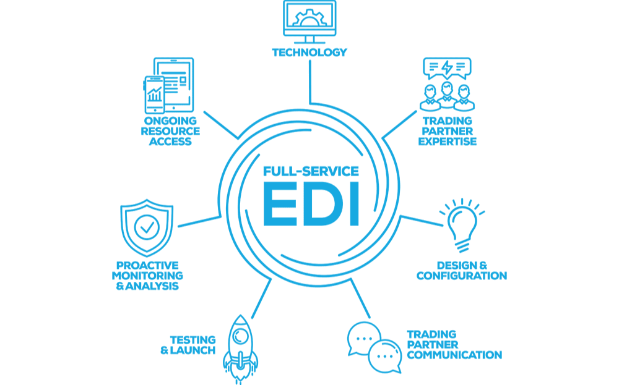 SPS offers a full-service EDI solution. 
Potential for Mid-Market Companies
Most large companies with an active distribution network and high volume of transactions use EDI to standardize their business relationships and optimize processes. Mid-market companies that aren't yet using EDI can gain a competitive advantage, further grow their business, and simplify processes. SPS Commerce is consistently ranked one of the best EDI software solutions for medium-sized businesses.
The following document types are fully supported and readily available: 
850 (Inbound Documents) 

855 (PO Acknowledgement) 

856 (Delivery Transfer Validation) 

810 (Invoice Sent to SPS) 
All EDI projects are unique, based on your company, specific requirements, and customizations. The price will consist of a standard base price for our SPS integration module, plus a monthly rate per document type. Odoo offers competitive pricing because we want to bring high-value business tools to companies of all sizes.
To learn more about specific pricing for your company, feel free to reach out to bhy@odoo.com. 
1. Vollmer, Ken. Forrester, "The Future of EDI." Last modified February 04, 2011. 
2. Digital Commerce 360, "Why EDI still has a big role to play in B2B eCommerce." Last modified June 1, 2020.