Create and follow meetings
Arranging a team meeting that involves a lot of busy people can be pretty tricky - sometimes it's very difficult to find a time that suits everyone. It's useful to have a single agenda with the details of all meetings - not only yours, but also those of your colleagues, partners and other people that you meet with on a regular basis.
With Odoo's newest features, you can follow yours and others' meetings, invite people to join and have an overview of the agenda. Everything is visible in a single view and only invited people have access to the information. You can follow people you usually meet so that you can plan your common meetings for the most suitable time.
Synchronize with Google
Synchronization with a Google calendar gives you a totally new kind of freedom and flexibility. Now you can easily synchronize your Odoo agenda with your personal Google calendar. This gives you an overview of both - your business and your personal meetings - and enables you to plan your agenda more efficiently.
Full synchronization allows you to access everything from your laptop, tablet or smartphone so you can easily get all neccessary information you need on the go.
Send invitations and track attendees
Make the whole process of scheduling and planning meetings easier with a system that allows you to invite people to the meetings, conference calls or similar events and easily track their responses. Invited users will get an email and they can accept or decline your invitation with just one simple click. 
You can see their responses directly in the meeting details and keep track of who has accepted (green), who has declined (red) and who hasn't answered yet (grey).
Everything is visible in a single view and you can easily track the current status of attendance.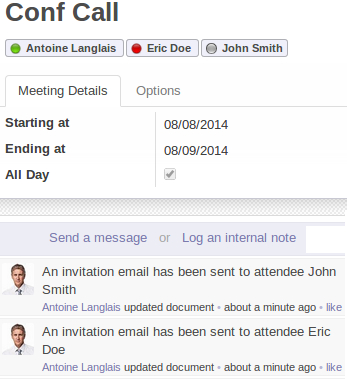 Discover more about Odoo 
With Odoo's fully integrated software, you can easily manage your meetings, schedule business calls, create recurring meetings, synchronize your agenda and easily keep in touch with your colleagues, partners and other people involved in projects or business discussions.
Check out our free trial and discover more today!
Subscribe to our Odoo Newsletter
Follow our news and get the blog posts directly in your inbox