Company name: Daedalus
Location: Netherlands
Industry: Military Aviation Services
Partner name: Odoologic
Main Apps implemented: Invoice, Timesheet, Projects, Recruitment, Employee Portal, Approve Process
Company Size: 100
Number of Users: 9
Hosting Type: On-premise

Overview
Daedalus offers a unique "one-stop shop" concept to support military aviation customers worldwide. After spending several years working with a self developed legacy system, in addition to various other management systems, the company decided it was time to get rid of all the little islands in the organisation and work on one platform. Working in collaboration with Odoo partner Odoologic, Daedalus has been transitioning all their business processes into Odoo's unified and integrated platform. 
Key Challenges and Requirements
Daedalus is active worldwide within the Maintenance Repair and Overhaul sector (MRO). They focus on deploying on-site support teams to perform first and second line maintenance for aircraft and helicopter defence, component maintenance, depot maintenance, modifications and upgrade programs.
Prior to using Odoo, Daedalus used a self developed legacy system for day to day operations and Outlook for internal and external communication. Information was scattered all over the place.
Whether it was a database to find new candidates for the company, communicating with customers or financial info, information was scattered everywhere. So Managing Director Rob Philipsen decided to bring everything together in one application.
Due to Daedalus' size, they could not customize their own ERP system as many large companies do so they were on the hunt for an existing package that's already in place and they could implement. In preparation for this hunt, Daedalus put together a clear requirement package which summarised all the functionalities in the different island systems they had. They explained this to Odoo partner Odoologic and asked if all these functionalities could be brought together under one system/application, to which they answered yes...with Odoo!
Solution and Results
The implementation phase for Daedalus has been a step by step process strategically implementing specific apps to meet specific needs. The first step began with the implementation of Odoo Invoice and Timesheets and then that was followed by Recruitment which is an ongoing implementation.
Step one: Invoice and Timesheets
So far the implementation of Odoo Invoicing and Timesheets has been completed. This was completed in 2020 and took 8-9 months. Previously Timesheets were completed on paper, scanned and sent via email. Someone in the office went through all the scanned timesheets sent by email and stored information somewhere in the computer. This was a labour intensive process that was very receptive to mistakes.
Thanks to the automation of timesheets, the process to manage timesheets is no longer labour intensive. Daedalus employees work at the customers facilities, fill out the timesheets, they are then approved by the customer. Thanks to Odoo's flexibility, timesheets can be completed on mobile phones or via their computers. 
In addition to saving time, Daedalus is also getting paid much faster by customers. In the past, payment could take up to 30 days (and sometimes longer). Now payments occur within 2 weeks thanks to the automation. One of Daedalus' biggest customers is the Netherlands government. They've accepted the digital processing of Timesheets, so Daedalus gives them an electronic format to fill out.
Previously, Daedalus used to have one invoice for 10-15 people, now there is one invoice per person. This means an increase in invoices, however in the old system, if there was an issue or a question for one person in the group of 10-15 that was part of a big invoiced group, the invoice wasn't paid in total. Now if there is an issue with one invoice, all the others will still be paid.
Currently the company is only spending up to 10% of the time previously used to process timesheets. In addition to this, the quality of information is much better because there are less people putting information into the system. This has led to a shift in the organisation because there are fewer people completing administrative tasks and people now have time to focus on resolving issues and problems, rather than completing labour intensive administrative work in a variety of systems.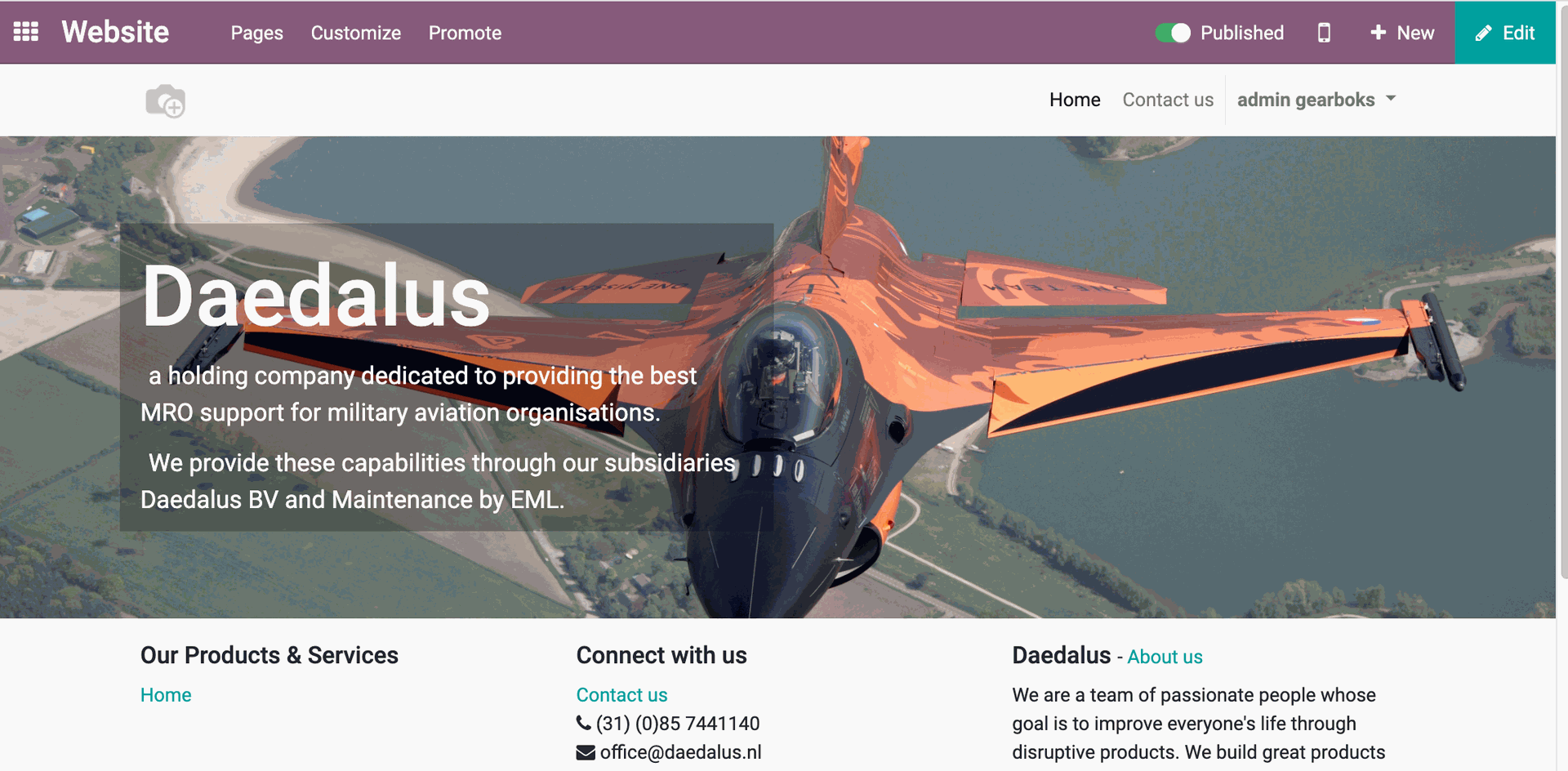 Step two: Recruitment
Each year Daedalus hires around 50 people. Operating in the niche market of military aviation means profiles are difficult to come across. Majority of candidates are either people that have never worked for Daedalus or existing employees who become candidates for a different customer or job position within Daedalus. So the company uses the existing database of employees to also fill positions. 
At the moment, for external candidates the company uses job board websites and social media channels such as LinkedIn to promote vacant positions. However, in many cases, external candidates come via referrals from the existing workforce. In the future the company plans to implement Odoo's referral app.
When candidates apply for a role, Daedalus receives CVs free formatted in word or pdf. There is no set structure meaning Daedalus employees need to take time to verify qualifications. Working together with Odoologic, Daedalus' new recruitment solution will be customized to fit the company's needs. It will put the applicant in charge of submitting and updating a standardized online applicant profile with a search function. This means all applications are in one format and the search function will enable HR employees to easily find and verify important information. 
With the applicant in the driver's seat, they can also directly update the system once they've completed a new qualification or course. This also generates less administrative tasks for Daedalus employees and allows them to focus on the matching process rather than inputting and updating CVs. Daedalus is currently in the midst of implementing their customized recruitment module. The estimated completion for this part of the project is the beginning of 2022.
Next step: Accounting
In 2022, Daedalus' objective is to transfer their financial administration into Odoo and implement Odoo Accounting. Currently, the company is using Exact accounting software however, Daedalus' end goal is to get rid of all the little islands in the organisation and work on one platform.
For now Daedalus is taking it step by step in regards to the apps they're adding to their database. Whatever apps are needed in order to make a functionality work, Daedalus will activate it within their database.
About Daedalus
Daedalus is active worldwide within the Maintenance Repair and Overhaul sector (MRO). They focus on deploying on-site support teams to perform first and second line maintenance for aircraft and helicopter defence, component maintenance, depot maintenance, modifications and upgrade programs. For more information, visit www.daedalus.nl
About Odoologic
Odoologic helps SMEs with the implementation of Odoo (CRM/HR/ERP) applications for user-friendly and efficient business processes. Our organization has extensive experience in setting up and maintaining Odoo Open Source Software. Odoologic is a brand of Dutchworld IT Solutions from Amersfoort. For more information, visit www.odoologic.nl