Feedback from the OpenERP 7 release
Are you planning a launch for your new product or service? Are you curious to know how you can double your traffic? Then this article is exactly for you. 
Discover how we succeeded to double the number of our visitors, fans, followers and to raise awareness about OpenERP 7, without a single external article being written about it. And this is what we did.
We have organized the version 7 announcement campaign in four steps:
Day-60: complete review of our inbound marketing ads

Day-15: the "sorry sap" pre-launch

The D Day: the official launch

Day+15: the post launch
Complete review of our online marketing ads
Two months before the launch, we started reviewing all our online marketing strategies. We used to do that every month but this time, we wanted to review everything from scratch, not just a simple improvement.
From our experience, we knew it takes around 2 months to get to a good level of efficiency when you launch new online marketing channels. During those two months, we changed variables once a week to test different alternatives and fine tune the performance (maximum cost per click, target visitors, text of the ads, languages, etc.) 
So, on the 1st of November, we started reviewing our Google Adwords, Facebook and LinkedIn ads. We also launched two new paid channels: Twitter and Bing. Here is a summary of what we have learnt.
Improving Ads on Google Adwords 
Our biggest paid source of visitors is Google Adwords. We used to invest around 5.000€ /month in Google Adwords. After 3 years of managing these campaigns, our campaigns KPI where: 0.05€ average cost per click, a click-through rate of 0.24% and 145k clicks per month with a monthly budget of 7000€.
As our preceding campaigns evolved a lot, their structure was not clean anymore. So, we started to redefine a clear hierarchy for all ads. We applied the following structure:
Campaigns: one per language: English, French, Spanish, Portuguese.

Ad groups: one per application: CRM, POS, HR, Accounting, ...

Ads: 2 or 3 variations of the ads text per ad group.
We wanted to decrease the total number of ad groups in order to focus on a smaller number of ads to improve them. So, we stopped ad groups with the lowest impact, here are a few examples:
a "Generic ERP" campaign on US market only,

campaigns for specific sales promotions,

Russian campaigns,

campaigns that linked to a call-to-action page, like "free ebooks".
After analysing the 12,500 keywords in our campaigns, we noticed that some keywords were listed in several campaigns. As an example, we had a campaign for a generic ERP and a campaign for a CRM. Some keywords were listed in both ad groups which lead Google to show the generic ERP ads when people were looking for a CRM. This resulted in a lower click-through rate on these keywords.
We also applied a lot of smaller improvements. Here are the results, one month after having fine tuned our campaigns:
Click-through rate: 0.24% → 0.48%

Average cost per click: 0.05€ → 0.02€

Average position: 2.7 → 1.9

Clicks: 145,000 → 328,000

Monthly Budget: 7,000 € → 6,000€
We more than doubled the number of visitors acquired by Google Adwords while decreasing the monthly budget!
It looks like Google Adwords recomputes the rank of your ads when you change their URL. So, if you do big changes, it's sometimes a good idea to also change the URL so that Google Adwords will reset the counters and this can make a big difference on your average position.
Improving the Facebook Ads
We already made some tests in the past with Facebook advertising. We got very high costs per click around 0.50€. As the return on investment was very bad compared to Google adwords, we did not invest a lot in this channel. But in October 2012, Facebook launched its promoted posts feature. So, we decided to try again.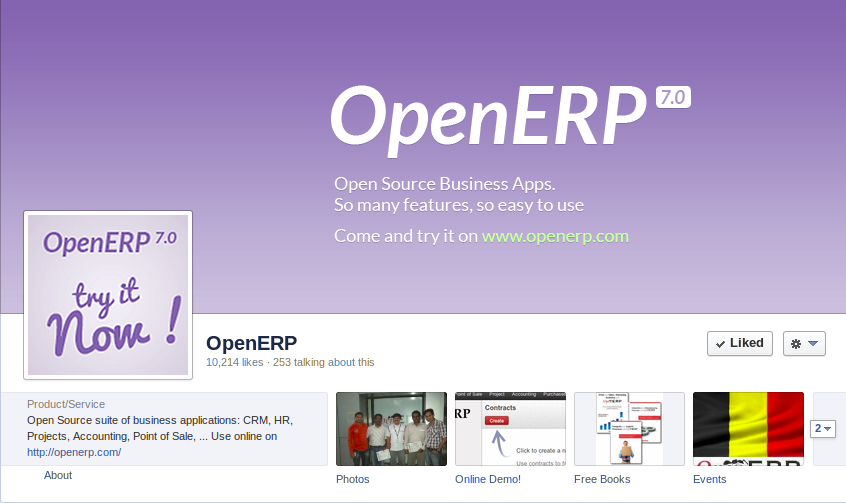 To get a return on the promoted post feature of Facebook, we wrote a series of blogs with interesting content and we wrote Facebook posts that linked to these blogs (we post stories on our blog and not on Facebook directly as we have a good lead acquisition mechanisms on our blog) We also redefined guidelines on how we should write blogs (e.g. include cross-references to others blogs in all blogs). Here are some examples of blog:
Promoted posts do not target the world, but only the friends of your fans (4 millions of people for OpenERP). Each promoted post has a duration of 3 days. So we rolled out one blog every 3 days to maximize the return of each post.
We got excellent results. We went from 4,400 followers beginning of December to 10,000 followers in January. At the top of the campaign, our posts reached 150k people per week.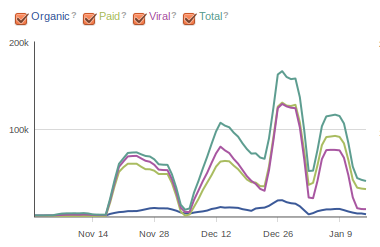 We had good return on blogs and photos (screenshots of OpenERP v7) but low return on polls (what do you think of...). We invested on average 50€ to promote each blog post. Our Facebook cost per click is around 0.05€ which is similar to Google Adwords.
LinkedIn and Slideshare campaigns
As with Facebook, we already made ad campaigns with LinkedIn in the past. But we got very bad ROI (1€ per click) so we stopped after a few weeks. We tried again to check if we can succeed getting a better ROI this time.
After 2 weeks playing with LinkedIn ads, we came to the conclusion that this channel does not fit our needs in terms of number of clicks it can generate and cost per click. The best we succeeded to do with LinkedIn is 2€ per click which is about 100x more expensive than Google Adwords.
We did the same experiment on Slideshare, the platform where we host all our slides. But we also came to the conclusion that the cost per click is much higher than Facebook and Google Adwords. The interesting feature of Slideshare is that they have a cost per lead (you have to fill in a form if you want to download a presentation). After having tried this system, we though that their leads were not qualified enough or they were already in our lead database. So we stopped our slideshare ads.
Launching Bing ads
We analysed other channels that could generate a lot of clicks at a budget comparable to Google adwords. So, we tested Bing, the search engine of Microsoft which is the default search engine of Internet Explorer (they still have 30% of the browser's market share).
Bing's user interface is not very intuitive. But, fortunately, they have a tool to import your Google Adwords campaign into Bing and perform the exact same ads as your Google adwords. So, we used this tool and it allowed us to compare easily the performance of Bing Ads vs Google Adwords.
Bing is much less used than Google for searches on the web (4% vs 83%). But only a very few advertisers launched campaigns on Bing. So, we got much higher ranking of our ads on Bing than on Google adwords (the exact same campaign is placed at position 2.7 in Google adwords whereas we have the number 1 position on Bing). That's probably because Bing Ads have been launched only a few months ago.
We did several improvements to improve the CPC. But the biggest impact came from a very funny change: from EUR to USD.
Most of our ads were displayed in the first position of every Bing searches, whatever the maximum CPC we defined. So, we put the minimum CPC and it did not decrease the number of clicks Bing was able to generate for us.
But Bing forced us to bid a minimum of 0.05€ per click. So we tested with our US company and the minimum cost per click there is 0.05$, instead of 0.05€. So we closed our Bing account and opened a new one in USD. We put the cost per click at 0.05$ and this allowed us to improve the ROI of our ads by 35%.
For OpenERP, Bing has a similar return than Google Adwords, but the cost per click is 0.05$ instead of 0.02$, which is OK as we used to pay this with Google Adwords before our cleaning of December.
Launching Twitter ads
In September 2012, Twitter launched its promoted tweets and promoted accounts services. Since their launch, we tried to apply 3 times to this program by filling their form but they never contacted us back, probably because we subscribed with our Belgian company.
So, in November 2012, we tried to apply with our U.S. based company and they contacted us back in a few days. As a result, in order to optimize our campaigns, we applied lower "Cost per Click" on non-U.S. Campaigns and higher CPC on English or U.S. based campaigns as this market is highly competitive.
In one month, we acquired 4,000 followers and 129k clicks with a budget of $5,000, which gives a cost per click of $0.03. We have been quite conservative on the cost per follower and the cost per click. We have had 1,793 retweets and 178 replies.

To do this, we launched 27 campaigns, each containing different messages to reach different types of audiences.
When you start with Twitter ads, you have to sign a 15k$ contract over 3 months. We did not used this budget as we used conservative cost per clicks. But it's not a problem, Twitter will allow us to spend the rest over the next months.
Summary of our social media visibility
The graph below summarizes the number of visits we receive every month on our website from our social media activities.
The "Sorry SAP" pre-launch
In order to have a big impact with the announcement, we replaced our website homepage by a dynamic counter announcing the new version in 15 days. We used a completely new design in order to emphasize the OpenERP 7 is something completely new.
This proved to be a good idea. We had three objectives during these 15 days:
Press relationship: we contacted a list of journalists

Launch a viral system "Share to test the beta"

Promote a blog about our history
Press Relationship
During the 15 days before the official release, we contacted a list of journalists from the top online press: Techcrunch, Readwrite, ... We sent emails, we called them and contacted them on Twitter. We asked our investors to introduce ourself to their contacts. We also wrote different stories to select the one that best fits the journalist's needs depending on the case.
Our COO even went to Paris for one full day to meet with a journalist of Techcrunch during the "Le Web" conference. He succeeded to meet him and showed him a demo of OpenERP.
All of this was a waste of time as none of the biggest online media published a news on OpenERP 7.
The best news we had was a post on Hacker News. This gave us a one shot peak of 10k visits in two days. It's good, but it remains small compared to our inbound marketing impact (our website has 30k visits per day) As a comparison, Techcrunch generates around 3,000 clicks (because they host the news while Hacker News links to your own website to read the news).
Just to test the service, we also had an online press release with MarketWire. This cost us 500 EUR for the distribution of the news in English and Spanish worldwide. This was a waste of money as it did not generated any important post either. We will stop using such services in the future.
The viral homepage
By changing the homepage, we had two goals: create a viral effect to attract more followers and reinforce the importance of the announcement.
To create a viral effect, we developed two buttons on the homepage. These buttons allowed the visitors to get an instant access to the beta of OpenERP 7 if they promoted our message on LinkedIn or if they liked the OpenERP Facebook page.
We chose not to give access if you promote OpenERP on Twitter because we think that messages on Twitter often stay in the same circle of people. As our preceding "pay with a tweet" Twitter campaigns already targeted these people, we wanted to reach new users that may not know OpenERP already.
The "share on LinkedIn" button was not a success. This generated 1,500 shares on Linkedin, but these messages on LinkedIn generated only a bit over 1.400 clicks to our website. LinkedIn is not a viral system at all and only a few people read their LinkedIn wall. We will keep using LinkedIn for posting our jobs offer, but not for our marketing ads.
The Facebook "like" button was a very big success. Before launching the "Sorry SAP" campaign, we had 4,400 followers on facebook. We got these people over the span of two years. Today, a few weeks after, we already have 10,000+ people that liked our page.
People that like your page on Facebook are much more valuable than clicks on your website. Each time we post news, it appears on the wall of 21% of the people that like our page. This means the message is visible to all their friends! As a result of this, the monthly number of people we reached with our facebook activity thanks to the sorrysap campaign was amazing!
The "Sorry SAP" blog
Fabien, the founder of OpenERP, wrote a blog explaining the history of OpenERP. We knew it would be slightly controversial, due to its honesty and getting out there all the facts about how OpenERP came to be what it is today.
The feedback to this blog was bigger than expected, it became our most read blog ever and also most appreciated. Too often companies in the B2B forget that people are humans before being customers.
This blog received 25,000 visits in one month whereas our best blogs tops at 4,000 visits. The OpenERP 7 release notes, on which we communicated a lot in our mailing and news attracted 7,800 visits.
But, most of all, this blog created a lot of motivation and inspiration amongst our community and partners. You can check what people said about this campaign here: http://storify.com/fpopenerp/openerp-sorry-sap-campaign
Launching the new website
The minimalistic design
The reasoning behind the new website was to become so minimalistic that the product would become the center of attention. By removing all the clutter from the homepage, the visitors do not get distracted and get directly to the point, get to the product to test it. Less is more.
The new website does not try to convince visitors or explain what we do, it just tries to make them test OpenERP. We designed a product so easy to use that it speaks for itself.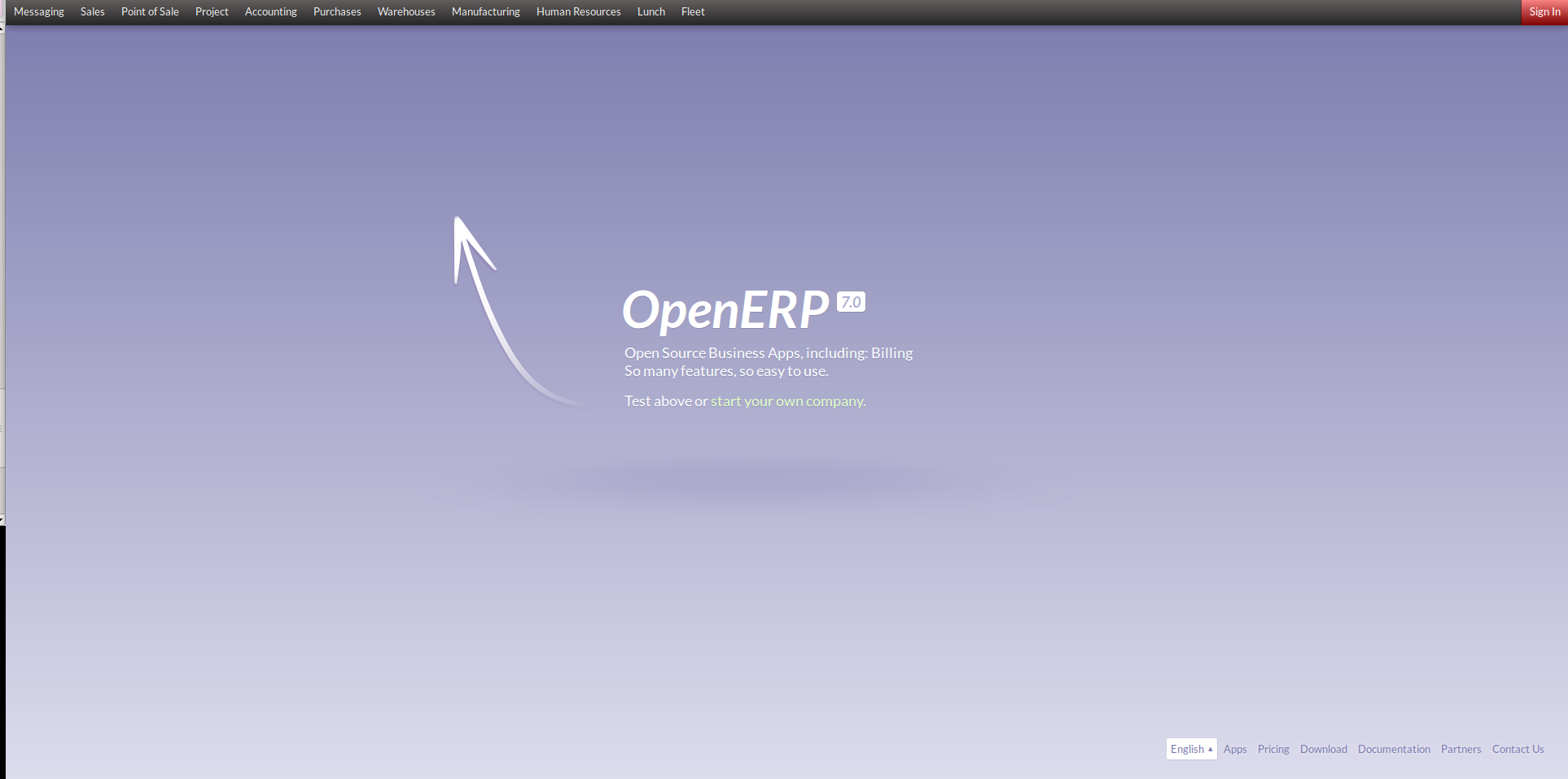 We wanted a minimalistic website so that it allows us to focus on improving the performance of these pages: translated into 10 languages, fine tuned through A/B and user testings, dynamically adapt to every visitor's need (price, language, mobile, clean effects but also content), ...
Our target with OpenERP 7 was to make it super easy to discover, to use and to deploy. As the user experience starts with the website, we had to change the visitor path to allow them to test the application they look for in one click, create their own instance without registration, visit the website and the application in their own language, etc.
To prepare for this change, we developed the version 7 to ensure a user that tests the application for the first time is guided through the user interface. The screenshot bellow shows the first screen you see when you create a new instance with a CRM application:
Changing the lead acquisition process
A big part of our sales activities relied on lead acquisition forms of our old website. So, we had to change everything, even our lead management process. The picture bellow explains how the visitor's path integrates into our lead management process and sales teams.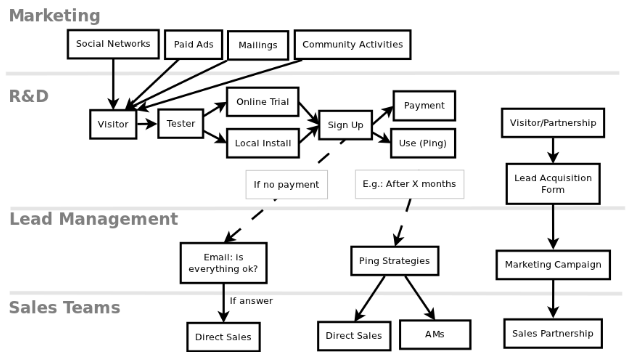 Optimization of the visitor experience
We did a lot of optimizations to improve the conversion rates (visitors → testers, testers → users), here is a summary of two of them.
Dynamic homepage, according to what the visitor is searching
It's complex to market OpenERP as we do everything a company needs (CRM, HR, Marketing, Mrp, project management, accounting, point of sale, enterprise social network, ...). When you do everything, you also do nothing specifically.
Our goal is to market OpenERP like a suite of business apps (like the Apple apps store or Android market place) not like an ERP (one big application with a lot of features). So, our priority was to ensure that a visitor that looks for a CRM will easily find and go to the CRM application.
Free trial without required registration
We wanted users to create their own OpenERP Online without having to subscribe. This allows to reduce the noise of people who subscribe with the wrong data just to test the application.
So, we replaced the traditional subscription page by a page with only one field (choose your name). You just select a name and you get your own OpenERP database available online.

The user has to register only if he decide to keep it's instance running.
Impact of the new website and visitor path
The impact of these changes are considerably higher than what we would have expected. As a summary:
The bounce rate for paid ads: from 75 % to 40% (~2.5x more visits)
Average page views for new visitors: from 2 to 4.6 pages per visitor
Average time on site for new visitors:from 3:22 to 5:51
Number of visitors per week: from 90k to 178k
Post Launch
We plan to continue improving our online advertising strategy. We still have a lot of tasks in our backlog:
continue our user-testing and A/B testing to find what improvements we should do,

launch "remarketing" with google adwords,

apply the same improvements to our other sites that drive a lot of visitors because of their huge content: clean this blog, the community forum, the online documentation,

launch the new website based on OpenERP CMS for secondary pages, ...
We also plan improved the way we organize real life events:
the conference to showcase OpenERP 7 in India, U.S. and Belgium had more than 500 registrations, one week after the announcement went out

we organized an OpenERP tour in different cities around the world, with amazing attendance 

we reviewed our booth organization in big fairs: we helped people configuring their OpenERP in real time rather than just doing demonstrations
We hope this blog post was helpful. Stay tuned for more!
Are you ready to take your business to the next level?
We're always ready to help!