There are many reasons why starting a clothes branding company in 2020 is the right time. Every year thousands of new businesses get started. That makes it quite hard to stand out and get the attention of their audience to spread the word about their company, that's why companies rely more and more on custom clothes to help their branding efforts. 
Putting a logo and other information about the brand on custom clothes helps create brand awareness. It is an easy and effective way to communicate a message less aggressively. Custom clothes are also an almost free marketing tool, compared to other forms of advertising like TV or Radio, custom clothes are an off-the-clock branding weapon for a minimal investment. 
It's also becoming more and more critical to create a strong company culture. Companies can unite teams across continents, and increase the bond of the employee with the company with the right use of custom clothes, as you can see, there are many benefits in custom branding!
These reasons are why I started my own a few years ago with a designer friend, it went well, we had a few clients quite quickly, but we found it very hard to scale, we hired a few people. Still, then things started to get complicated, orders would be lost, we'd have customers calling annoyed that their orders were taking longer than expected, it was not the way we wanted to do business. 
We realized all of our issues were due to our various processes and lack of proper communication between the employees, one of our sales representatives might do order but forget to send the info to the designer, the designer might not say pass the information to the printer… it wasn't working. The issues and problems we were living with when we just started, like relying on excel files all over the place, no written trace, etc., that was doable when it was the two of us, those problems were becoming much more significant, and it was threatening the company as we grew. We needed something new. We needed an integrated solution where everything was in the same place, and we needed to automate some actions as well. 
After some research, we realized that Odoo could answer all of our problems. I will walk you through our implementation of Odoo and what each thing solved. 
So as you guessed, most of our business comes from B2B customers; we have 15 employees between sales, marketing, and printing the clothes. 
We don't keep stock as we print all of our products on demand. This is a quick graph of the way we work. 
Now let's jump into the implementation itself! 
Managing our leads
Our first step was to simplify our lead acquisition, as I said before, most of our leads came from our old website, so we decided to design a new website through Odoo, adding the relevant information and modifying with the building blocks to fit our needs, it only took us about an hour to get it exactly how we wanted. 
The contact us form is already installed on every Odoo Website and is setup to create an opportunity in the CRM if you have the application installed. You can easily modify that on the website by clicking on "Customize" when you are the contact us form.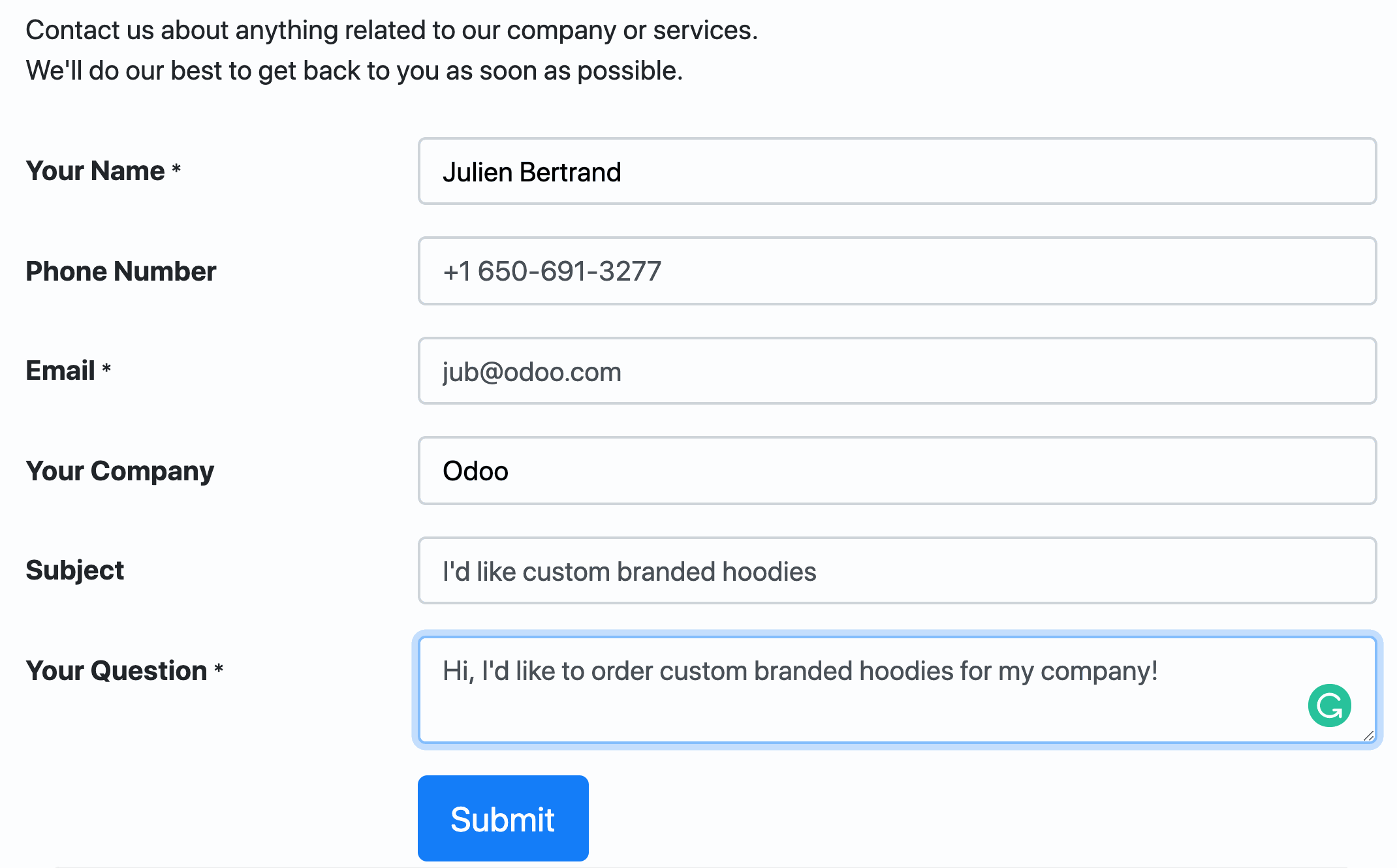 Well, that's an easy way to start. Now each time someone contacts us, we get a lead in our CRM.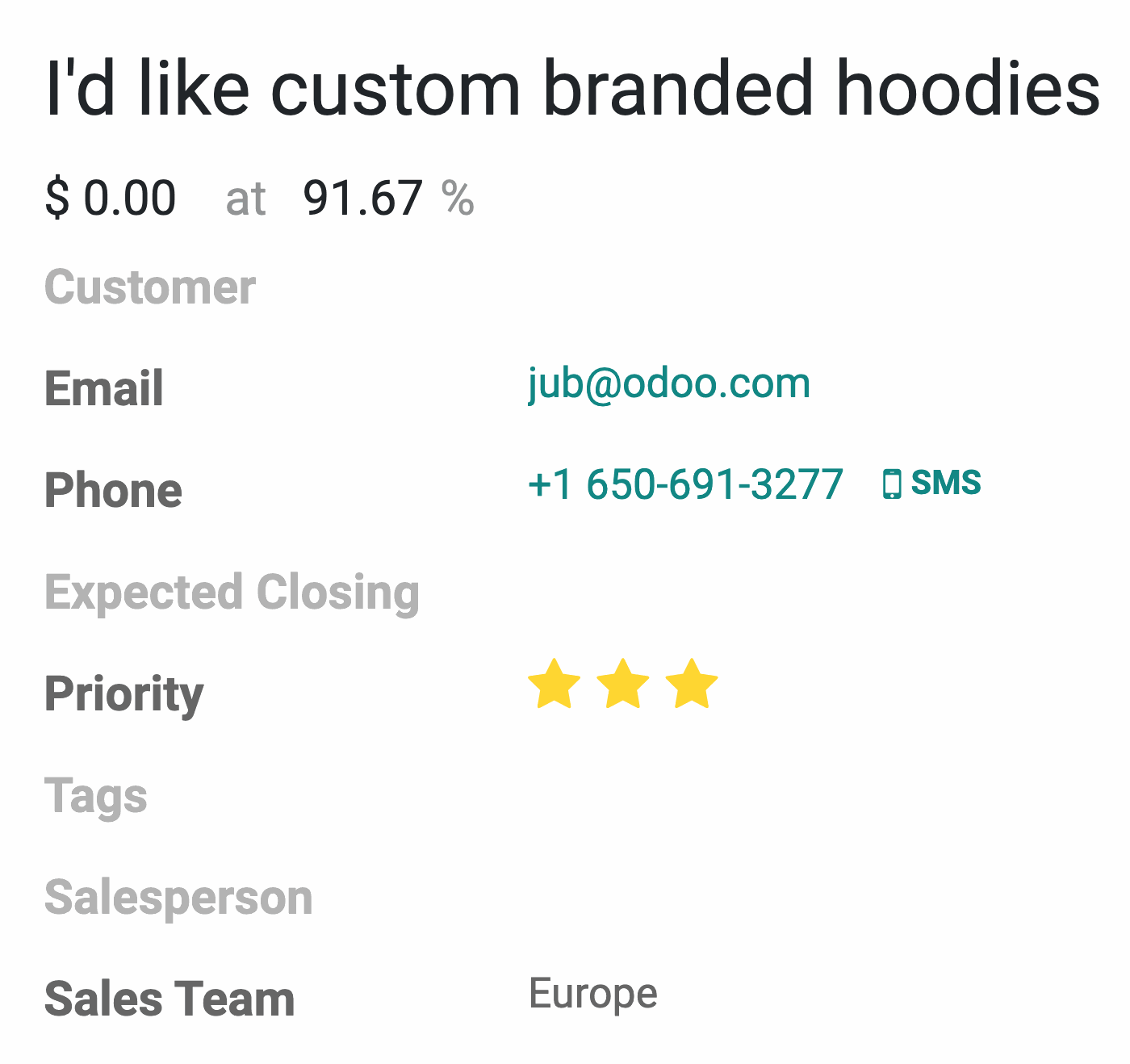 The other thing that was important to us was to be able to prioritize tasks, and we can do that out of the box with the stars on our leads. 
And lastly, concerning leads, we wanted the ability to schedule different tasks depending on the stage or what happened before. We can automate all of these activities in our CRM Configuration under Activity Types. 

Nevertheless, it's also always possible for us to push something forward on the opportunity itself. 
That's for our leads management, quite easy really, everything worked as we wanted out of the box. 
Selling our products 
First off, we created our range of products in the Sales app, as I said in the beginning, 90% of our business is selling branded clothes, we have a variety of products, from t-shirts, hoodies, jackets to sock and underwear, everything you wear, we can brand it. Obviously, we offer those products in a range of sizes and colors, so I entered those and Odoo automatically created the product variants.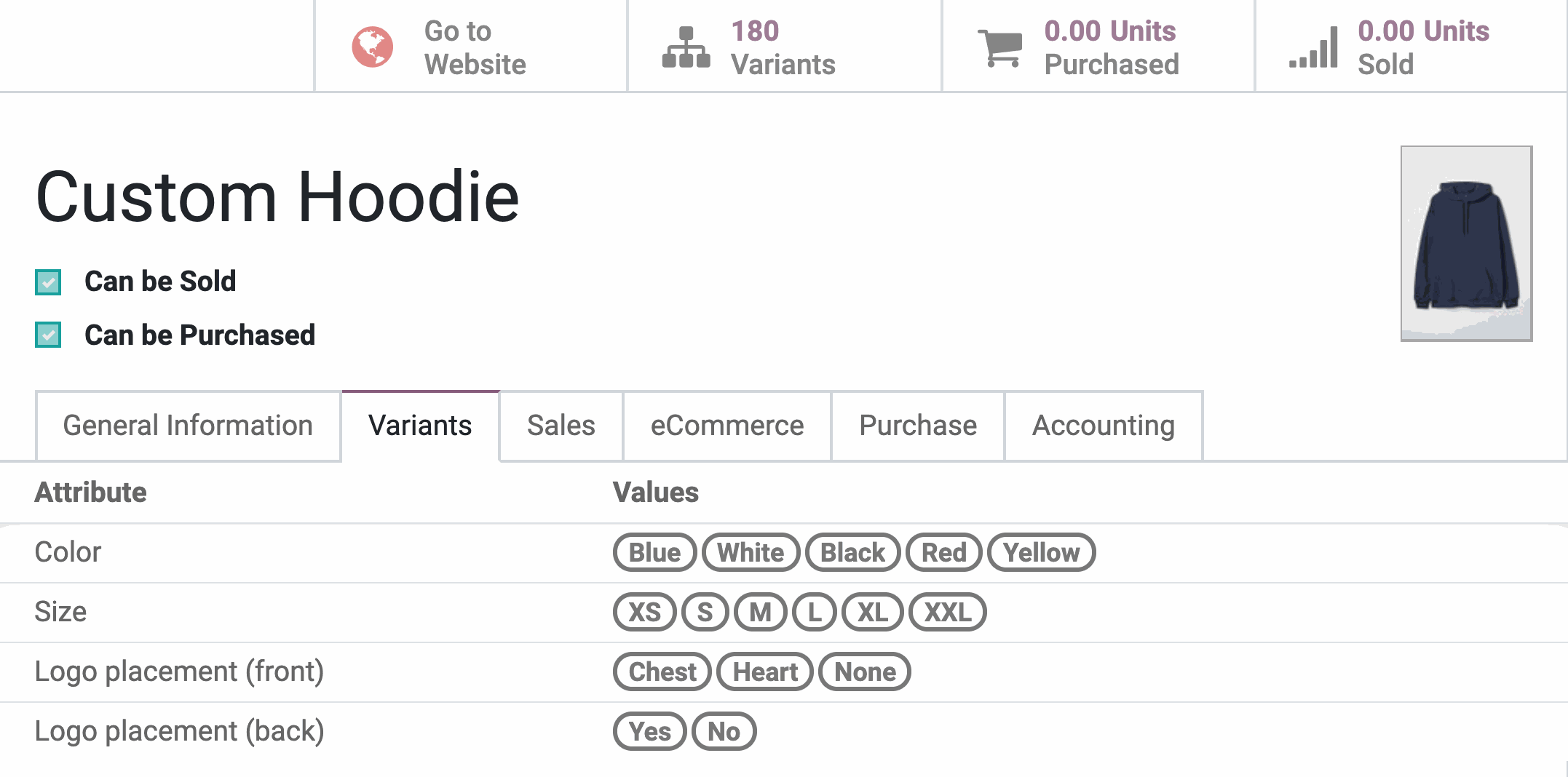 The last thing we need to know is what the logo is, for that, it's easy when we deal with them directly through email or phone, but we wanted to automate that process through our eCommerce, let's jump in our eCommerce and see what we did. 
We now have our products on our eCommerce, but there's still something missing, we have the product variants that tell us where they want the logo. Still, we need them to give us that logo and have the ability to provide us with some details, to solve that need we customized the order process, by adding a couple of fields as an extra step to the checkout, our customers can now give us that vital information. All that took was to use the customize button on the cart and add a couple of custom fields. Now everyone that buys one of our custom products will need also to upload their logo. 
Now, where is that leaving us? We have a quotation each time someones buys from the eCommerce with all the required information in the chatter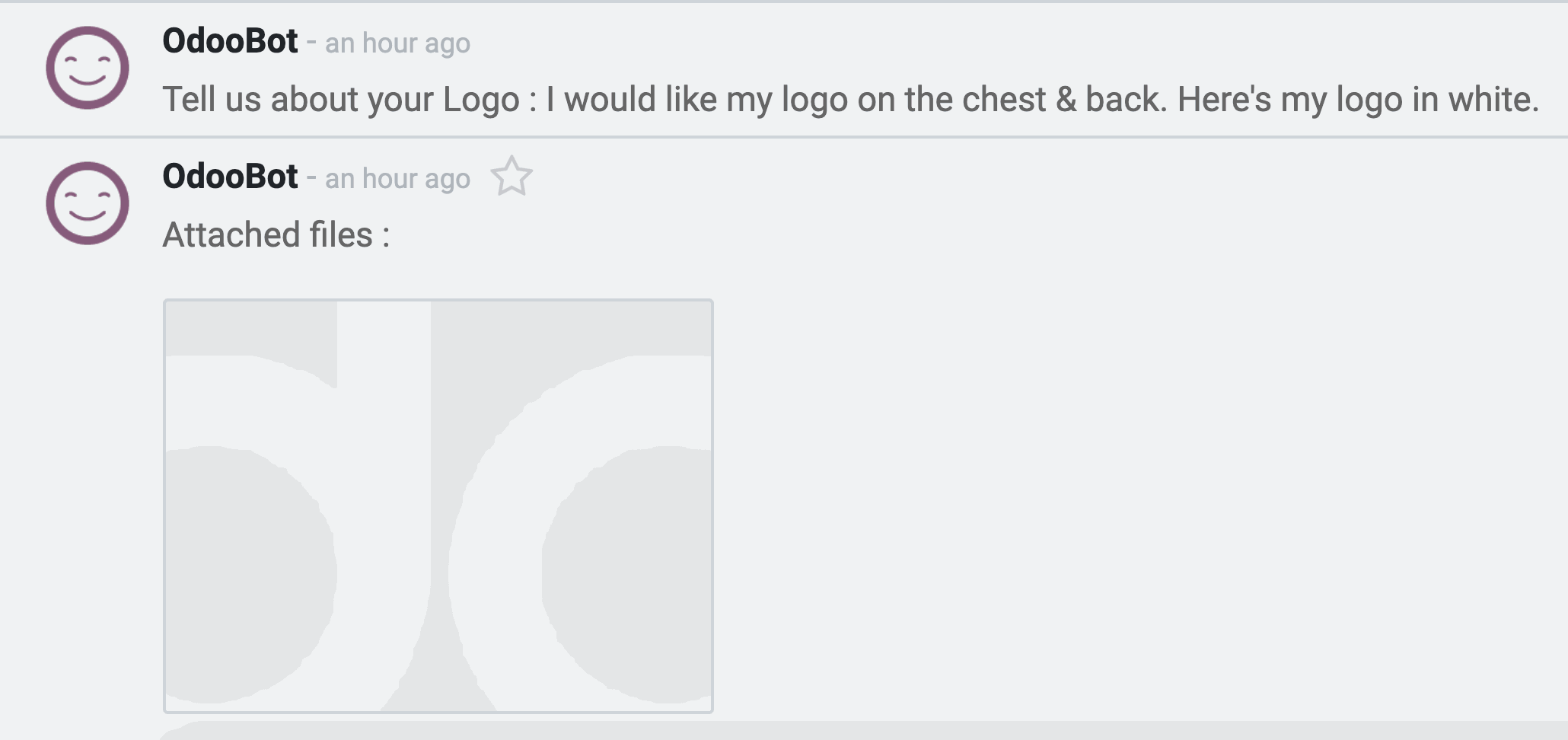 Producing the orders through project
All is left is to produce the product. As I said, we don't keep inventory, and to not deal with a complicated manufacturing process, we chose something slightly different to manage our production cycle, we're using Project.
It completely fits our needs and is easy for everyone involved to understand, a bonus? Each time we confirm a sale order with one of our custom products, either from our eCommerce or from a lead, we get a new task in our Project. 
To do that, we simply add to change a few settings on our product, to make it create a task in our branding project. With that done, everything is automated again.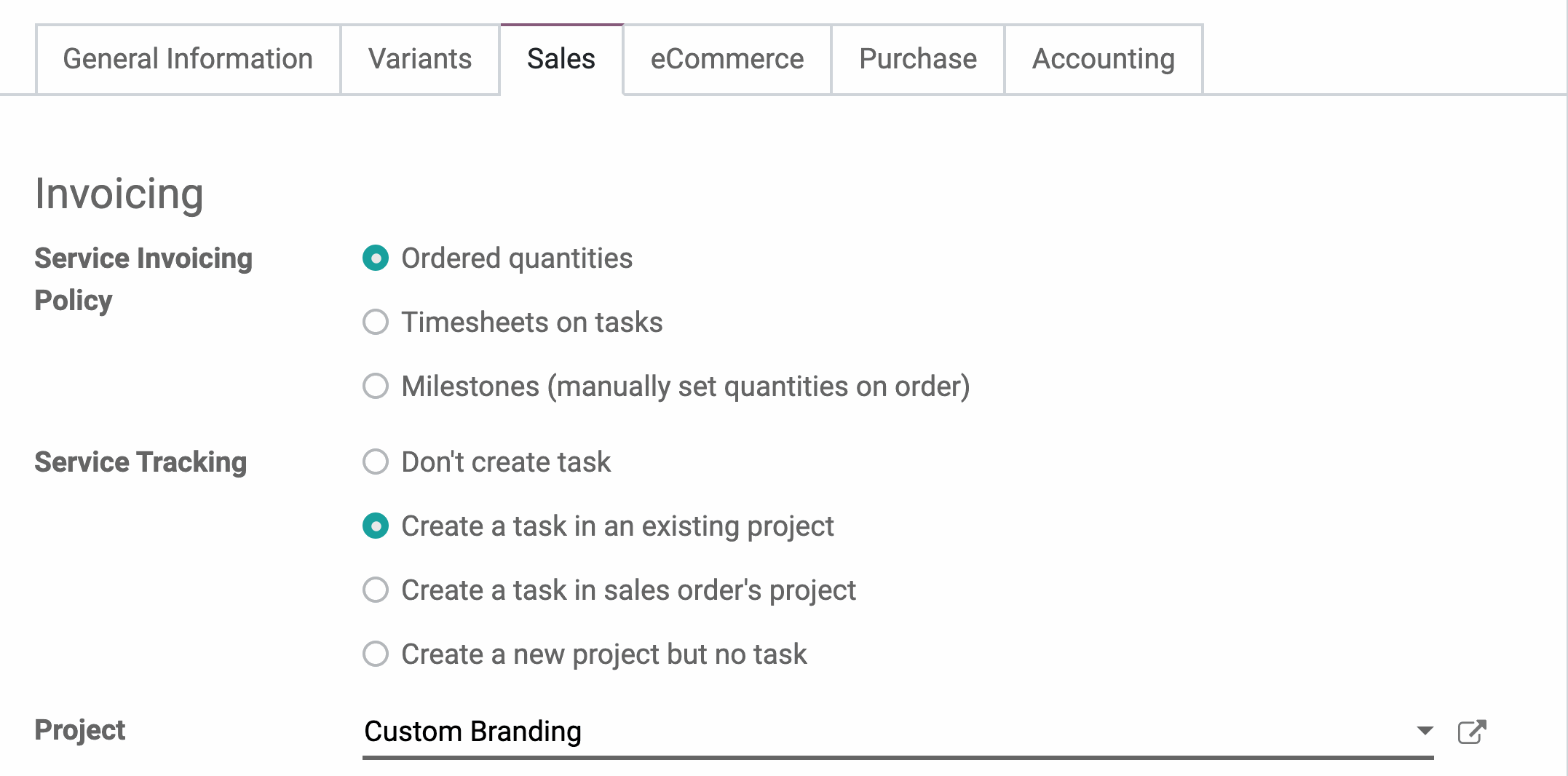 Let's see the project itself  what we did. We started by creating a Branded Clothes project, we added the relevant columns to us, Order, Framing, Production, Packing & Delivered. 

This way it is very easy for us to know which stage each quotation we have is at and with timesheet activated in the settings of the Project app, we can keep track of how much time everyone spends on each task. 
Every time we confirm an order, a new task is created and we can work on it. 
But wait... don't we still have to buy the product? Can't we automate that? 
Automating the raw product purchase
Of course, we can! And we did. In our products, we selected a few settings, to re-order the product each time we have an order and we added a few vendors as well that sell us those raw products.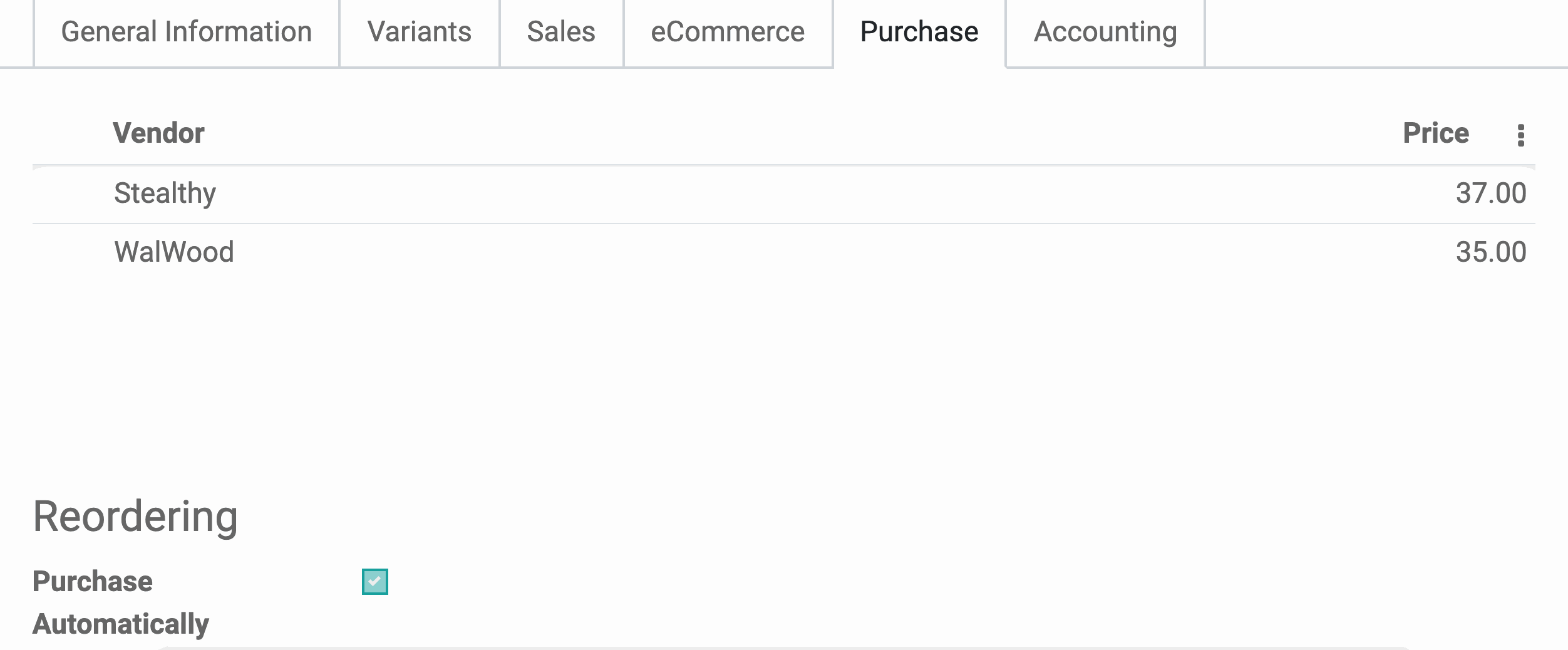 Now each time we have a sale order confirmed, a purchase order is created 

And all of that goes into our Accounting, making it a hundred times easier for our accountant to do her job! 
And that's it! 
As you can see, everything was effortless to implement, we did in less than a day, and everything works perfectly for our needs. 
By switching to an integrated solution, we gained so much time that was lost in fixing small issues or communication problems. Now everyone is up to date all the time, and we can easily communicate with each other