"If you think a professional is expensive, wait 'til you try an amateur."
Paul "Red" Adair
The quickest way to experience burnout as a business owner is to be doing work that you're not properly paid for. That, coupled with the idea that time is money and the fact that the faster you react to leads, the more chances you have to sell, shows what a bonus proper quotes  based on a solid template can be.
Contemplate Your Template
The first part of the work is  a good quote template you can use as the basis for all your offers (or a couple if you have multiple lines of service). Really think about all aspects of the service you're providing. Research the industry standard rate for services or products similar to yours. A handy way to do this is looking on your competitors' websites or even asking friends and family how much they typically pay for services like yours and what type of quote they got. Then after you've got a clear picture of how you want to quote, it's time to put together your quotation template.
More Bang For Your Buck
Coming up with a quote that will reel in the customers doesn't just mean offering the lowest price. Effective quotes include value-added benefits that are seductive! What makes your offer special? What have your other customers valued the most?  Your distinct features are called 'Unique Selling Points' or USP. A quote is not the place to be shy about them. In addition, your quote should include details about the standard of your work (e.g. security features for a software, ethical standards for consulting, health & safety for food producers). This will reassure your potential customer of your professionalism.
Last, make sure to include something 'just for you' that make your prospect feel special: It could be a discount, free delivery or a complimentary gift. Be sure to put whatever you've chosen onto your quotation. All the relevant info should be presented in a way that you're potential customer can easily understand. You can be detailed and clear at the same time.
At Odoo, we use the quotation to really emphasize what comes with our Partnership Offer. It's the perfect place to spell out our unique selling points (USP). The benefits of the Partnership Offer are highlighted in bold; the added value is put into text boxes; and subheadings are used so we can give more details on each aspect.
So, be detailed, clear and emphasize your USPs. But that doesn't mean you can't play around with the pictures, fonts and general appearance of the quotation - giving it a look and feel you like and you feel represents your company.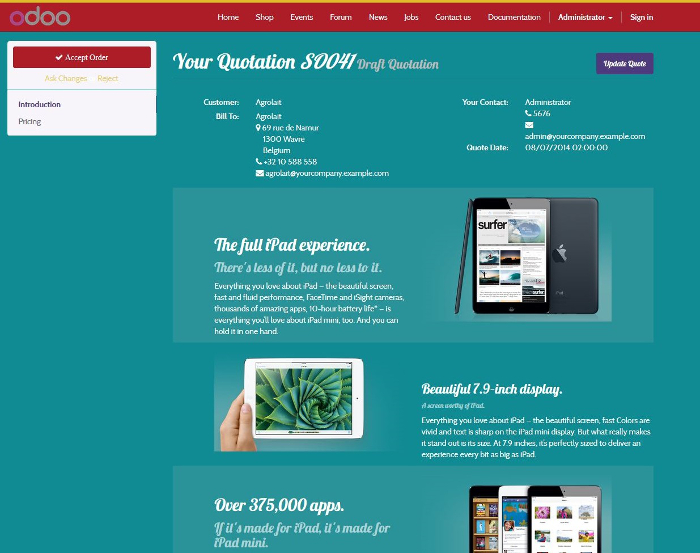 Accelerate the Acceptance
So, you've created your quotes at internet speed and sent them to customers in no time. The good news is it can also help you clinch the deal in less time - especially if you use a quote that has the electronic signature feature. The sooner you get an answer, the sooner you can start making money.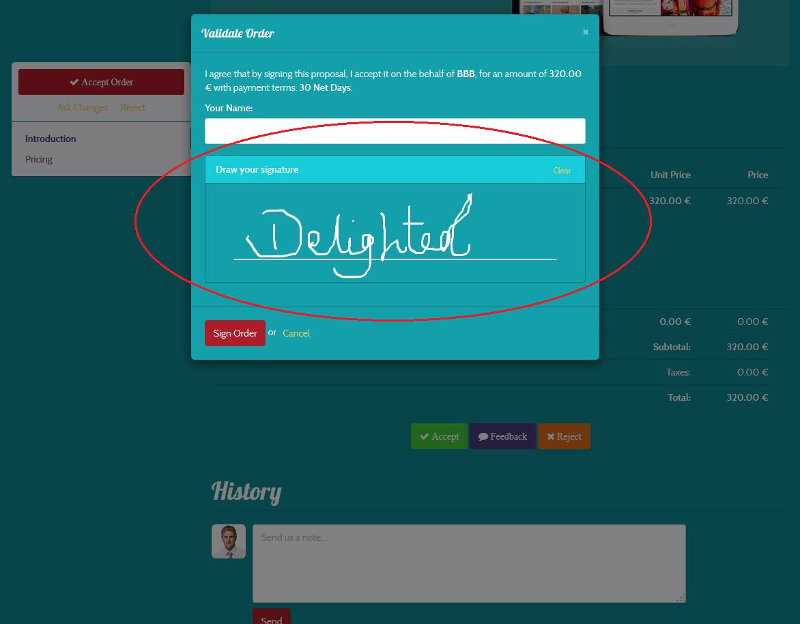 Room for Negotiation?
If only every quotation you sent out was automatically accepted... but that would be too easy. So, have a clear idea in your head of the least amount you would be prepared to provide the service for - a line in the sand, an absolute rock bottom. That way, there can be room to manoeuver. Of course, once again it does help if all the haggling is done quickly and here's where a quotation builder with electronic "accept" and "decline" comes in handy.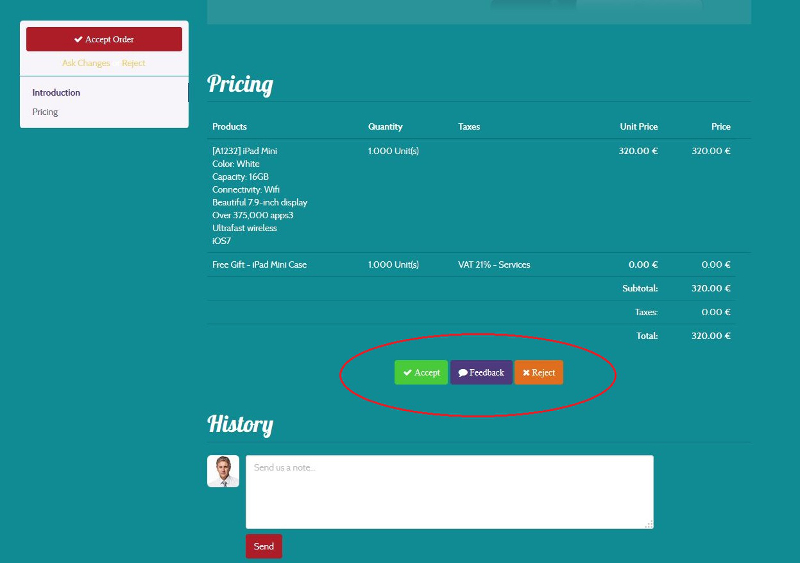 Why don't you try putting these tips into action and update a quotation template? Have a go using our demo.
You can even create your own quotation template (click on the 'Create' button) from scratch.
Subscribe to our Sales Newsletter
Get the new blog posts directly in your inbox